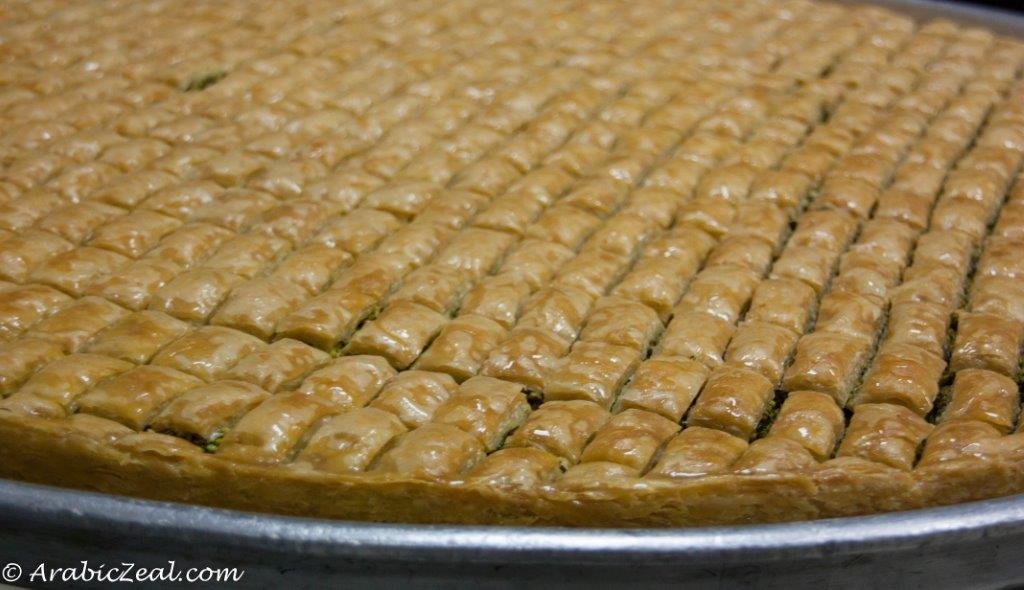 Who can resist baklava?
Not me. Nor could I resist this "Baklava Factory Tour" put on by Arva Ahmed of Frying Pan Adventures and the American Women's Association of Dubai.
We visited Al Samadi Sweets, a bakery from Lebanon which dates back to 1872. Their Dubai factory (located in Qusais) didn't actually feel like a factory. All the individual pastries are made by hand (with a little industrial help as you shall see).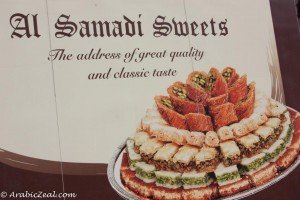 These pastries supply Dubai's hotels and restaurants. So, if you live in Dubai, you may have eaten pastries from Al Samadi.
The Baklava Room
The Baklava Room is the heart of Al Samadi factory.
In case you have yet to experience this Middle Eastern/Mediterranean pastry, baklava is a delicate pastry made from layers of filo dough, a filling of nuts, lots of clarified butter and a generous dousing of scented simple syrup. It's a flaky, nutty, lick-your-fingers type of sweet.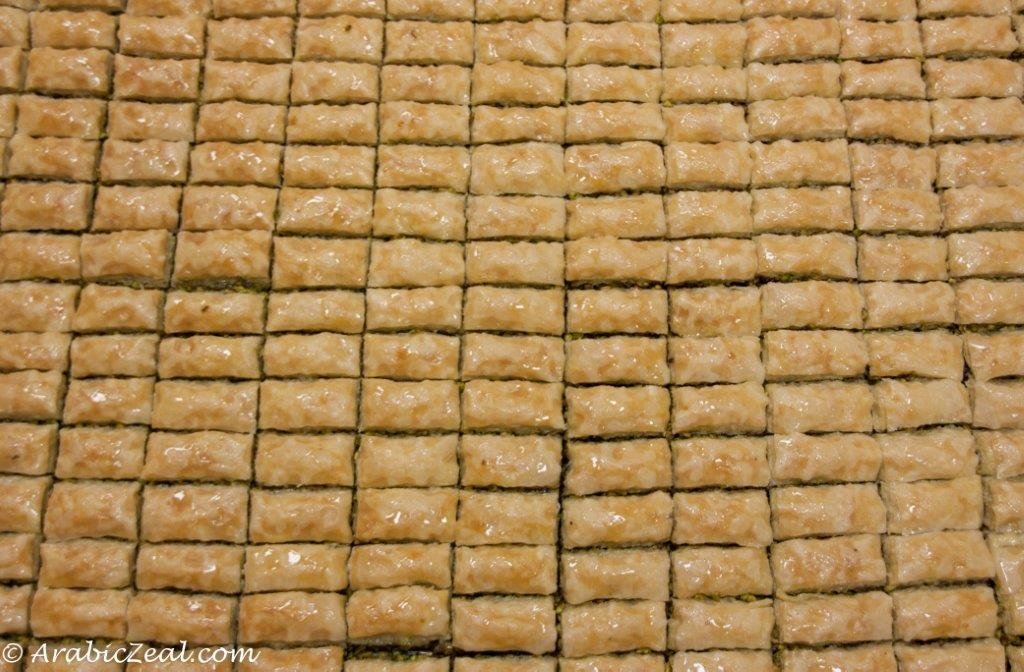 The pastry has a long, complicated history. Long story, short (and some will disagree): the Topkapi Palace in Istanbul is credited for creating the original baklava, handmade with its distinctive countless layers.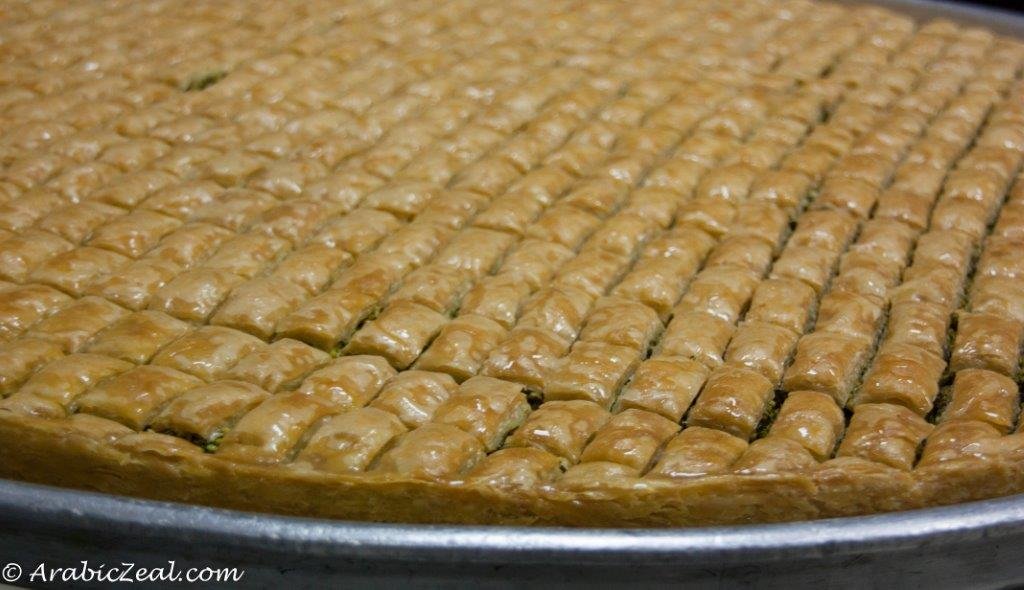 The Baklava at Al Samadi is baked in enormous trays. This should give you an idea of the size of the trays and the size of the operation.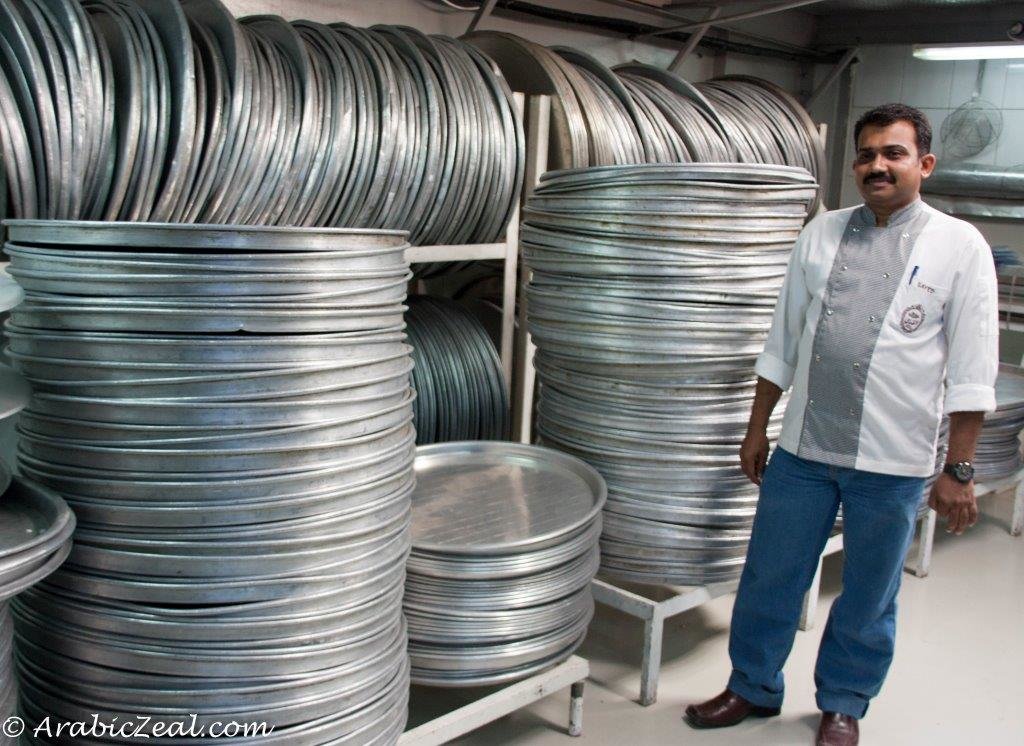 In case you're wondering, the baklava at Al Samadi is baked with 18 layers of filo dough. This machine flattens the filo pastry dough into very thin layers, and it rolls many layers at once.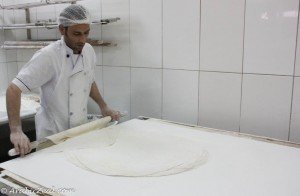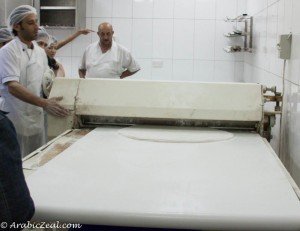 When the baklava comes out of the oven, it's drenched with scented simple syrup from this enormous watering can.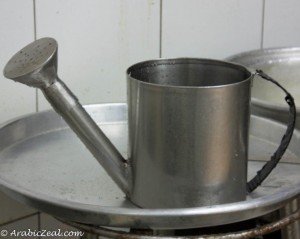 The Ma'amoul Room
Ma'amoul is a festive little pastry stuffed with either dates or nuts and served on Easter and Eid throughout the Middle East. In the Ma'amoul Room, men were busy stuffing and shaping little pastries with dates.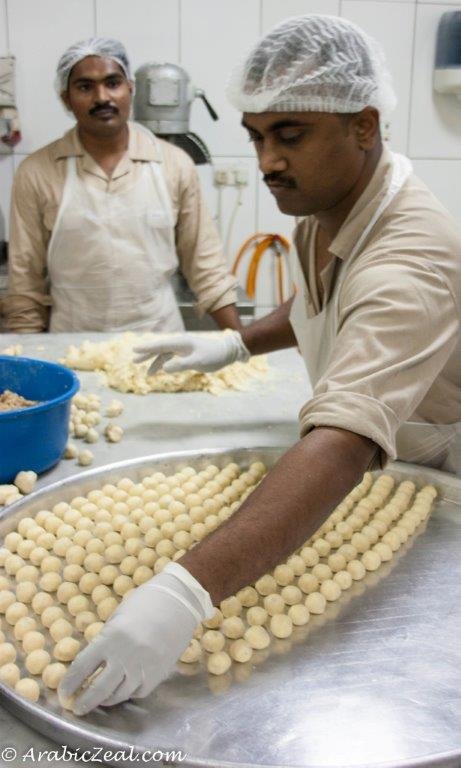 These tiny ma'amoul were formed by hand. Here they are after after baking.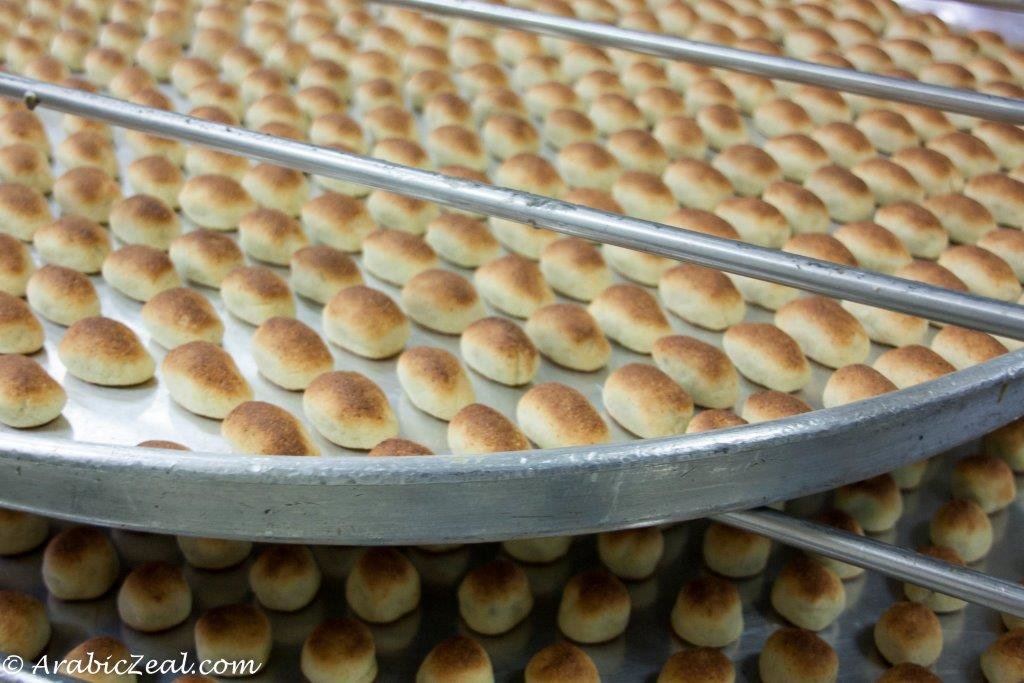 Naturally, we got to sample these pastries along the way.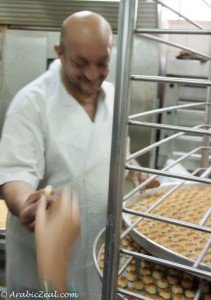 However, usually ma'amoul is made with various wooden molds. The type of filling—either walnuts, pistachios, or dates—will determine the shape of the mold. These ma'amoul are ready to go in the oven.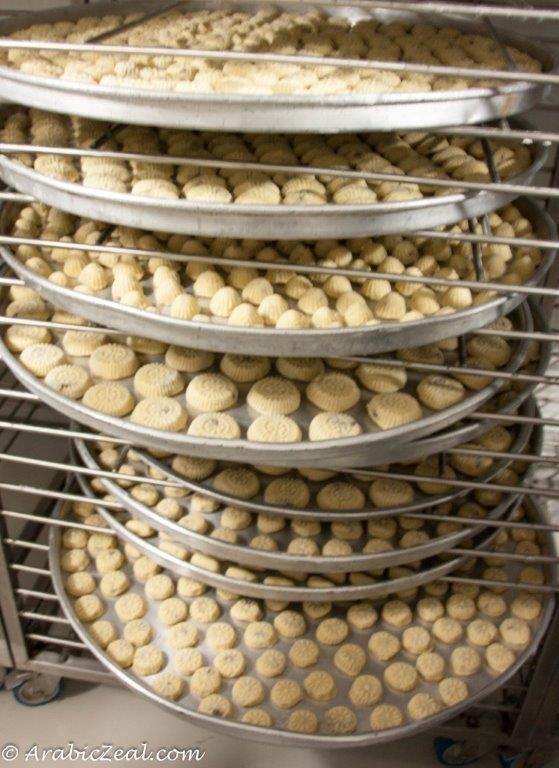 The ma'amoul makers at Al Samadi use the same type of hand-carved wooden molds that I use at home.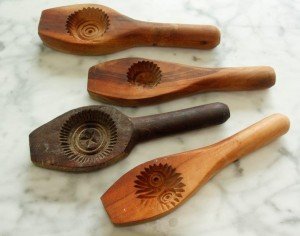 The Kunafe Room
Truth be told, my favorite room was the kunafe room. This is because Kunafe Nabulsia is my favorite of Arab sweets. I can't resist the gooey sweet cheese between the shredded soft-yet-crispy pastry, all saturated in scented simple syrup. Here's a photo of my own homemade Kunafe Nabulsia.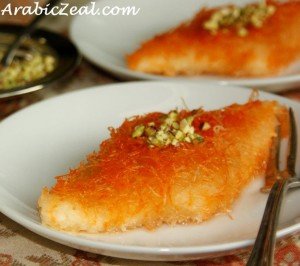 We got to see the kunafe pastry being made in very long very thin threads. First, the batter is poured down a funnel.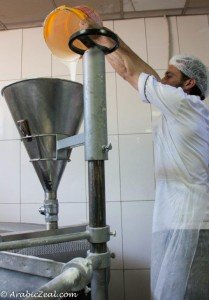 Then the batter comes out in threads and cooked on a large hot surface.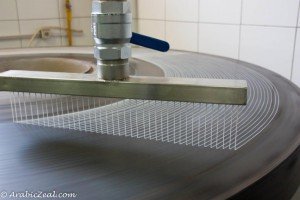 Then it's gathered and folded and ready for assembly into various kunafe pastries.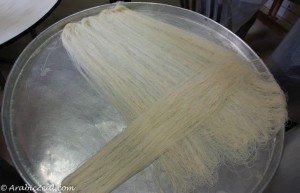 There are little "bird nests" filled with pistachios and made with kunafe pastry.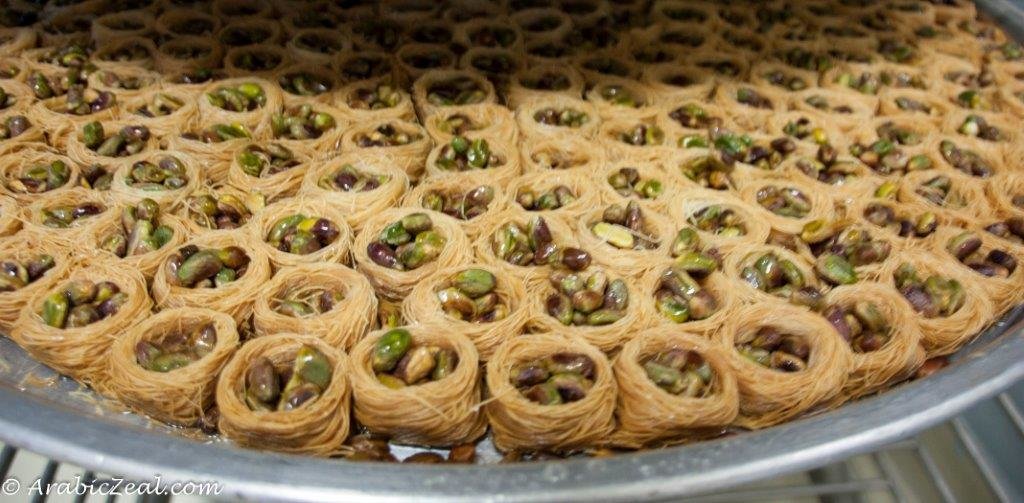 We watched as one of the kunafe chefs assembled kunafe with the crumbled akkawi cheese, the sweet cheese used in many Arab sweets.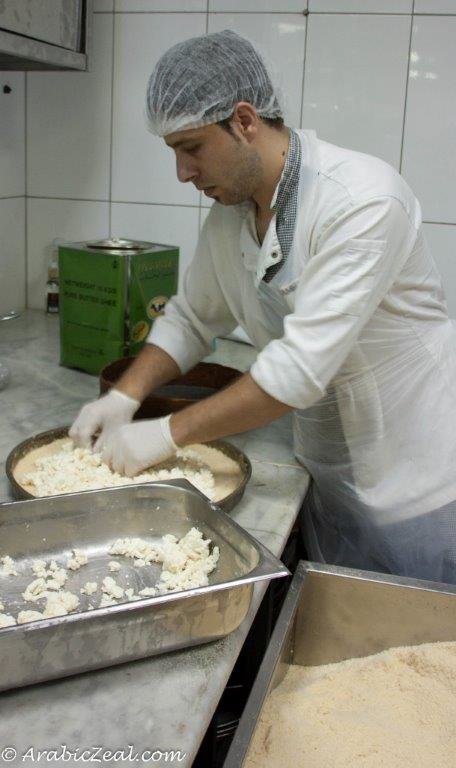 Lebanese Breakfast
As a final touch, Salim, the factory manager, offered us a special Lebanese breakfast—something I've never had before. It was a slab of kunafe pastry shoved into an Arab bread and doused with simple syrup. What a way to start your day!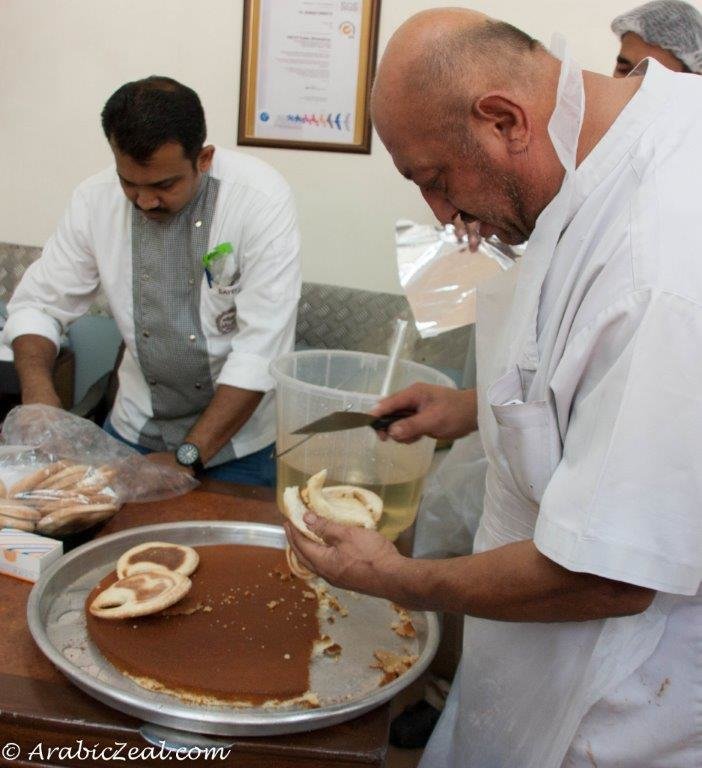 Last Stop: Al Samadi Sweet Shop
Our final stop on our tour was the actual Al Samadi Sweet Shop, located on Muraqqabat Street, where all the pastries are beautifully arranged and presented.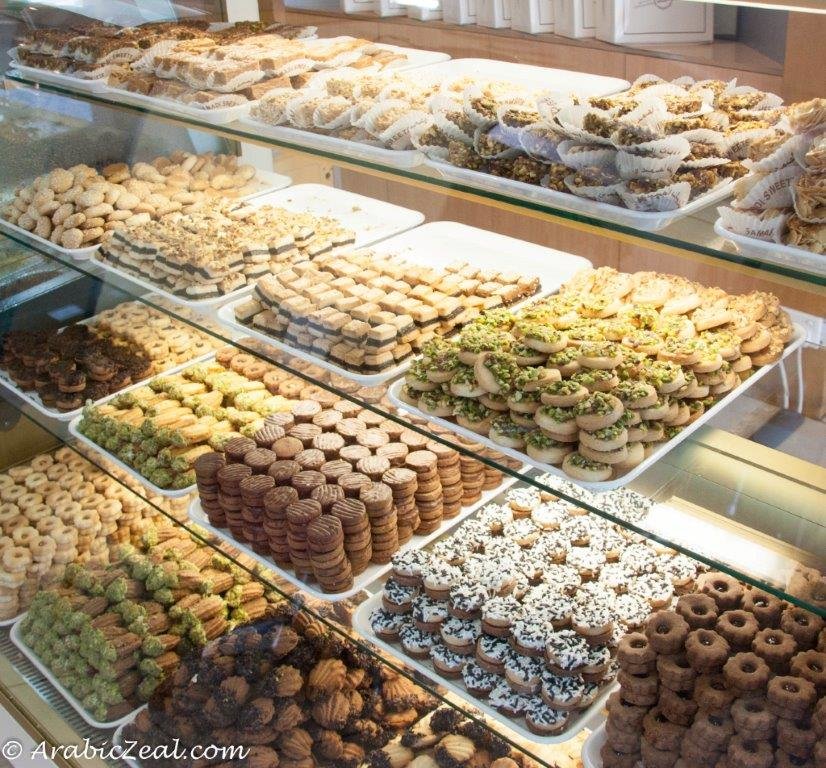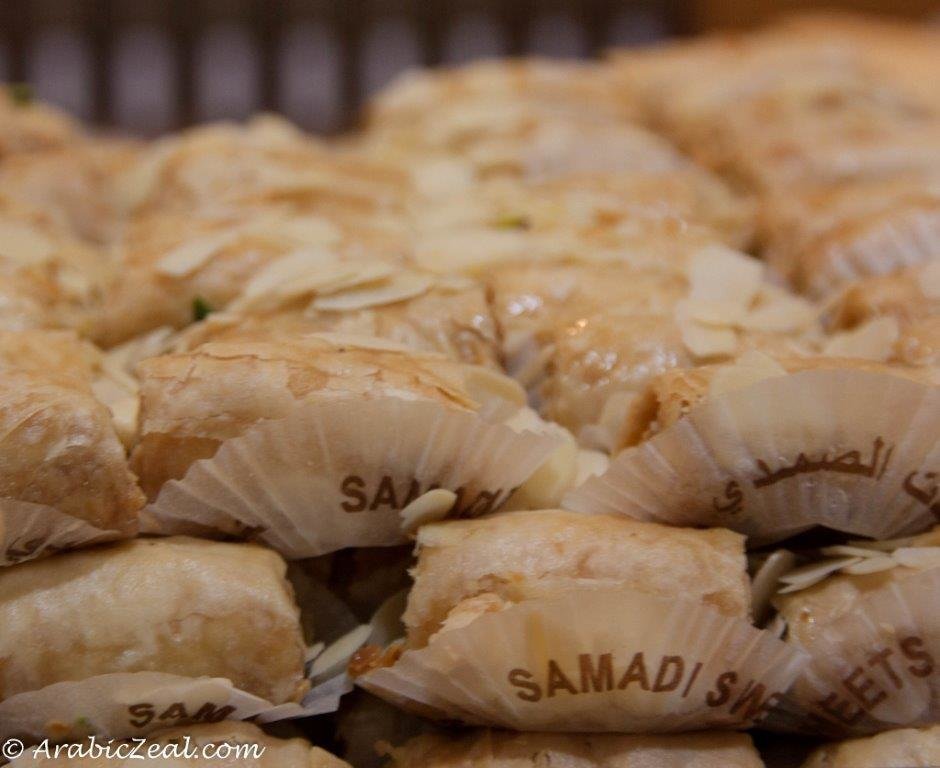 Bake it yourself!
Rest assured, it is possible to bake these sweets in your own home kitchen. Please check out my step-by-step recipes for some of the pastries presented here.
Recipe: Kunafe Nabulsia ~ The Queen of Arab Sweets
Recipe: Ma'amoul ~ Date-filled Eid Pastries
Recipe: Nut-filled Ma'amoul ~ Easier than you think
Take a Tour
If you live in Dubai or are visiting, consider taking your own food tour with Frying Pan Adventures. I can't say enough good things about Arva's "food walks" featuring foods from the Middle East, North Africa and India. She is planning evening iftar tours in Dubai during the month of Ramadan. Meanwhile, read about my last tour with Frying Pan Adventures: Dubai Food Tour ~ North African Food Safari!
Questions: What is your favorite Arab Pastry? Have you taken a Frying Pan Tour?