Dubai's Global Village ~ Where the World Comes Together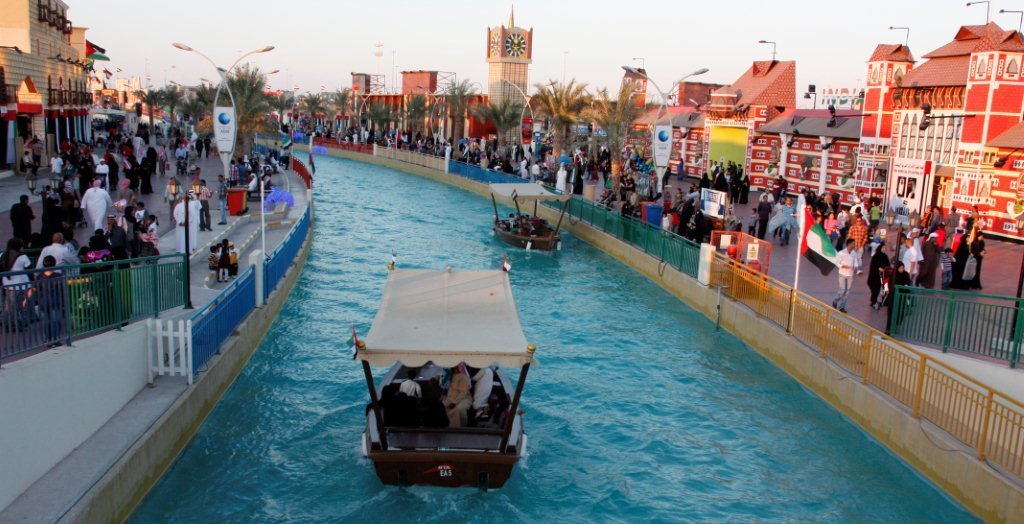 As an expat, one day I will eventually leave Dubai. One of the things I will miss the most will be the Global Village, a shopping extravaganza out in the desert with pavilions representing 26 different countries (mostly from the region) and two continents. The Global Village has both a global feel and a county fair feel. For me, it's about the shopping—unique handmade global items—but also the multicultural entertainment and cheap street food.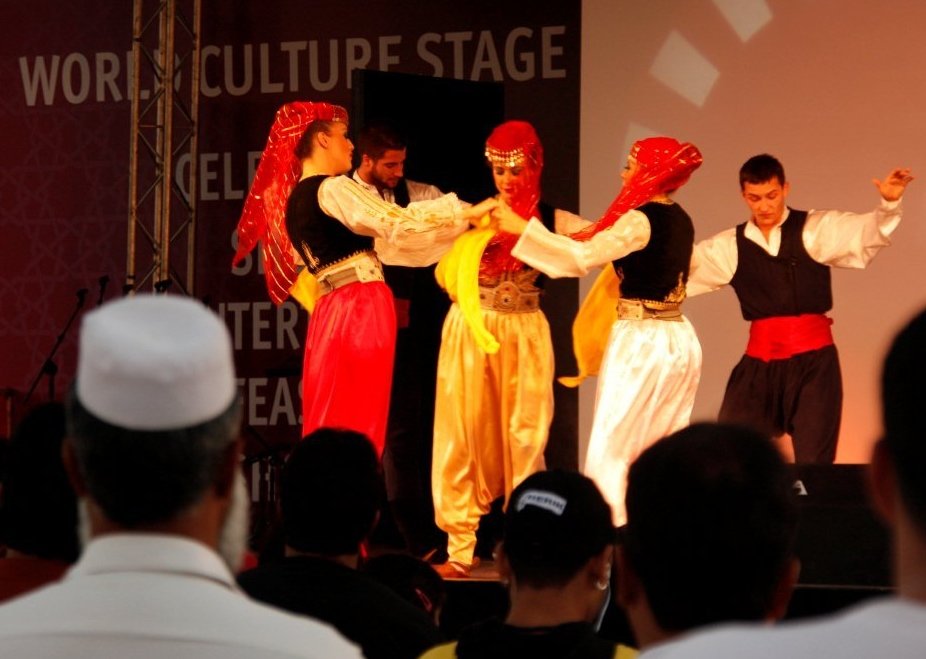 Yes, it's true: the Global Village has had its ups and downs. It originally started as a small fair on the Creek in 1997, lasting one month & launched with the Dubai Shopping Festival. (Now it's a separate entity.) Then it moved. Then it moved again to its permanent location in Dubai Land out in the desert. After it expanded from one month to several, the quality sadly went down.
Now the Global Village is experiencing a comeback. With Saeed Ali Bin Reda in charge, the GV keeps getting better and better in terms of facilities, organization, quality of goods, and something new each year. (This year, it's Tunisia and Spain and the dancing water fountain.)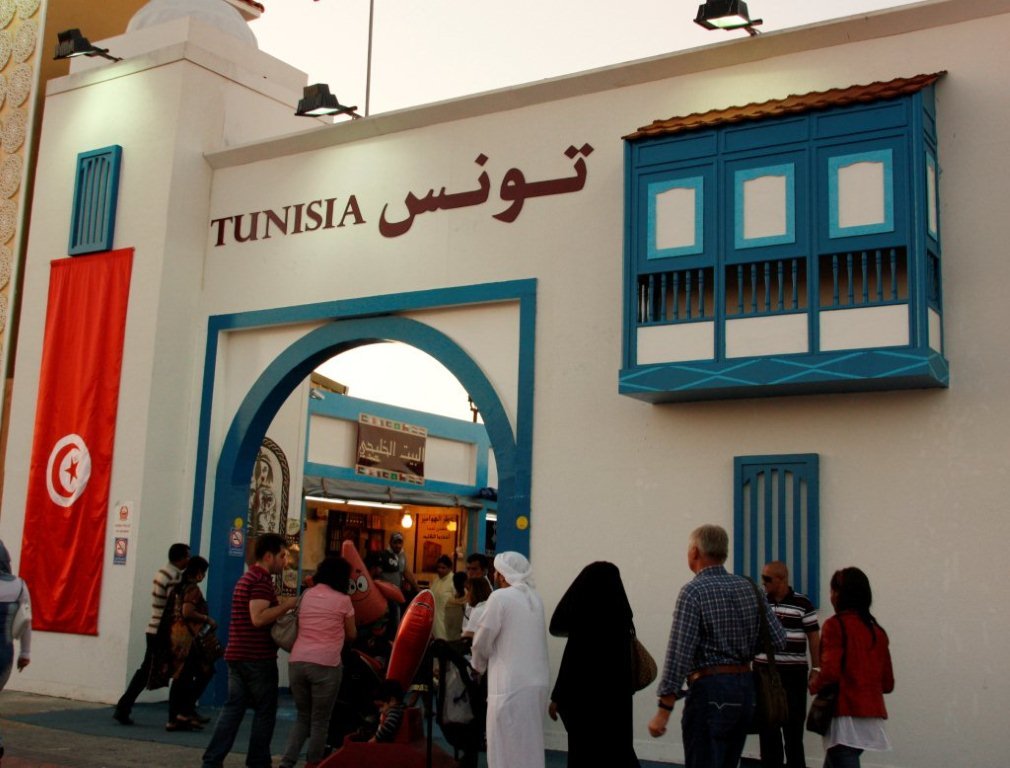 Holly's Guide to the Global Village
1. Go early. It opens at 4:00pm, so aim to arrive a little early. Wear comfortable shoes and bring a sweater for those late winter evenings. Also, bring a large sturdy shopping bag to haul your goods. Expect to buy lots.
2. Get a map at the entrance and plan your strategy. For the most authentic experience, go to pavilions representing countries from the region. For starters, visit: Yemen, Palestine, Morocco, Africa, and Egypt. If you have the energy, visit India, the biggest pavilion of all.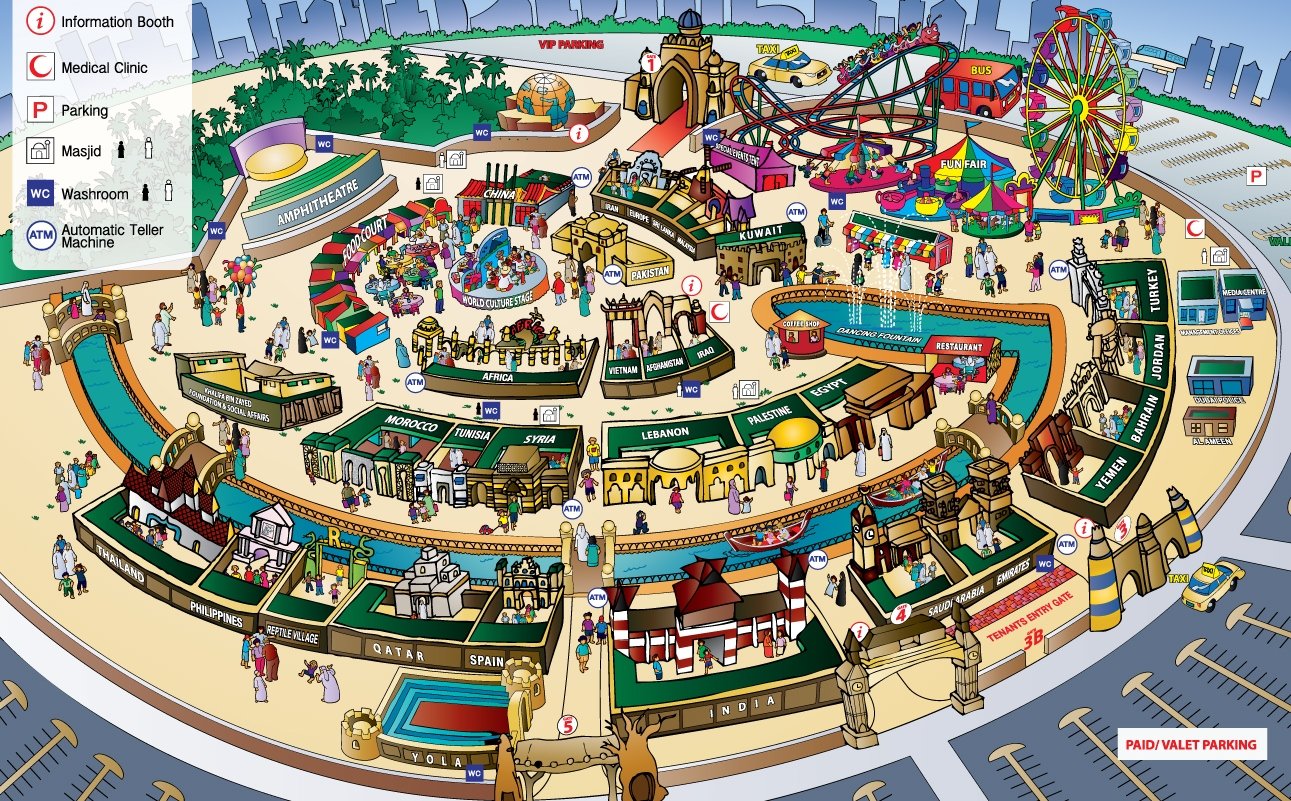 3. Don't plan to visit all the pavilions in one go. Be selective and take your time. Also, give yourself time for the multicultural entertainment and food from the region, such as this yummy kanafe (sweet Arabic cheese pastry).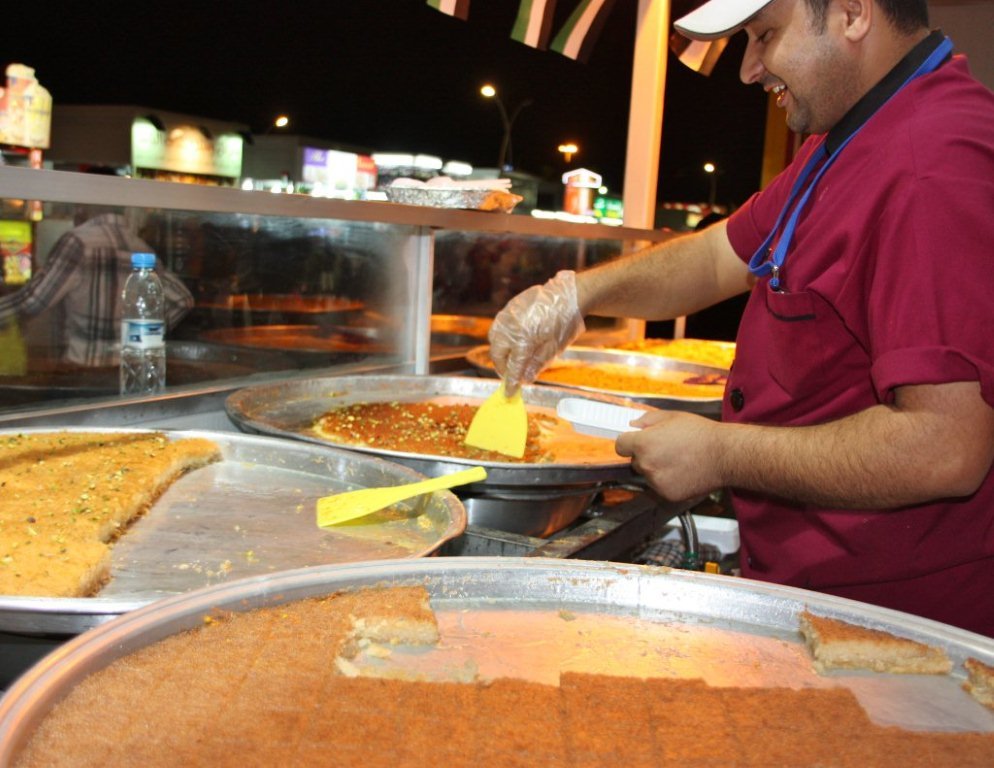 Or these Africa dancers:
4. Keep an open mind. If the Egypt and Turkey pavilions were disappointing in past years, it doesn't mean so this year. In fact, they are both quite fantastic this time around. Check out this Egyptian shop where I bought a hand-appliqued quilt.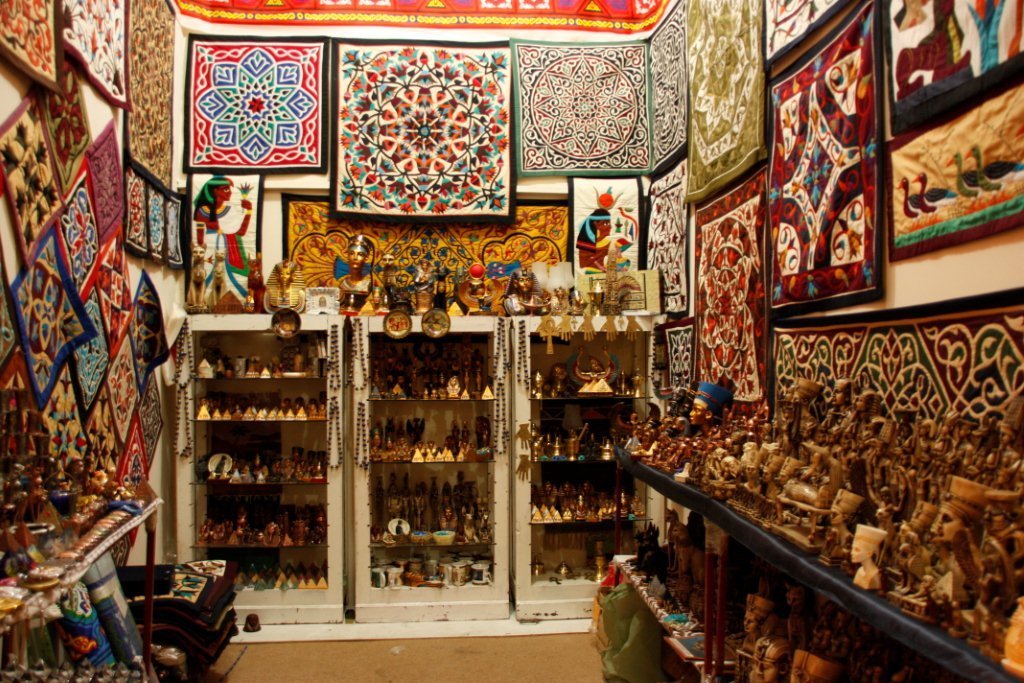 5. If you don't care for products made in China, do not visit the China pavilion.
6. Shop, shop, shop. Bring lots of cash, preferably in small bills. Also, bring your bank card as a backup in case you see something unexpectedly amazing. For example, check out these burka bracelets: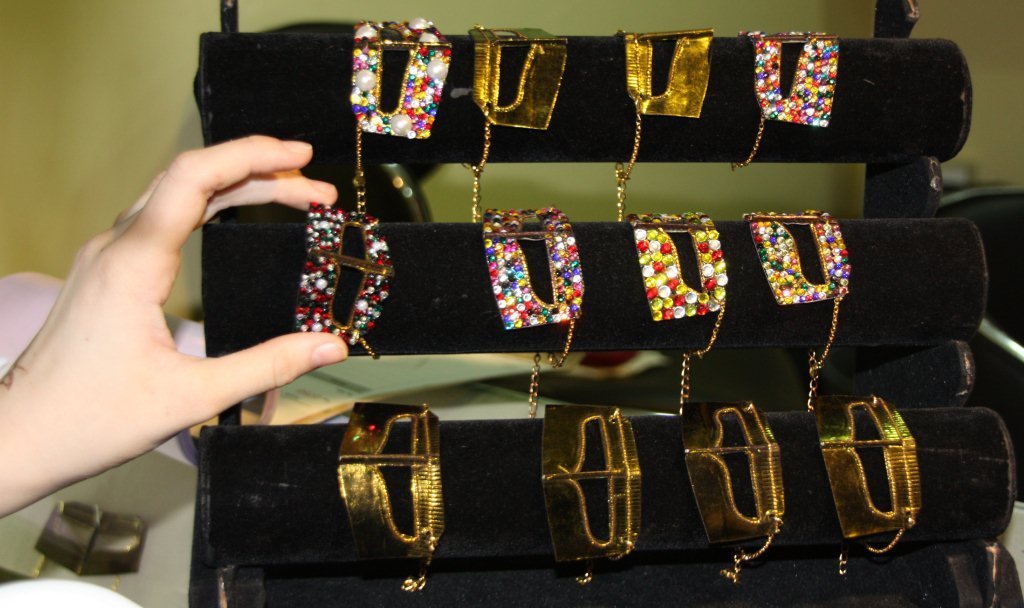 7. For objects with prices of more than twenty or thirty dirhams, it's good to bargain—but do so with a smile.
8. In addition to trinkets, handmade items, carpets and textiles, think FOOD. Among the unique foodstuff on offer: coffee beans from Ethiopia, baklava from Turkey, saffron from Iran, zataar from Lebanon, olive oil from Palestine, tea from Morocco, and honey from Yemen.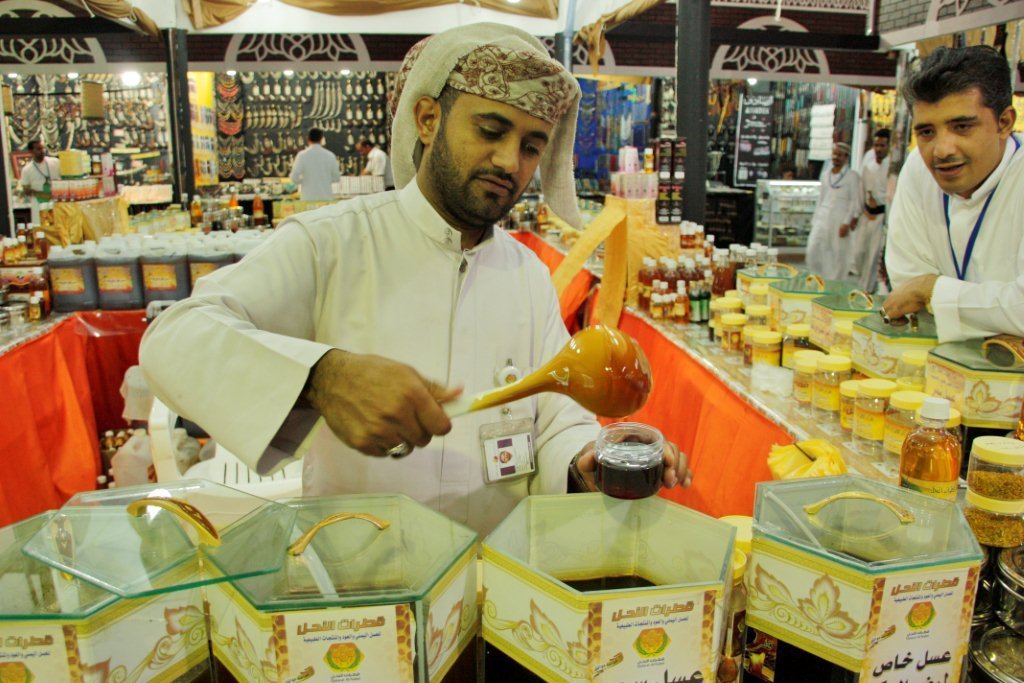 9. When the vendors hand out food samples, try them. This will provide sustenance for more shopping. One stroll through the Palestine pavilion can add up to a light meal.
10. When you are totally exhausted and your feet hurt, it's time to eat an actual meal. Have Middle Eastern or Southeast Asian "street food" and watch the world go by. You'll see more locals here than almost anywhere. After a good rest, look at your map again and strategize your next round of shopping.
11. When you are dragging yourself out the gate at 11:00pm, don't be surprised to see crowds of Emiratis streaming in.
Basic Facts
The Global Village runs from November 1st, 2011 to March 3rd, 2012.
Timings: Weekdays 4:00pm to midnight; Weekends (Thursday/Friday) 4:00pm to 1:00am
If you hate crowds, avoid the weekend and national holidays. Arrive super-early.
The Global Village is located in Dubai Land on Emirates Road.
You'll find twenty-eight pavilions from around the world.
The Global Village has been running for 15 years from 1997.
In recent years, the Global Village received 4.5 million visitors per season.
In addition to the canal boat road, there are also amusement rides.
For details on specific pavilions, check out my posts: The Yemen Pavilion, The Iraq Pavilion, The Turkey Pavilion, The Africa Pavilion, The Palestine Pavilion, and The Egypt Pavilion.
What is your favorite aspect of the Global Village?