Kunafe Nabulsia ~ The Queen of Arabic Sweets
If there's one dessert that rules as the Queen of Arabic sweets, I would nominate Kunafe Nabulsia, the sticky pastry made of gooey sweet cheese sandwiched between layers of shredded kunafe pastry. This specialty from the Palestinian city of Nablus is prepared in enormous round trays, saturated with rose-scented syrup, cut into slabs and garnished with chopped pistachios.
In the Middle East, people don't typically prepare kunafe at home. Kunafe is an occasion to go out. That's how I first got to know it—in pastry shops in Bethlehem and Jerusalem, such as Al Jaffar & Sons pastry shop in the Old City.
And yet there are those who do make kunafe in their kitchen—typically Arabs in the diaspora, longing for home. So, I ate kunafe in Jerusalem, but learned to fully appreciate it in Seattle, where it's lovingly prepared by homesick immigrants.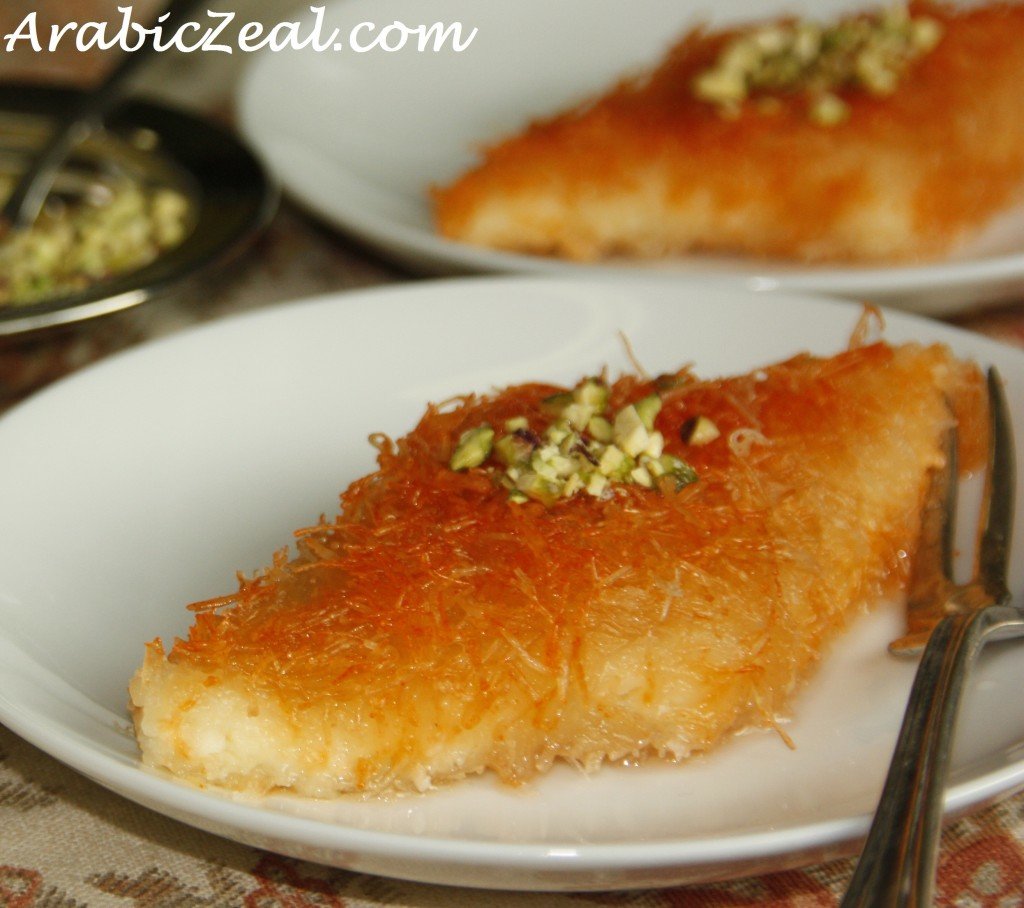 Last year, inspired by the photo and tips in the cookbook When Suzanne Cooks by Suzanne Husseini, I attempted to make kunafe again. And so, I've made it many times over the past year (always a big production) for house guests and dinner parties. Kunafe offers a "wow" factor to any celebration or meal, and it never fails to impress. Recently I made kunafe as the dessert for a good-bye dinner for a nephew and his family immigrating to Canada. As Palestinian immigrants, I suspect they will be making kunafe for themselves in Toronto one day.
While kunafe is my favorite Arabic sweet to eat, I confess, it can be a challenge to make. However, I believe I have worked through all the kinks that deter home cooks.
Things to know about making kunafe
Tools: Most recipes for homemade kunafe require a 30 cm (12 inch) round pan. However, I use a 15 inch deep-dish pizza pan from Crate & Barrel. Since the pan is a few inches bigger, the pastry comes out thinner and more like what's found in pastry shops. You can also use a rectangular cookie sheet with sides.
You will need a serving tray that is the same shape and size as the baking pan—or slightly larger—to invert the pastry into. Most Arab bakers I know use two identical baking pans and flip the pastry from one pan to the other. You'll also need a food processor and pastry brush.
Specialty ingredients: The cheese filling is what trips up most people. The standard cheese for kunafe is akawwi, a mild, slightly salty cheese that holds its shape when baked. Find akawwi in the deli or cheese aisle of most Arabic supermarkets. If you live outside the region, look for it in Middle Eastern grocery stores or substitute ricotta, which is softer, but still a good stand-in.
Whichever cheese you use, you'll mix it with mozzarella, which gives the pastry its gooey quality so distinctive of kunafe. Fresh mozzarella is best, but any mozzarella will do. Most recipes call for a total of 1 kg (2.2 lbs.) cheese. I like to use a little less, as this also makes a thinner and more delicate kunafe.
Because it's a sweet dessert, the mozzarella and akawwi cheese require desalting—a simple task of soaking it in water for a day. (No need to do this with ricotta).
The kunafe pastry comes shredded and looks like vermicelli. It's readily available in the Middle East and sold in 500 g packages in the freezer section. In the US, look for it in specialty supermarkets or Middle Eastern grocery stores.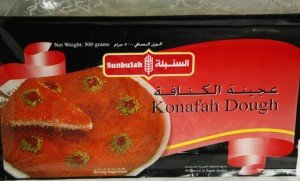 To give kunafe its traditional orange color, you'll need orange food coloring—either drops, paste or a special power made just for kunafe. I've tried it all and I prefer using cake decorating paste. The orange coloring is worth the extra effort, as it gives kunafe its festive appearance which looks exquisite with the green pistachios on top.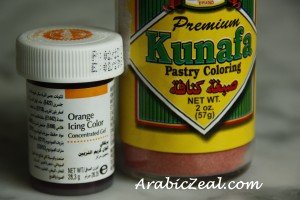 Finally, this recipe requires scented simple syrup and clarified butter, both easily prepared at home.
Below is my recipe for this Queenly dessert.
Kunafe Nabulsia
Serves 8-10
Ingredients
700 g akkawi cheese (or substitute 500 g ricotta)
200 g mozzarella (if using ricotta, use 400 g mozzarella)
1 package (500 g) frozen kunafe pastry (thawed one hour on the counter)
1½ cups butter to make slightly more than 1 cup clarified butter, melted and hot
4 Tablespoons sugar
3 Tablespoons orange blossom water
4-8 drops orange food coloring (powder, paste or drops)
3 cups rose-scented simple syrup
½ cup ground pistachio, to garnish
Method
1. The day before, slice the akkawi and mozzarella cheese into thick slabs. In a plastic container, cover with water to soak overnight in the refrigerator to desalt the cheese. Change the water several times the first day.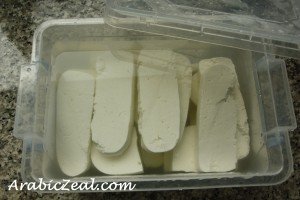 2. Also in advance, prepare the rose-scented simple syrup so it's completely chilled before the kunafe comes out of the oven.
3. About one hour before cooking, remove the kunafe pastry from the freezer to thaw on the counter. Make the clarified butter.
4. Prepare the pan—a 30 cm (12 inch) round pan or a 15-inch deep-dish pizza pan. Spread 4 Tablespoons of the clarified butter in the pan. Add the orange coloring a little at a time. Using a pastry brush, spread the butter and the coloring evenly all over the pan and up the sides.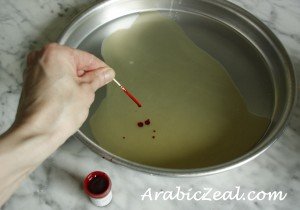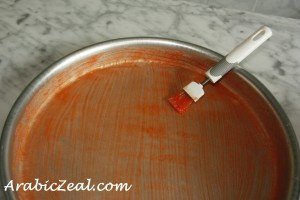 5. Preheat the oven to 350° F (190° C).
6. Prepare the kunafe pastry. Remove from package and cut into four sections. In a food processor, gently grind one quarter of the thawed pastry at a time with a few pulses keeping it coarse.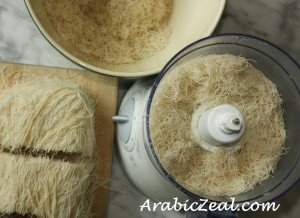 7. Place pastry in a large bowl and gradually pour the remaining hot clarified butter over top. Use the full amount of butter or the pastry will be dry or stick to the pan. Using your fingers, mix in the butter to evenly coat the strands of pastry.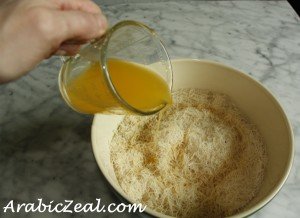 8. Drain the desalted cheese and pat dry with a dish towel. Grate cheeses into a large bowl. (If using ricotta, no need to grate.) Sprinkle the sugar and orange blossom water over the cheeses and gently mix together.
9. Layer the pastry. For the bottom layer, sprinkle handfuls of the buttered pastry and press into the prepared pan going slightly up the sides. Use approximately half the pastry mixture or a bit more to completely cover the pan. (This will be the top when the pastry is flipped.)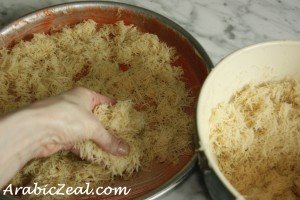 10. Add the cheese filling, spreading the cheese evenly and pressing to cover completely.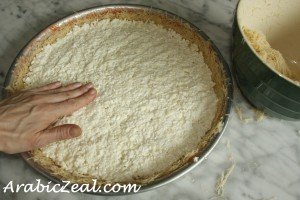 11. Cover with the remaining layer of pastry, evening it out and pressing gently.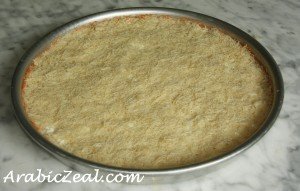 12. Bake in the preheated oven for 30 to 35 minutes until pastry becomes crisp and slightly golden.
13. Remove pastry from oven and give it a gentle shake. The kunafe will separate from the sides of the pan. If not, separate with a butter knife. The moment of truth: invert the hot kunafe onto a serving platter. As you flip it over, say bismillah (In the name of God).
14. The orange pastry should be slightly crisp. Pour the cold simple syrup over the hot pastry until the kunafe is saturated and glistening. Reserve the remaining syrup to serve in a small pitcher on the side.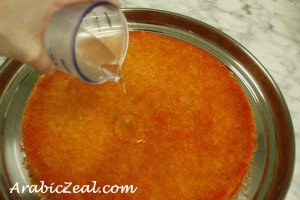 15. Cut the kunafe into squares or diamonds, 2 inch x 2 inch or larger. Garnish with pistachio nuts and serve while still hot. Leftovers can be stored for up to four days in the refrigerator and warmed up in the oven or microwave.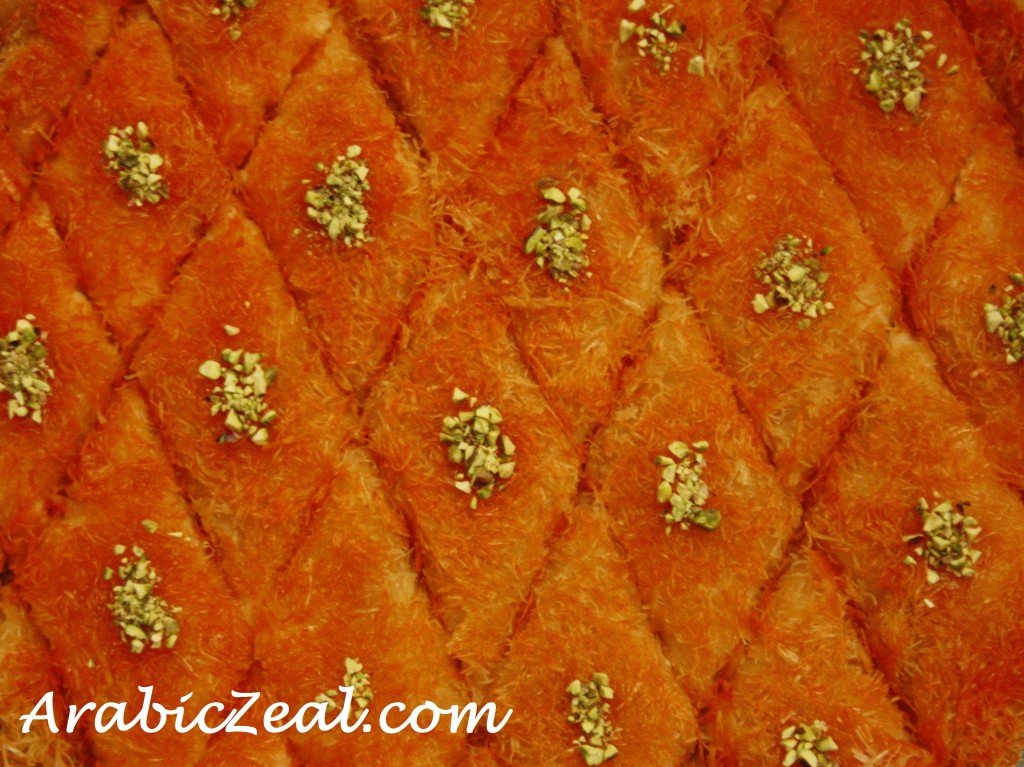 Question: What are your experiences with making or eating kanafe?