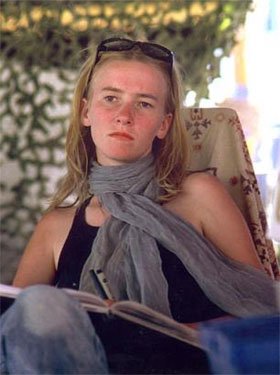 When I first heard about Rachel Corrie, she was already gone.
At the time of her death, Rachel was 23 years old, a senior at Evergreen State College in Olympia, Washington. She was living in Rafah, Gaza Strip, volunteering for a pro-Palestine activist group. She had been there for less than two months. Among her duties were protecting Palestinian municipality workers as they repaired their water well, damaged by Israeli bulldozers. She, along with other volunteers, also attempted to stop the unlawful destruction of Palestinian homes. Meanwhile, she lived and ate with the Palestinians of Rafah, a border town, overcrowded with refugees.
It was on March 16, 2003 when Rachel was crushed to death by an Israeli bulldozer while trying to protect the home of a Palestinian family against demolition. Witnesses say and photographs show that Rachel was clearly visible in her orange florescent jacket.
When I first read about Rachel, I felt an immediate connection to her; I saw her as a kindred spirit. Like me, she was from Washington State and went to Palestine as a young person. And like me, she was both deeply moved by the people of Palestine and horrified by the tactics of the Israeli occupation.
However, unlike me, Rachel didn't simply wallow in the injustice of it all. Her compassion went further. As part of an independent-study program, Rachel signed on to volunteer her time, energy and enthusiasm to help the Palestinians. She bravely stood up for her convictions in a way few of us can.
Rachel was also a talented writer. She wrote about her dreams, her impressions and her analysis of the situation in Palestine. Rachel's journals and emails from her time in Palestine have been published in the book Let Me Stand Alone and performed in dramatic readings and the play My Name is Rachel Corrie, which was performed in dozens of cities around the world.
We know that Rachel put herself in harm's way on that day in March, 2003. However, according to her journals and letters, she believed that the Israel Defense Forces (IDF) would not dare harm her or any "international."
Within six weeks after the killing of Rachel Corrie, three other international activists were shot by the IDF: Brian Avery, an American, age 24, was shot in the face in Jenin and permanently disfigured; Tom Hurndall, a British student, age 21, was shot in the head and killed in Gaza Strip; James Miller, a Welsh filmmaker, age 34, was shot in the neck and killed in Rafah. Meanwhile, on the same night of Rachel's death, nine Palestinians were killed in Gaza, including a 4-year-old girl.
Since Rachel's death, her parents Craig and Cindy Corrie have spent their time promoting peace and raising awareness about the plight of the Palestinians—with a special emphasis on standing up against the demolition of Palestinian homes and the use of bulldozers for these demolitions. At the same time, the Corrie family has fought tirelessly in the Israeli courts to seek justice for their daughter.
Nine years ago, Rachel's parents were promised a "thorough, credible and transparent investigation." And yet the IDF blamed Rachel's death on "falling debris." Meanwhile, no action has been taken against the bulldozer driver or any other military personnel present at the time.
In an attempt to seek some measure of justice for Rachel's killing, the Corrie family filed a civil lawsuit in 2005 charging the state of Israel with responsibility for Rachel's killing and failure to conduct a full and credible investigation in the case. The trial, which began over two years ago, is scheduled to release a verdict this Tuesday, August 28th at the District Court in Haifa.
As I spend this week, along with thousands of others, remembering Rachel, the more I am reminded how Rachel Corrie was a courageous human rights defender and how she is a model of compassion and a shining star for all of us.
Two days before her death, in an interview (below) conducted by the Middle East Broadcasting, Rachel Corrie expressed her concerns for the Palestinians in Rafah.
To know more about Rachel Corrie and find out what you can do, visit the Rachel Corrie Foundation for Peace & Justice.
UPDATE August 28: An Israeli court has ruled that Israel was not at fault for the death of US activist Rachel Corrie, who was killed in the Gaza Strip by an Israeli army bulldozer in 2003. Her parents have said she "was a human being who deserved accountability."