Sharing My Zeal
Hello Friends!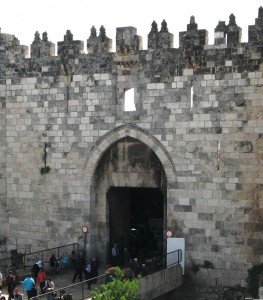 I was nineteen, a young American living in Paris, supposedly living my dream. Yet what was my fantasy?
I daydreamed about traveling in the Middle East. So, after a year of discovering that France was not for me, I took a bus from Paris to Athens and a boat from Athens to Haifa. Soon, I was walking the cobblestone alleys of the Muslim Quarter in Jerusalem.
My twenty-year old self wrote in a letter to my family (dated 21 October, 1986) about my first visit to Jerusalem:
I just had a morning I'll never forget. I went to the Arab market inside the Old City of Jerusalem. . . Coming here is like stepping onto another planet. The ancient walls of the Old City–I don't have the words to describe them–at night, they're lit up. It's breathtaking. . . . Inside, the Arab quarter is a huge maze of tiny streets, winding alleys and stone courtyards. I love walking these streets. . . . Everything is new here: the smells, the food, the climate, the people, the sights. . .
After two years spent exploring Palestine, as well as traveling to Egypt, Jordan and Iraq, I returned to my home in Bellingham, Washington. My fate was sealed because with me was my new Palestinian husband, whom I had met in Bethlehem and married in Jerusalem.
Newly arrived in the US, we had big goals. We needed to finish university, start our lives, establish our careers and begin a family. But first–he had to learn English.
Now flash forward to the present. It's 2011. We're raising our three children (ages 15, 12 and 9). We live in Dubai, where we've lived for ten years, striving and struggling to create the bilingual, bicultural family that we had always imagined.
Meanwhile, over the years I've asked myself: Who am I? Where do I fit in? At times I've become obsessed with cultural identity–my own and everyone else's. I even wrote a novel exploring those themes.
So, why the blog, you ask?
In my own small way, I hope to bring down barriers between Arabs and non-Arabs. I hope to connect with other writers, readers, expats, foreign spouses and anyone else who shares my zeal for the region. I plan to discuss relevant books and share photos and recipes. Naturally, I'll blog about Palestine and Dubai, but also Morocco (my current fixation) and other Arabic countries.
However, before I launch into a detailed blog post on the tradition of Palestinian cross-stitch, I'd like to hear from you. Tell me your connection to the region and what you'd like to know. Where do your cultural interests lie?
Please tell me by leaving me a comment below. I look forward to hearing from you.
Bye for now & Salam,
Holly