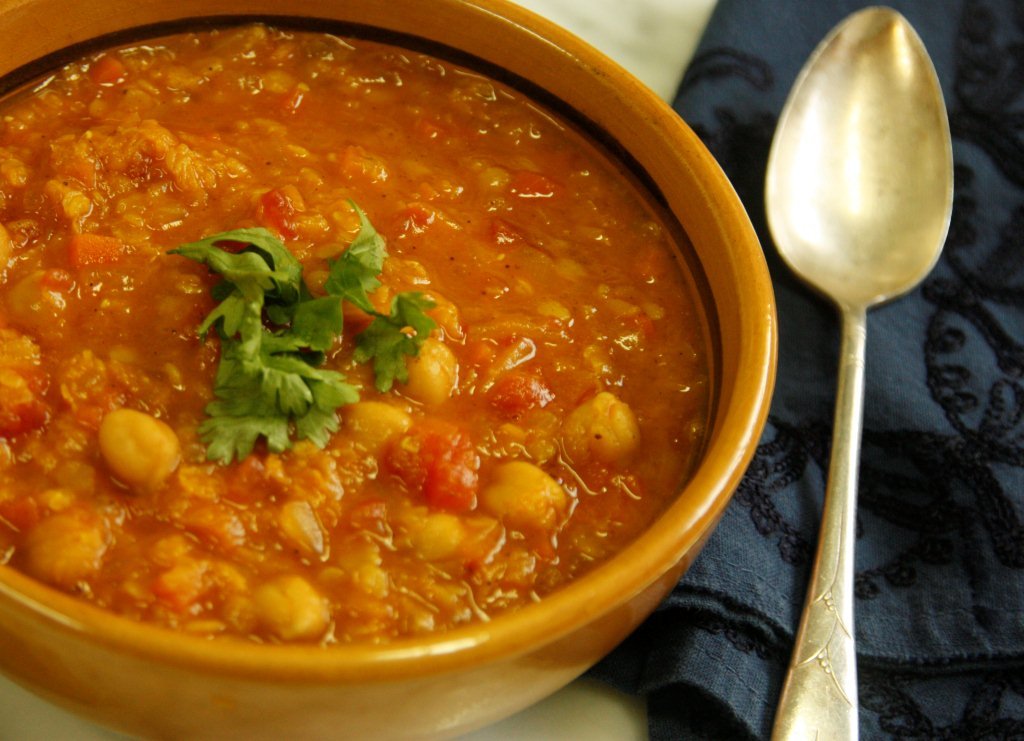 I love this soup! This is a wonderful soup to eat as a meal with crusty bread—or to break your fast during Ramadan. This particular soup was adapted from a recipe in Fresh from the Vegetarian Slow Cooker. (A lovely cookbook). However, I changed the ingredients to make the soup heartier and healthier. Also, I experimented with cooking methods to be able to prepare this on the stovetop or in a slow cooker.
If you've never used a slow cooker, it's a wonderful tool—especially during Ramadan. Why? First, food can be prepped and simmering early in the day. Then when it's time to break your fast, there's less last-minute rushing around. Second, a slow cooker can free up your stovetop when entertaining. It's traditional when hosting a Ramadan iftar to prepare many, many dishes. The slow cooker enables you to get a dish going early on and out of the way.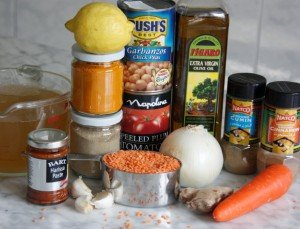 The ingredients in this recipe are generally straight-forward, except for one: harissa. This Tunisian hot chili sauce comes in a tube, can or small jar. It's normally found in specialty stores; however, I sometimes have trouble finding it in Dubai. This time I used something called "harissa paste" and it worked just fine. For those that like more of a kick, serve extra harissa on the side.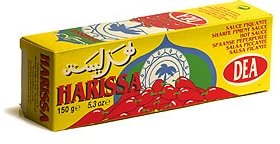 This recipe calls for canned tomatoes, chopped. I suggest avoiding any type of ready-cut canned tomatoes and opt for whole plum tomatoes, which are higher quality. Chopping them yourself takes only a few minutes, and it improves the flavor of the dish.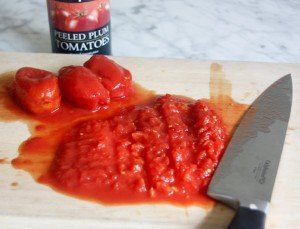 Moroccan-Style Lentil Soup with Chickpeas
1 Tablespoon olive oil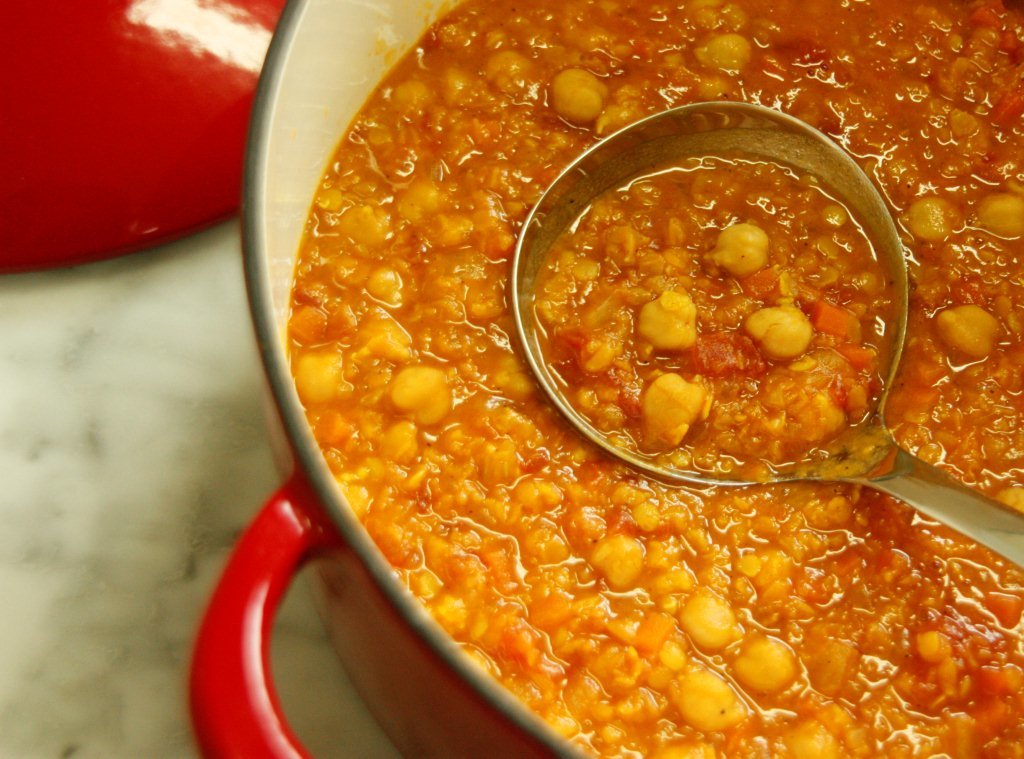 1 onion, chopped
3 cloves garlic, minced
1 carrot, chopped finely
1 teaspoon fresh ginger, peeled & minced
½ teaspoon cinnamon
½ teaspoon turmeric
¼ teaspoon ground cardamom
¼ teaspoon ground cumin
1 cup orange lentils, picked over and rinsed
1 14½ -ounce can whole plum tomatoes, chopped (reserve liquid)
1 15½-ounce can chickpeas, drained and rinsed
6 cups vegetable stock or chicken stock (and/or water)
1 Tablespoon lemon juice
1 to 2 teaspoons harissa
Fresh pepper and 1½ teaspoons salt (or to taste)
Fresh cilantro or parsley (garnish)
Serve with extra lemon slices and harissa on the side.
Method
In a large skillet or cooking pot, heat the oil over medium heat. Add the onion, garlic and carrot and cook until softened. Add the ginger and the four spices, stirring to coat the vegetables.
Transfer the onion mixture to a slow cooker. Alternatively, keep the mixture in the cooking pot to cook on the stovetop. Add the lentils, chickpeas, stock, and chopped tomatoes, including the liquid.
SLOW COOKER METHOD: Cover and cook on Low for 8 hours—or on High for 4 hours.
STOVETOP METHOD: Simmer gently, uncovered, over low heat for about 1 hour, stirring occasionally. Add extra liquid if necessary.
Just before serving, add the lemon juice and harissa and season with salt and pepper.
Garnish with fresh herbs and serve with lemon slices and extra harissa on the side.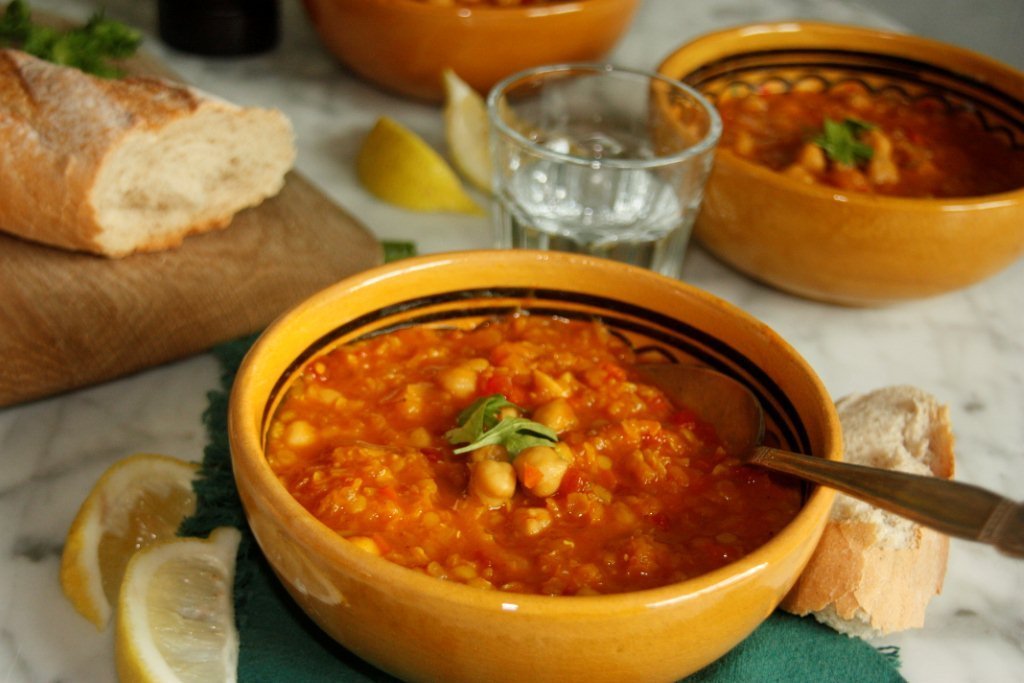 Tell me: what is your favorite Moroccan food—or Ramadan time-saver?