Maqluba ~ The National Dish of Palestine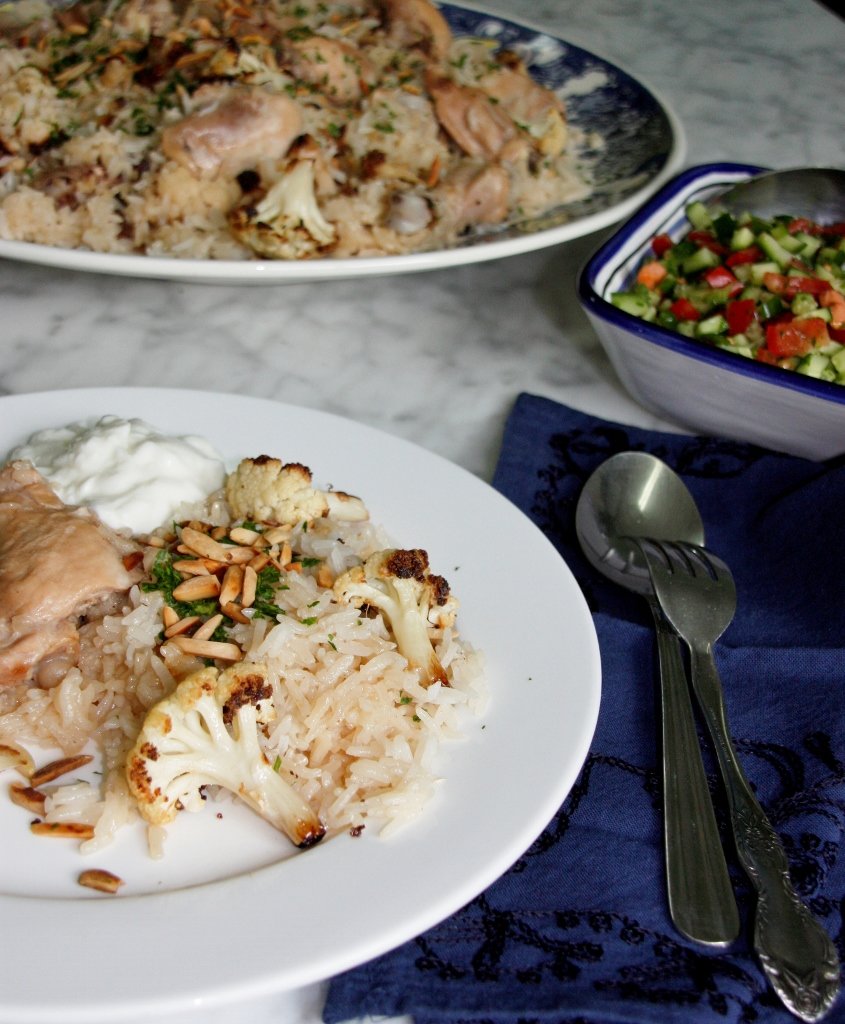 Every Palestinian family has their own way of preparing Maqluba, which means "upside-down" in Arabic. This main dish has countless variations in ingredients, measurements and technique. The basic method is this: a large cooking pot is layered with meat or chicken, vegetables and rice; it's cooked on the stove and flipped upside-down onto a large platter and served with yogurt on the side.
I first learned to make Maqluba from my Palestinian mother-in-law, but I have gradually adjusted the dish over the years. At our home, Maqluba is always made with chicken and cauliflower. Others prefer lamb or eggplant. The vegetables are traditionally fried. However, I prefer to brown the cauliflower in the oven. Any chicken pieces can be used, but I have found that thigh and leg pieces cook evenly and serve up nicely. Below is my recipe:
Maqluba
Serves 6-8
Ingredients
1 large head of cauliflower, cut in flowerets, washed and dried well
¼ cup + 2 T canola oil
1 large white onion, chopped
Chicken pieces, approx 15 legs & thighs, skin removed and cleaned
3 cups long-grain rice
Salt to taste
Parsley, finely chopped (optional garnish)
Almond slivers, toasted (optional garnish)
Yogurt, served on the side
Method
Begin by browning the cauliflower. Drizzle some of the ¼ cup oil onto a large baking sheet. Toss the cauliflower with the remaining oil to coat evenly. Spread cauliflower on the baking sheet in a single layer.
Bake cauliflower in a pre-heated hot oven, 400 F/200 C (gas mark 6) for 10 -12 minutes until golden brown on the bottom. Turn and bake for another 10-12 minutes. Drain on paper towel. Salt lightly.
In a large cooking pot, heat the 2 T oil over medium heat. Add onion and sauté for 5 minutes until translucent. Add chicken pieces and cook over medium-high heat for 5-8 minutes, turning once or twice. The chicken pieces will be browned slightly and partially cooked.
Cover chicken with water, approximately 6 cups. Bring to boil. Lower heat and cover. Simmer for 12 minutes (longer if using larger pieces). Skim off any foam from the top.
Meanwhile, soak the rice: place rice in a bowl, cover with boiling water and stir. Let sit for 10 minutes, drain well and set aside.
When chicken is finished, remove pot from heat. With a slotted spoon, remove chicken pieces and set aside. Remove liquid from the pot and reserve 5 cups. (Discard any excess.) Season the liquid with 1½ teaspoons salt or to taste.
Assemble the dish. In the empty pot, layer the bottom with cooked chicken pieces. Next, add a layer of cauliflower. Top with the soaked rice. Smooth the top. Add the 5 cups of salted liquid. To avoid disturbing the layers, place a small saucer on the rice and pour over it. Remove saucer and smooth the top again.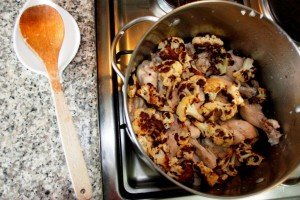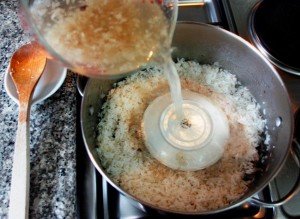 8. Bring to a gentle boil. Cover and simmer over low heat for 20 minutes. Check for doneness with the end of a wooden spoon nudged to the bottom of the pot. If any liquid remains, cook for another few minutes until all liquid is absorbed.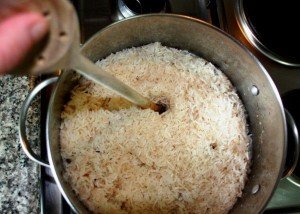 9. Remove pot from heat and let rest for 5 minutes. Invert pot onto a large platter, flipping upside down. Remove pot and scoop out any remaining food.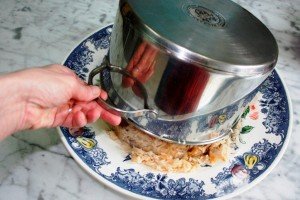 10. To serve: fluff the rice and arrange the chicken pieces on top. Garnish with chopped parsley and toasted almonds. Maqluba should be served with yogurt or a yogurt-based salad. It may also be served with a simple Arabic salad of cucumber, tomatoes, parsley, lemon juice and salt.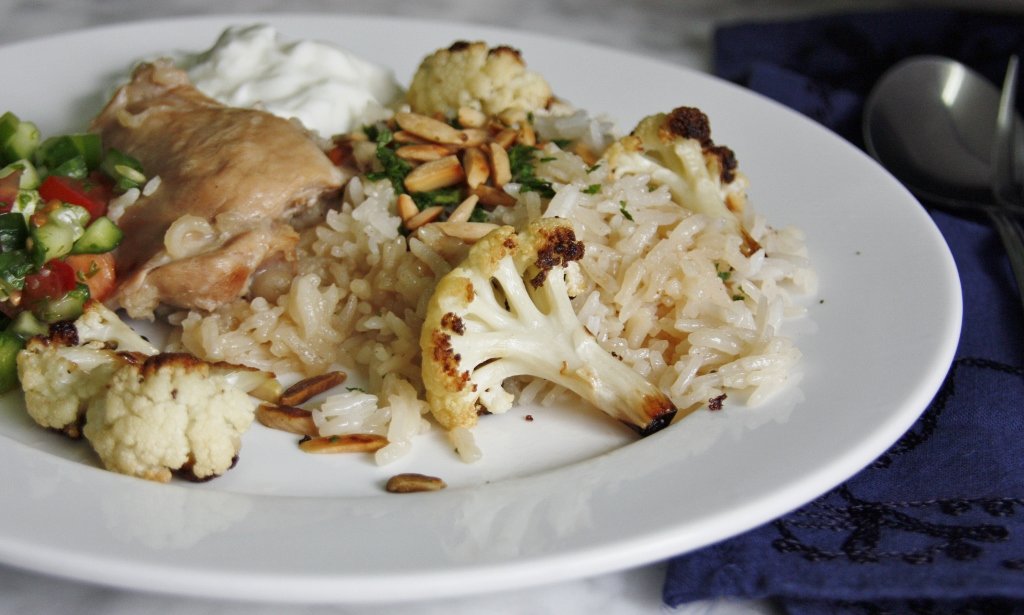 Share your experiences with Maqluba.