Can you believe—the Dubai International Film Festival is already ten years old!
After a week of attending films at the DIFF, I'm now reflecting on what I saw. With 174 films from around the world, all so diverse, it was hard to decide what to see. Here are the highlights of what I did see—my favorite Arab films from this year's Dubai Film Festival 2013: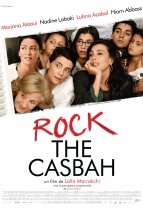 Rock the Casbah
I attended one gala screening this year and this was it: Rock the Casbah, a Moroccan-French film set in upper-class Tangiers, Morocco, a family saga with a touch of magical realism.
With lush scenery and talented actors, it was hard to resist this film set within a gorgeous Tangiers villa and garden. It tells the story of four generations coping with the death of their patriarch and the family secrets which follow. Dealing with this aftermath is a mother and her three very different adult daughters, all with challenges of their own. A story with a Kite Runner twist, this film addresses difficult themes such as adultery, suicide and incest.
This film by Leila Marrakchi features the talent of Omar Sharif (the patriarch), Palestinian Hiam Abbass (the matriarch), and Lebanese Nadine Labaki, as one of the sisters. Rock the Casbah won Special Mention at the DIFF, and I recommend it to anyone who likes sprawling family dramas.
May in Summer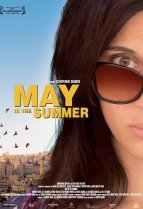 I was looking forward to this film by Palestinian-American Cherien Dabis, the filmmaker who brought us Amreeka, one of my favorite Arab-American films ever.
Dabis' latest film May in Summer, which had its debut at the DIFF, is set in Amman, Jordan and tells the story of May who has returned to her hometown Amman for her wedding. A story of expat culture clash, May in Summer explores an expat's return to her conservative Jordanian home and to her Christian mother who disapproves of her daughter's choice to marry a Muslim man.
While this film did not move me in the way that Amreeka did, I still found much to enjoy—the dynamics between the three sisters, the American father, played by Bill Pullman who has a "foreign fetish" according to one of his daughters. I also enjoyed the many scenes of Amman neighborhoods. If you have any connection to Jordan, I recommend this film.
Meanwhile, two of Dabis' upcoming projects are set in the West Bank—a comedy and a drama. More films to watch for!
I had moderate expectations for Homeland (Né Quelque Part), an Algerian-French-Moroccan film set in Algeria. But this is often how it works at film festivals: my husband and I laughed from beginning to end in this light-hearted but insightful immigrant story.
Homeland tells the story of Farid, a young North African man who has lived in France his entire life. When his father falls ill and sends him to Algeria, it's his first time visiting his country of origin. With universal themes, Homeland is a film any immigrant or expat can relate to.
After the screening, film-maker Mohamed Hamidi and lead actor Tewfik Jallab answered questions and explained that it was their first feature film. When you take that into consideration, the film impresses me even more.
Wooden Hand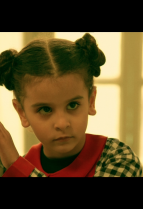 I saw four short films from Arab countries, all featuring children, and Wooden Hand (Peau de Colle) was my favorite.
Wooden Hand, a Tunisian-French film tells the story of five-year-old Amira who is humiliated by her strict and misguided Qur'an teacher. What follows is the story of a resourceful child who refuses to return to Qur'an class, and she makes this happen by gluing her hand to a chair.
What I loved most about this story is the visual aspect—the quietly beautiful but exasperated mother, the scenes at the mosque, and the mother's little red truck driving through the streets of Tunis.
My two children saw this film with me and we all enjoyed this story. If it ever comes your way, I recommend it.
Best Arab Feature Winners 2013 & 2012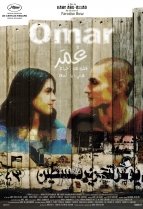 Omar
Omar, set in Occupied Palestine, won top honors at DIFF this year, including Best Arab Feature, as well as Best Director for Hany Abu Assad, the director behind Paradise Now.
This Palestinian drama/thriller was filmed in Nablus and Nazareth. At the DIFF, it had a very limited showing, and I was unable to see it this time around, but it's now at the top of films-to-see list.
Omar was well-received at the Cannes Film Festival, and is Palestine's official submission for to the Oscars 2014 best foreign language category.
Wadjda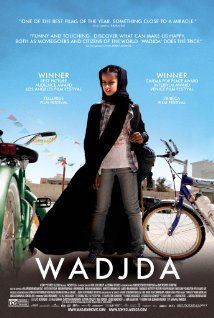 This film out of Saudi Arabia was featured in last year's Dubai Film Festival 2012 and won top honors, including Best Arab Feature film.
Wadjda is the story of a girl in Saudi Arabia who dreams of owning a bicycle like the boys in her neighborhood. This film by Saudi film-maker Haifaa Al Mansour illuminates the lives of girls and women in Saudi Arabia.
I'm including it here because I recently saw this film, and I recommend it. Not only did I enjoy it, but my husband and two kids did as well.
Looking Ahead to DIFF 2014
The Dubai Film Festival takes place in December each year. My advice is: Get your tickets early! I recommend buying tickets the day they go on sale. It's worth it every year to see these unique and often amazing films and also hear from the filmmakers and actors.
Question: What was your favorite film of the Dubai Film Festival?