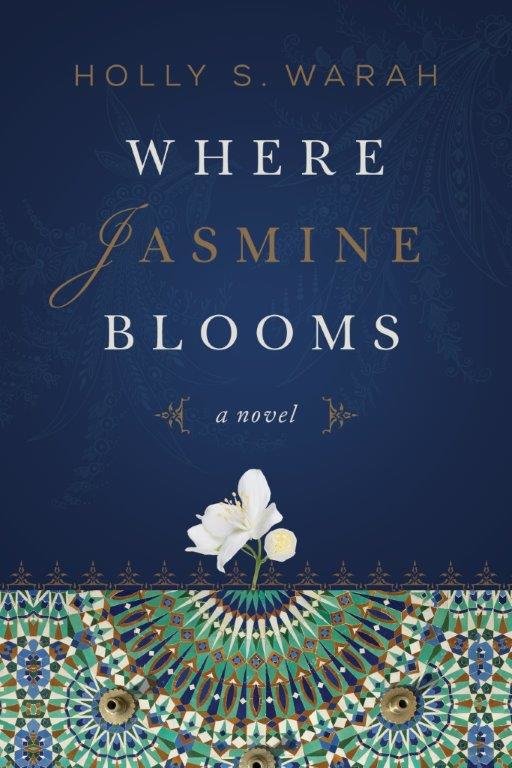 WHERE JASMINE BLOOMS: a novel by Holly S. Warah
At last! After many years of writing, revising, and querying, my novel Where Jasmine Blooms will reach its readers. My debut novel is scheduled to be published by Skyhorse Publishing in April, 2017.
DESCRIPTION
To the Mansours, an Arab American family living in Seattle, love knows no borders. But despite our best efforts, sometimes love—and family—are foreign to us . . .
American-born Margaret Mansour wants nothing more than to rekindle the struggling twenty-year marriage to her Palestinian husband, Ahmed—but not if it means uprooting their home and children in America and moving halfway across the world.
Young and ambitious Alison Mansour has a degree in Near East Studies, but her American education and Syrian background are of no use when her new marriage begins to crumble under the weight of cultural and religious differences. The communication between Alison and her husband is already shaky; how will they cope with the arrival of their first child?
Zainab Mansour, the matriarch of her family, never expected to live in America, but after the death of her husband she finds herself lost in a faithless country and lonely within the walls of her eldest son's home. She wants what's best for her children but struggles to find her place in a new landscape.
Emerging from the interwoven perspectives of these three women comes a story of love and longing, culture and compromise, home and homeland. Exploring the complex political backdrop of the Middle East from a personal perspective, Where Jasmine Blooms travels from the suburbs of Seattle to the villas of Jordan and the refugee camps of the West Bank, on an emotional journey exploring what it means to be a family.
Where Jasmine Blooms
A Novel by Holly S. Warah
$24.99 / Hardcover / April 2017
304 pages / 6 x 9 / ISBN 978-1-62872-749-4
AUTHOR PROFILE
Holly S. Warah has traveled widely throughout the Arab world. She has lived in the region for seventeen years and been married into an Arab family for twenty-eight years. Her short fiction has won a national award, first place in The Writer magazine's 2011 Short Story Contest, as well as several regional awards, including first place in the 2010 Pacific Northwest Writers Association (PNWA) Literary Contest and first place in the 2011 Southwest Writers Writing Contest. Holly has a master's degree in teaching English as a second language and has taught for more than ten years in Seattle and Dubai, where she now lives.
EDITORIAL REVIEW
"Steeped in the smells, flavors and customs of the Palestinian culture, Warah gives us a family quietly roiling under modern and time-worn conflicts. We watch as they, sometimes quietly and sometimes with riveting raucous, struggle to reconcile disparate cultures, harrowing politics and the place for individualism. The matriarch carries her anxieties like rattling chains, the western daughter-in-law waffles on whether her mixed marriage home is stifling or supportive, and a newer mixed marriage teeters even as it produces a child. This keenly told story of an immigrant family straddling two continents is a worthy read as we plod through a world grappling with pluralism."
– Nadia Hashimi, internationally bestselling author of The Pearl That Broke Its Shell
PREORDER
You can preorder your copy today from Amazon, Barnes and Noble, or from your favorite independent bookstore.
Thank you,
Holly