The Etiquette of Hummus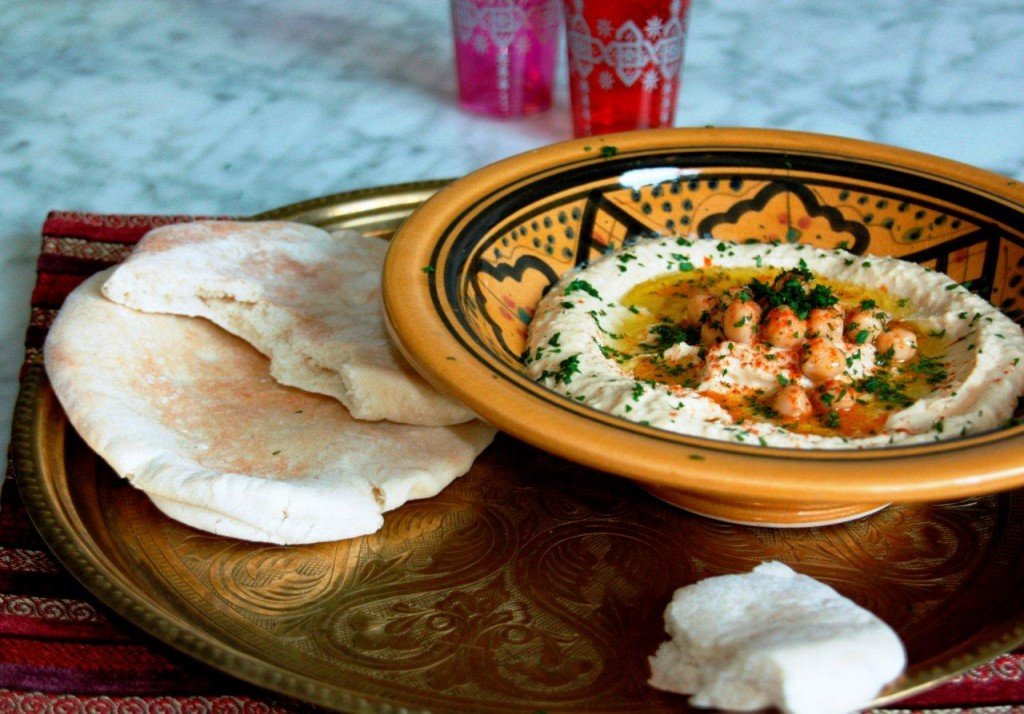 I first grew to love hummus in my husband's family home in Bethlehem, where they typically eat it for breakfast. A child from the household (usually still in pajamas) is sent to the corner shop with an empty dish in his hand. He returns with fresh Arabic bread and the dish, now filled with hummus, beautifully garnished. When I first experienced this, I found the whole process tremendously exotic.
Of course, now hummus is no longer considered "exotic." It's so common in the US—such standard everyday fare—that I hesitated to write about it. Then I saw in this month's Elle Décor magazine an article featuring hummus. That inspired me!
Have you noticed that Americans tend to eat hummus as a dip with veggie sticks? The eater just randomly dips and scoops.
Not so in the Arab world. Usually it's eaten as part of a meal or mezze spread—typically eaten communally off the same plate. But there's a method to it.
Many times in Dubai while sharing a plate of hummus with friends, I've seen an eager American rip off a huge slab of Arabic bread and then swirl it like a giant tortilla chip through the hummus, treating it like a big bowl of party dip.
Honestly now. When eating Arabic-style, this can be a bit of a turn-off. Not to mention, it ruins the presentation of the dish.
If you watch Arabs eat from the same plate (whatever the dish), you'll notice they generally eat from their own area and avoid encroaching on their neighbor's space. For hummus, they use small, bite-size pieces of bread. They dip at the edge of the plate directly in front of them. They pop the whole thing neatly in their mouth.
Below is a hummus recipe from Najda Arabic Cookbook, a charity cookbook now out of print. (Najda means "help" in Arabic.) This recipe is marvelously easy and takes about 10 minutes. Over-achievers will prefer to soak dried chickpeas the night before. As for the rest of us, here's an easier way:
Makes 6-8 servings
½ c liquid from canned chickpeas
2 cans (16 oz each) chickpeas, drained
4 T tahini
Juice from 2 lemons (approx. 4 T)
2 cloves garlic, pressed
1 t salt
Garnish: whole chickpeas, olive oil, paprika, and fresh chopped parsley
Place the first six ingredients in food processor. Don't forget to reserve a few chickpeas for garnish. Blend until smooth and creamy. If too thick or pasty, add extra lemon juice.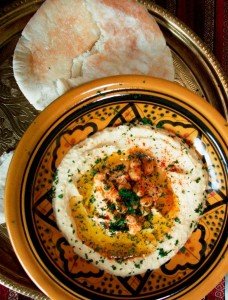 Serve by spreading the hummus on a shallow serving bowl or plate. Swirl the hummus to make a "moat". Place the reserved chickpeas in the center. Generously drizzle olive oil around. The olive oil enhances the hummus and keeps it from drying out. Sprinkle a dash of paprika and chopped parsley. Other options for garnish: sumac, cumin, sliced pickles or roasted pine nuts.
Hummus can be made ahead and garnished at the last minute. Leftovers can be refrigerated for 4-5 days.
At our house, we cannot eat hummus without sweet Arabic mint tea or fresh pita bread.
Just so you know: hummus is historically an Arabic food. If you'd like to know more, here is a history of hummus.
Finally, if you have something to say about hummus or Arabic food etiquette, please leave a comment below. Bye for now & Salaam!