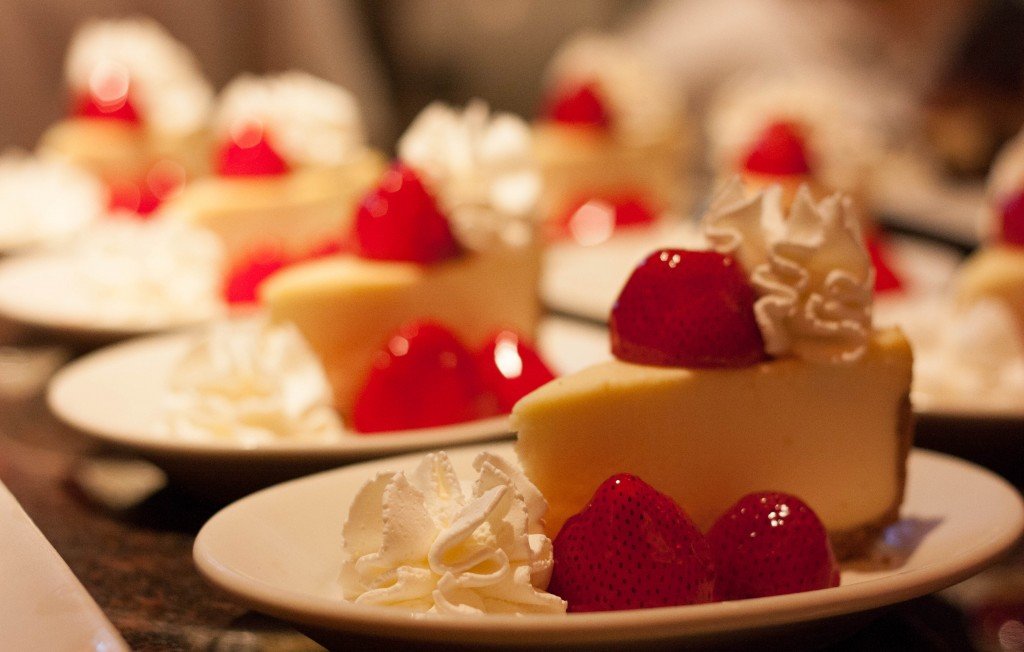 Many American theme restaurants have opened in Dubai in recent years: P.F. Chang's, Red Lobster, Romano's Macaroni Grill … However, none have gotten me as excited as The Cheesecake Factory.
To be honest, I'm a not big fan of cheesecake. (I usually order their strawberry shortcake.) For me, it's more about the memories I have of large family celebrations there. I even lamented last summer, as I sat in The Cheesecake Factory in downtown Seattle, that this was something missing in Dubai.
So, when I was invited to the PR opening last week, I hustled down to Dubai Mall & joined a table of fellow food bloggers to sample menu items and take it all in. The style of the place was exactly like the one in Seattle: same décor, architectural details, even the same furniture and lighting.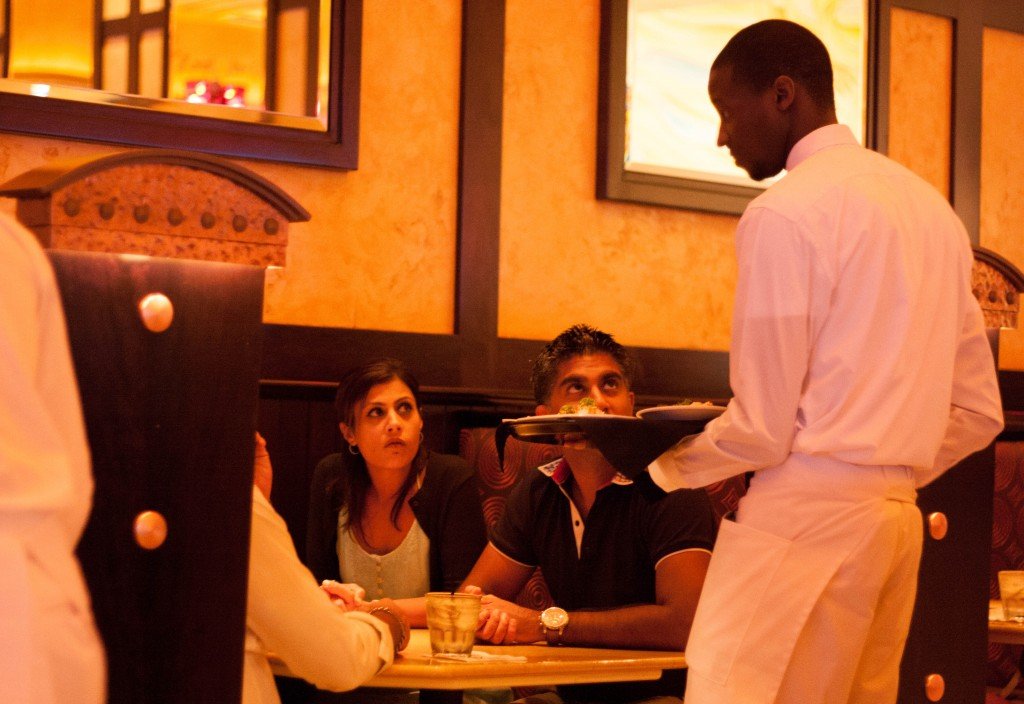 Meanwhile, food servers circulated the dining room, offering various samples from their menu, including avocado eggrolls, crab wontons, herbed salmon, mini-burgers, and Bang Bang Chicken (a signature dish).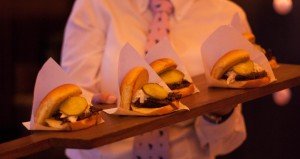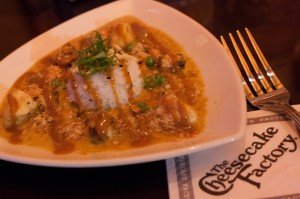 I asked the American staff if they had any regional specialities, such as baklava cheesecake or date layer cake or couscous with lamb. They said they didn't, but they might have some regional cheesecakes in the future.
Cheesecakes Galore
As for the cheesecakes, eat we did. We sampled the original, the Oreo Dream Extreme, and (my favorite) the lemon-raspberry cheesecake. I asked one of the American representatives where the cheesecakes were made. Was there a bakery in the back? Or maybe a factory in Al Quoz industrial zone?
No. The cheesecakes are shipped from the United States.
I gasped. He explained to me that there are two factories in the US which make all their cheesecakes, which are shipped to over 150 restaurants across the US. They are good at shipping cheesecakes, he said.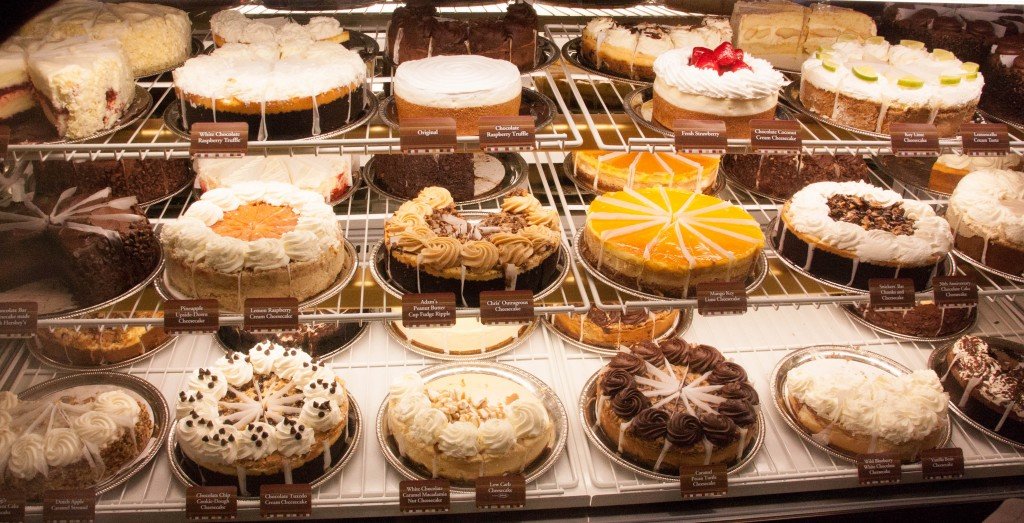 I watched the ribbon cutting ceremony and learned about why The Cheesecake Factory chose Dubai for their first international location.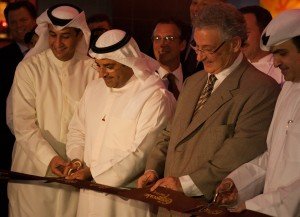 Why Dubai? This was due to their partnership with Al Shaya Group, a franchise retail operator who has brought to Dubai such brands as: Starbucks, Pottery Barn, American Eagle Outfitters, PF Chang's, and Office Depot.
Okay, one trip wasn't enough. I convinced my family to go with me again the next day, which was the first day open to the public. The line was very long, and we waited for more than an hour. My family got very cranky, and we almost gave up. When the staff finally called us in and we walked past others still waiting, I felt like The Chosen Ones.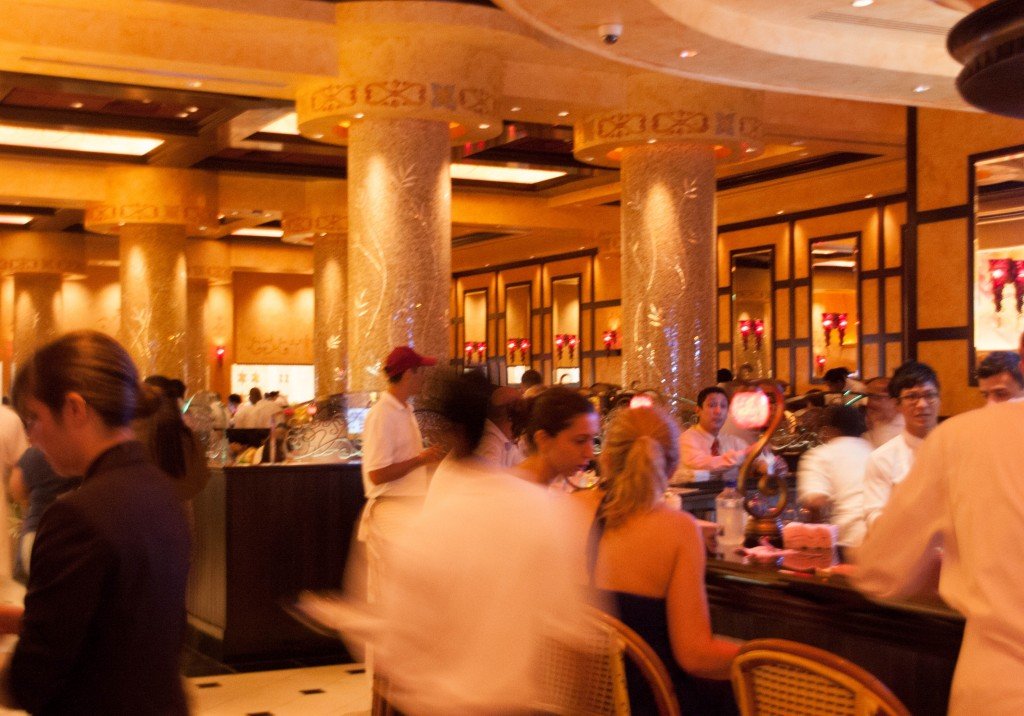 The place was packed. After we sat, my youngest looked around and said, "I feel like I'm in Seattle—except with different people."
Yes, indeed. The staff was the usual international mix, but with lots of American transplants scattered throughout. Apparently, they will stay in Dubai and train the local staff for two months.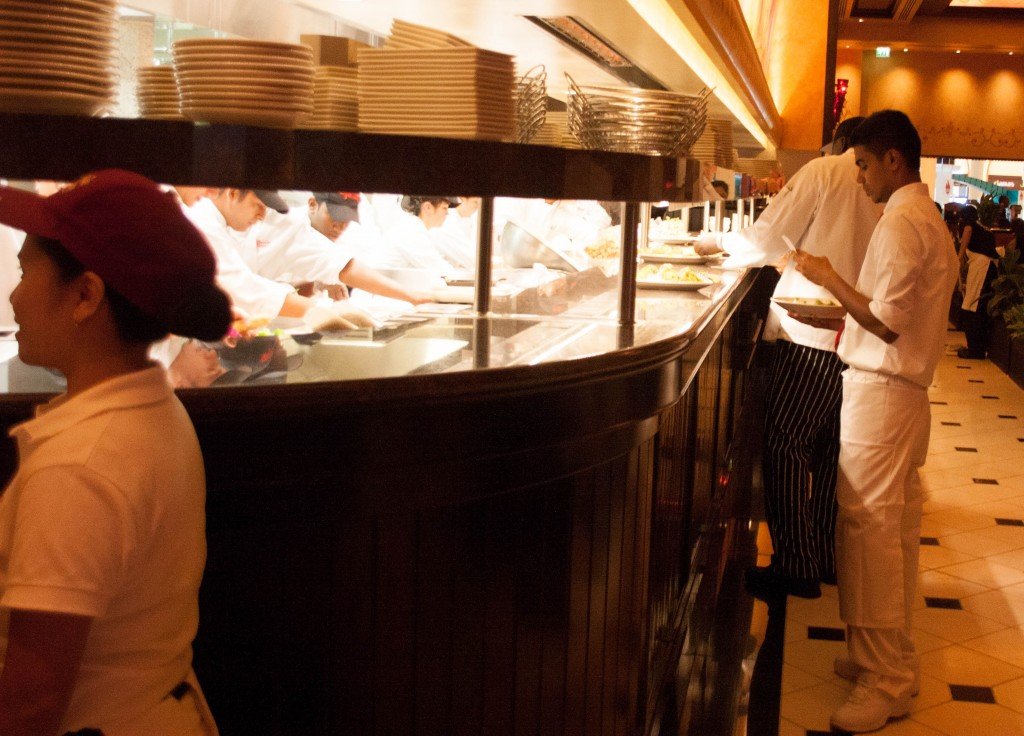 Menu
The menu is big. All meals are made from scratch in the kitchen. Meal portions are large, and most dishes can be shared. In addition to seafood, steak, pasta, pizza and more, they also offer Lunch Specials, Egg & Omelettes all day, and Friday Breakfast.
The appetizers include Thai Lettuce Wraps and Vietnamese Shrimp rolls and range from 48–68 dirhams. Specialty Dinners include Bang Bang Chicken (95 dhs) and Baja Chicken Tacos (68 dhs). Seafood Dishes include New Orleans Shrimp (84 dhs) and Wasabi Crusted Ahi Tuna (115 dhs).
As for desserts, the 31 kinds of cheesecake include: Red Velvet Cheesecake, Chocolate Coconut Cream Cheesecake, and Key Lime Cheesecake. (28–34 dhs.) If you don't care for cheesecake, other options include Apple Crisp, Carrot Cake, Lemoncello Cream Torte, and a selection of layer cakes (all 37 dhs).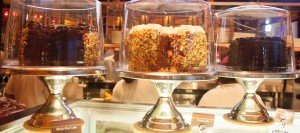 My daughter ordered the Chocolate Tower Truffle Cake, which was huge.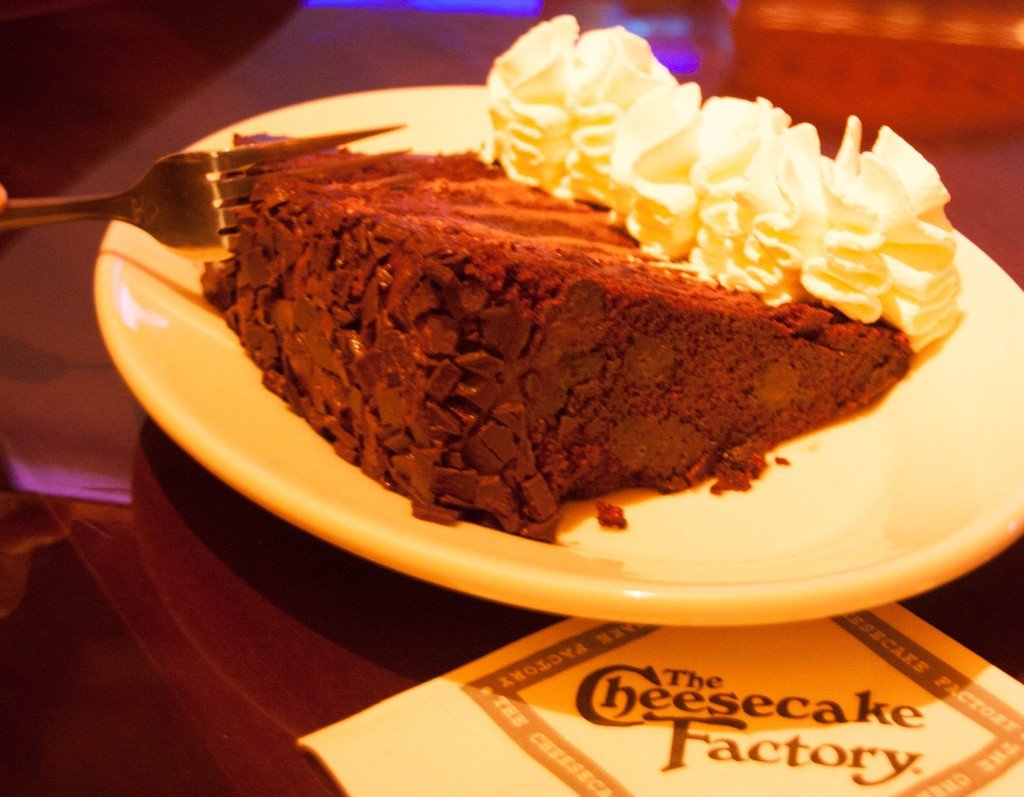 You can see the original menu here, which is nearly the same as the Dubai menu.
By now you might be thinking, "This is why Americans are fat." Well, yes. The calorie content is frightening. And that is why I think of this restaurant for special occasions only. It's not every day fare.
The Cheesecake Factory is located in Dubai Mall on the ground floor, directly across from the Aquarium. An even larger branch is scheduled to open at Mall of the Emirates sometime in the fall, as well as a third branch in Kuwait.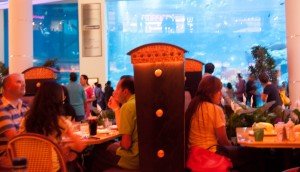 Tips for eating at The Cheesecake Factory
Go early. Plan on having a wait.
Avoid over-ordering, as the portion sizes are huge.
Don't be shy about taking leftovers home. They have good take-away packaging.
If you order a piece of cheesecake—or anything for that matter—plan to share.
Schedule a trip to the gym the next day.
Question: Have you been to The Cheesecake Factory in Dubai or elsewhere?