Trip to the Blue Souk … and a Surprise
About once a month I like to go to Sharjah to remind myself that I actually live in an Arab country. Sharjah is the emirate north of Dubai and more conservative. Alcohol, sheesha and skimpy clothing are all forbidden.
My favorite place in Sharjah is the Blue Souk. Arabs call it Souk Islamia (Islamic Souk). To confuse you further, the sign outside reads "Central Souk."
Last Friday, we headed for it, but stopped on the way to eat falafel sandwiches at Kalha—to fuel up for the serious shopping ahead. This trip wasn't for random purchases. We had an important mission at hand!
The Blue Souk
Located on the Corniche of the Buheirah (the big lake), the Blue Souk is two long buildings that look a bit like a train station. There's a picture of it on the UAE five-dirham note.

The souk has two stories. The ground floor is mostly filled with Arabic clothing. The upper floor holds the goodies—carpets from Iran, Kashmiri textiles, silver Bedouin jewelry, and all types of bric-a-brac from the region and beyond. The place calls for serious bargaining. Whatever they ask for, start the bargaining at half the asking-price—but always with a smile.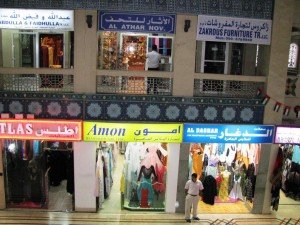 Upstairs, we entered only one shop. The sign said, "antiques" which translates as, "old and tarnished." Our family traipsed in and began to poke around.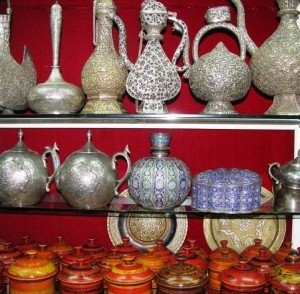 We bought several pieces of "antique" Afghani jewelry. I also chose a silver Mongolian box with Kufic Arabic calligraphy. I had never seen anything like it, so naturally I had to have it.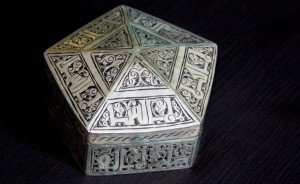 While my nine-year-old son tried out the swords for sale, I saw some spoons—antique silver spoons from Russia. I earnestly asked their prices—about $80 each. Hmmm. At this point, my husband began sighing and rolling his eyes. It was time to leave the shop.
A Surprise
Anyway, silver trinkets were not what we came for. Our mission was on the ground floor; we came to buy clothing to wear to Saudi Arabia. The day before my family got Umrah visas to visit Mecca and Medina. In case you don't know, Umrah is the "small pilgrimage"—versus Hajj, the big pilgrimage.
This upcoming trip was a surprise to me, as I hadn't expected the visas to come through (not with the two huge Israeli stamps in Husband's passport.) Thankfully, the Saudis hadn't noticed—or they chose to overlook them.
So—like any trip—we needed the right clothes. According to Saudi law, I must wear the abaya. For good measure, I decided to get two. We also wanted an abaya for our daughter. Even though she's still a child, at 12, she's tall and it couldn't hurt.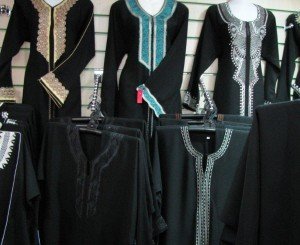 Meanwhile, my husband and boys wanted kanduras, the standard garment of the Gulf Arab Male.
Honestly, I'm not sure why they needed this. Men have a special wrap for performing Umrah and Hajj. The kandura is not required, nor is it the traditional dress of my husband. Perhaps they didn't want to be left out. Or maybe—the clothing will help our family "blend."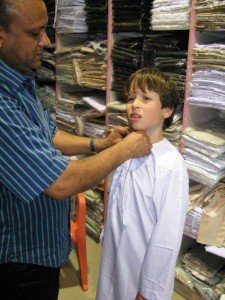 And so, we went from stop to shop, trying on and selecting our attire. I bought two abaya with black-on-black embroidery and matching shayla (scarf). Meanwhile, my daughter, who had been rather hesitant about the whole thing, perked up when she found an abaya with blue Swarovski crystal trim (of course, twice as expensive as mine).
Meanwhile, our sixteen-year-old son wasn't with us. He didn't want a common off-the-rack kandura. He had insisted on a custom-tailored kandura made of special fabric. (Kids these days!)
Back to Umrah: I'm feeling excited and a little bit nervous. What to bring?! How to prepare?! What to expect?! We are booked to travel to Mecca, Medina and Jeddah. (God-willing, we'll be earning hassanat blessings, as well as Marriott points.)
If you've made Umrah, please share with me your "Top Tip." I would gladly welcome it. Also, share any comments you may have about the Blue Souk or anything mentioned here. Shukran.
Bye for now & Salaam.