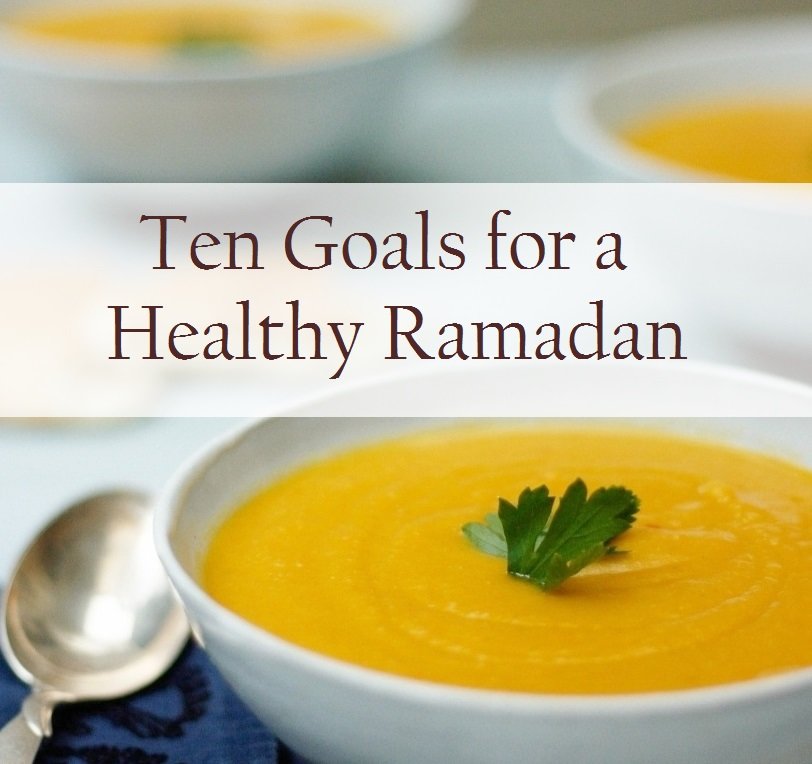 I love Ramadan.
I savor our leisurely family iftars and special gatherings with friends. I appreciate this month set aside for devotion and self-discipline.
However, there are a few things I don't care for: the over-eating, the decline in physical activity, the loss in fitness level, and the inevitable weight gain.
To be honest, I typically stop exercising while fasting and become a Ramadan couch potato. Worst of all, I over-eat many evenings because I deserve it.
Yes, I realize all this defeats the point of point of the holy month. What's more, this way of observing Ramadan is no longer working for me. I used to be able to bounce back, but not anymore. Besides, it just feels wrong. Ramadan is meant to be spiritual and self-reflective—not lazy and over-indulgent.
So, in light of all this, here are my ten healthy goals for Ramadan:
1. Quality Iftars—Not Quantity
I'll start each iftar with a healthy lentil soup—easy enough, as we do that already. Next, I'm aiming for half of my grains to be whole-grain, as in brown rice and whole wheat. This will not be easy, as so many Arab foods rely on refined bread and rice. Still, it's worth a try…
Meanwhile, vegetables will take center stage, including in a big salad and my secret weapon—the veggie stick platter. When I have that Ramadan-urge to just graze into evening, I'll reach for the veggie platter—snap peas, bell peppers strips, cucumbers, carrot sticks—the crunchier the better.
As I plan iftars for my family, I'll remind myself that every evening need not be a "feast," and I'll include some vegetarian meals, like mujaddara.
2. Pace Myself!
It's so easy to get carried away after a day of fasting. To avoid over-doing it, I'm going to try some strategies: take a break between courses, put my fork down between bites, enjoy the company of my family, and stop eating before I feel full. If I feel the urge to keep on going, I'll reach for the veggie platter.
3. Count my Dates and Everything Else
Dates are the special food of Ramadan. At our house, we break our fast with dates and keep snacking on them all evening. If that's not enough, we eat desserts made from dates and more dates at suhour. In other words, it's a date free-for-all!
However, despite the revered role of dates during Ramadan, they have calories just like everything else. I plan to keep track of my dates in my food diary and set limits.
A food diary may sound obsessive, but for me, it's the only way to know how much I'm actually eating and to make sure I get enough of some foods, like fresh fruits and vegetables, and not too much of others, like carbohydrates, dates, and desserts.
4. Reduce Desserts … if I Dare
I used to promise my three fasting children a homemade dessert every night of Ramadan as a "reward" for their efforts. What a terrible habit! It's bad for many reasons, including the fact that sugar is addictive, and, according to some sources, added sugar causes as much (or more) damage as alcohol and fat.
And yet….
It's not Ramadan without traditional treats like qatief. It's impossible to avoid desserts during Ramadan, and some treats I wouldn't want to miss. However, this year I plan to indulge selectively. At home, I'll prepare dessert just few nights a week. I'm planning on healthier options, such as apple blueberry crisp, homemade frozen yogurt, fruit smoothies, and yogurt parfaits.
5. Move it during Daylight Hours
This is going to be tough. There is a big benefit to having a day job during Ramadan. When I was teaching English, my work ensured that I was relatively active and had a regular routine during Ramadan.
This year, my goal is to get out and about every day. However, I won't be spending time outdoors while I'm fasting, as the temperature in Dubai will reach 120° F/ 48° C this month and the humidity will average 80%. I'm afraid I might pass out just walking across the street.
Instead, I'll be active by running errands and strolling in the mall. I also plan to take some gentle yoga classes while fasting. Some Muslims say their yoga practice is actually better when they're fasting. After all, it's ideal to practice yoga on an empty stomach.
6. Keep on Walking
Even though it's so hot and humid in Dubai, I plan to get outside in the evenings. The dog still needs to be walked! And I'm planning on lots of midnight walks on the beach with my family, as the cool mist provides a small reprieve.
I've got my pedometer & I've set a Ramadan daily goal of 8,000 steps. The malls in Dubai are a great place to walk in the evenings during Ramadan. They are open until 1:00am, and I enjoy the Ramadan decorations and window displays, as well as the festive atmosphere and bustle of people. Of course, I'll be walking right past the pastry shops…
7. Drink Six Tall Ones
Many people ask how I stay hydrated when I can only eat and drink in the evenings. Actually, at our house we consume more water during Ramadan than other months. I commit myself to drinking six tall glasses of water after the sun goes down.
This is how I do it: I break my fast with a glass of water, and I drink another during iftar. I drink two more glasses during the evening. I drink a fifth glass before I go to bed. I drink another glass when I get up at 3:30am for suhour. It takes effort, but it's worth it to avoid dehydration.
Meanwhile, I ban all sodas from the house, and this year, I will ban nearly all fruit juice, as whole fruit with its fiber is much better.
8. Rise and Shine with Suhoor
I don't understand how people can skip suhour. It's an important tradition at our house. I used to stuff myself at suhour out of fear of starving, and I would even have dessert. Those days are over.
Now I opt for a whole-grain, fiber-rich meal that will stay with me. My suhour of choice is steel-cut oats (cooked in advance) with some dried fruit and walnuts. I also add a hard-boiled egg and a big mug of decaf coffee.
If my husband is charge, we'll have scrambled eggs, or hummus or foul—with whole-wheat bread, of course.
9. Avoid Buffets like the Plague
I say this every year. Then I read the local magazines featuring "Ultimate Guide to Ramadan Iftars in Dubai." Then we get an invite to some over-the-top buffet in a hotel. Next thing you know, there we are, heaping our plates. And then—the inevitable regret.
These buffets are wrought with problems: they are wasteful; they are against the spirit of Ramadan; they encourage over-eating, and we completely forget the concept of remembering those less fortunate.
And yet, if I do find myself at a buffet (likely at some point), I'll follow the "dieter's rule" of filling half my plate with vegetables, such as those heavenly Arab mezza salads, and I'll fill the other half of my plate with only favorite foods. I'll skip all the rest, including those delicious dangerous fried fatayer.
10. Sleep is My Friend
In case you didn't know, sleep is the secret key to wellness. Scientists are still discovering all the hidden benefits of sleep. Without enough, we are grumpy, less focused, forgetful, less motivated, and more apt to get sick. What's more, lack of sleep combined with fasting is a double-whammy to our bodies.
My goals this year is not to stay awake until suhour and not to sleep the day away. So slovenly! And it creates a jetlag-like stupor. I'm planning to keep regular hours … with the possibility of a lovely late-afternoon nap.
* * *
Ramadan is a challenging month—spiritually, emotionally and physically. I always count down the days until it's over. Sometimes I secretly wish for a "holy week" instead of a holy month. And yet, when the month is over, I feel a touch of remorse. I miss those family iftars where all five of us come together in a meaningful and joyful way.
This year, I'm trying to have both: the spirit and joy of Ramadan, as well as physical wellness.
Question: How do you stay healthy during Ramadan?