Fattoush ~ Lebanese Peasant Salad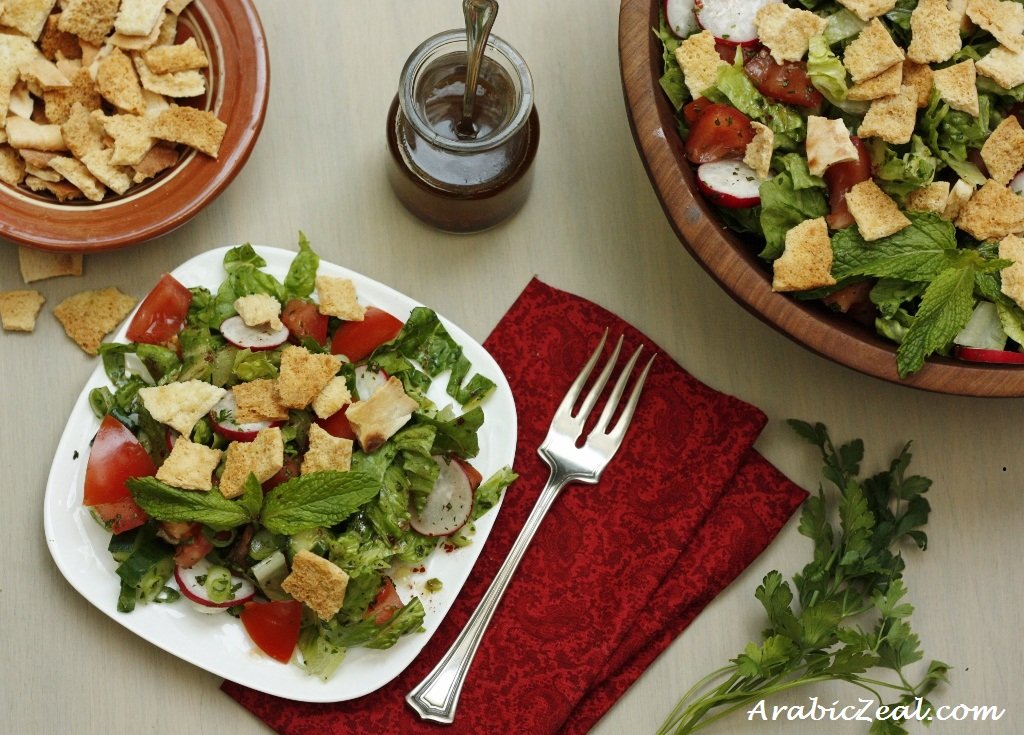 Fattoush is one of the most well-known of Arabic salads and a standard dish on the mezza table. It's a colorful tossed salad with a lemony garlic dressing, and if you've never made a single Arabic dish, this is a delicious and healthy place to start.
Like most Arabic dishes, the ingredients and proportions can vary. However, all cooks agree that the one essential ingredient to this rustic salad is its crispy pieces of Arabic bread which serve as a kind of Middle Eastern croutons. Claudia Rodin refers to fattoush as "Bread Salad."
Optional Specialty Ingredients
A few optional ingredients can give fattoush a more authentic flavor. First, sumac, a deep red spice, adds a pleasant lemony taste and an extra layer of zest. Next, pomegranate syrup, one of my favorite Middle Eastern ingredients, provides a lovely sweet-and-sour tang. Finally, some insist that fattoush must include purslane, a pale green herb with pear-shaped leaves. If you can't get your hands on these ingredients, don't despair. You can still make a terrific fattoush salad without them.
Below is my recipe for fattoush. It contains the basic ingredients, plus a few optional add-ons. With this method, you can make the salad an hour or two in advance and toss it together just before serving. Always use the freshest ingredients possible.
FATTOUSH SALAD
Serves 6
Ingredients
3 Arabic flat breads
3 medium firm ripe tomatoes, chopped
2-3 small cucumbers, quartered lengthwise and sliced
1 green pepper, seeded and chopped into small pieces
5 small radishes, sliced thinly
6 green onions (scallions), sliced thinly
1 small bunch of fresh mint, leaves only, chopped finely (about ¼ cup)
1 small bunch flat-leaf parsley, chopped finely (about ¼ cup)
1 small bunch purslane, tender leaves only (optional)
6 large leaves romaine lettuce, chopped into bite-sized pieces
Dressing:
1/3 cup lemon juice
1/3 cup olive oil
1-2 cloves garlic, pressed or chopped
½ teaspoon salt
Freshly ground pepper
1-2 teaspoons pomegranate syrup (optional)
1 teaspoon sumac, or more to taste (optional)
Method
Toast the bread. Traditionally, the pieces of Arabic bread are fried. As a healthier option, cut each round of Arabic bread into two and split into two layers. Brush lightly with olive oil or skip the oil entirely. Place bread on baking sheet and bake in a moderate oven 350° F/180° C for 5 minutes. Turn and repeat until crisp and lightly toasted. (The thinner the bread, the quicker it toasts.) Break the bread into bite-sized "croutons."
In the bottom of a large salad bowl, place ingredients in this order: tomatoes, cucumber, green pepper, radishes, green onion, chopped herbs and finally, the chopped lettuce. Leave ingredients layered in the bowl until ready to serve.
Prepare the dressing. In a small measuring cup, add the olive oil and lemon juice. Wisk in the garlic, salt, pepper, as well as sumac and pomegranate syrup, if using.
Just before serving, gently toss the salad to mix the layers. Add the dressing, just enough to lightly coat the salad.
Garnish the top of the salad with toasted pieces of Arabic bread and an extra sprinkle of sumac, if desired. Serve with extra dressing and "croutons" on the side.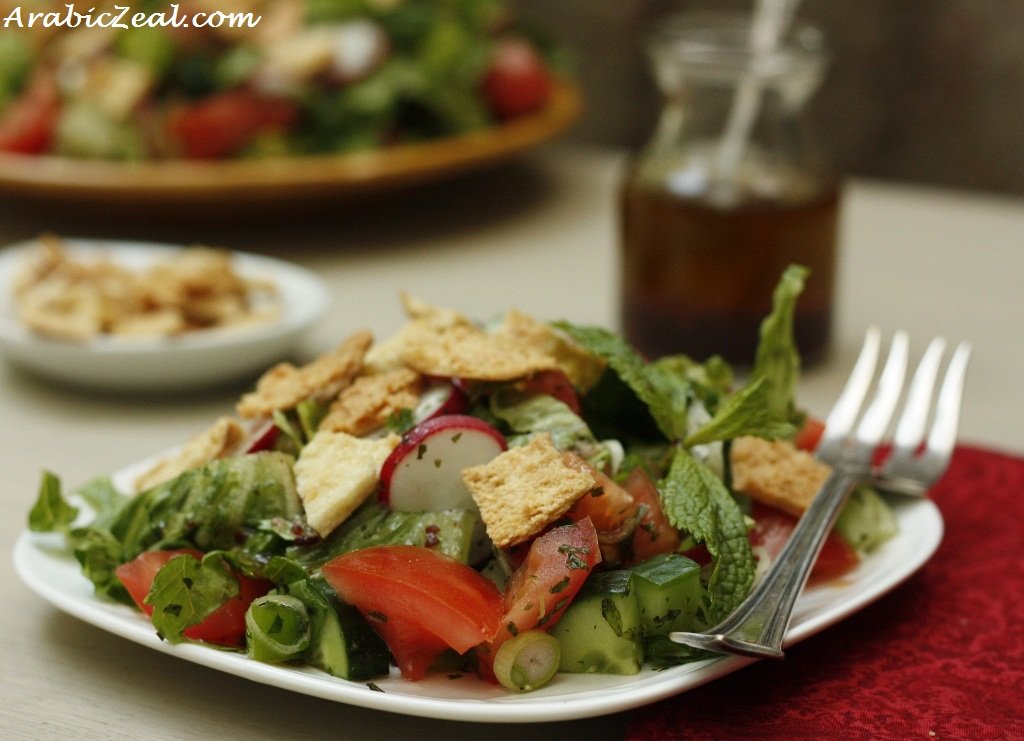 Question: How do you like to prepare Fattoush Salad?