`Ataif ~ Stuffed Arabic Pancakes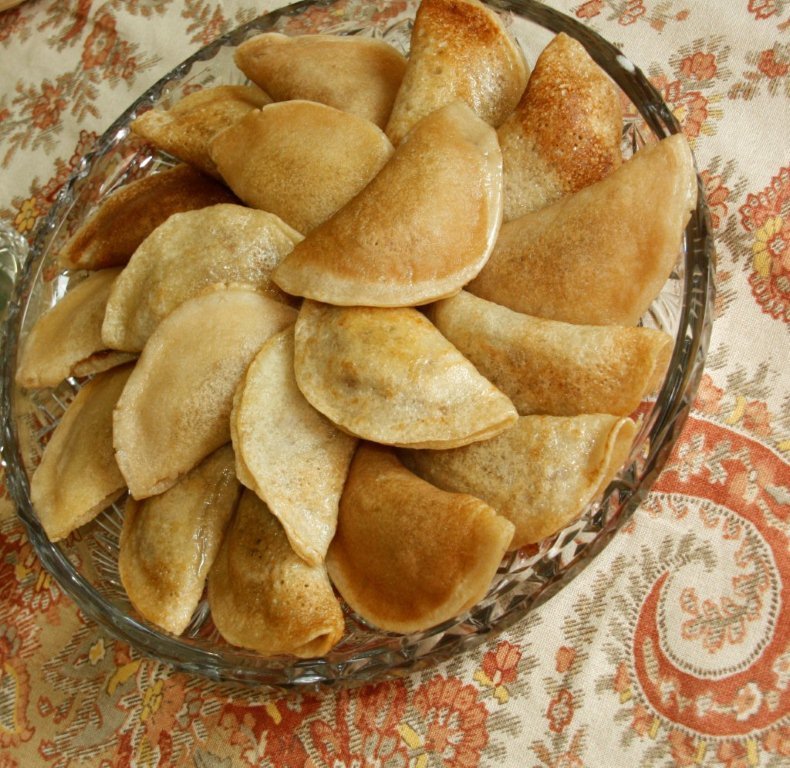 These stuffed pancakes are a favorite all over the Middle East. There are about twenty ways to say and spell `ataif (qataif/`atayef/qatayef…) and about fifty ways to prepare them. They can be large or small, open or closed, baked or fried, filled with cream, nuts or cheese.
According to Claudia Roden, these Arabic pancakes are a medieval dish which has remained unchanged to this day. (Some things never change.)
`Ataif are a festive sweet served during happy occasions and celebrations. I associate them most with Ramadan. The first time I experienced `ataif (qataif in Palestinian dialect), was during my first Ramadan in Palestine in 1988. I was mesmerized by the qataif maker in East Jerusalem, who made thousands of these uniform pancakes.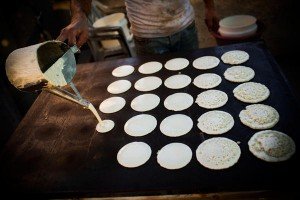 During Ramadan, ready-made pancakes are available in bakeries and supermarkets all over the Middle East. However, the pancakes are easy enough to make at home.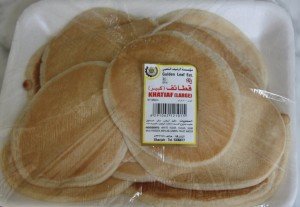 These pancakes come in various sizes. The small ones are filled with cream, pinched at one end and garnished with pistachios.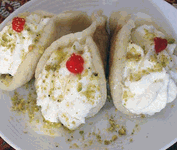 Below is our family recipe. For this recipe, buy medium-size `atief pancakes (about 4" or 10 cm wide) or make the pancakes from scratch.
`Ataif ~ Arabic Pancakes Stuffed with Walnuts
Makes approximately 18
Pancake Batter
1 sachet active dry yeast (2¼ teaspoons)
1 teaspoon sugar
1½ cups warm water
1½ cups flour
pinch of salt
Filling
1 cup chopped walnuts
4 Tablespoons sugar
1 teaspoon cinnamon
To Finish
1/3 cup melted clarified butter (or regular butter)
1½ cups `atar, scented syrup `Atar Recipe here
Method
1. To make the batter, blend yeast with sugar and ¼ cup of the warm water in a small bowl. Stir to dissolve. Sift flour into medium mixing bowl and make a well in the center. Pour remaining water, salt and yeast mixture into well. Stir with wooden spoon until well blended. Use whisk to remove any lumps.
2. Cover bowl with cloth and let rise for one hour in warm place. The batter will expand and the surface will become bubbly.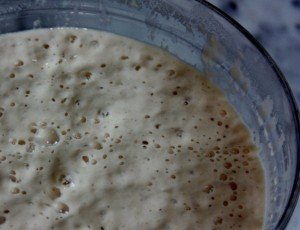 3. Heat a heavy frying pan over medium heat and lightly grease with oil. While pan is heating, beat the batter a little bit with a whisk. If batter is too thick, add a few extra tablespoons of water.
4. Using a ¼ cup measurer, pour enough batter to make one pancake. With the measuring cup, spread the batter into a circle. Pancakes should be approximately 4" (10 cm) wide.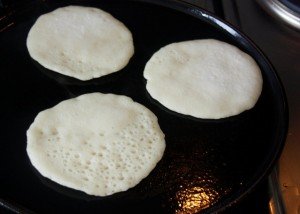 5. Bubbles will start to form on the top. Pancake is finished when the top beccomes dry without any shiny spots. Cook on one side only. Place finished pancakes browned side down on a clean dish towel to cool. Stack on a plate and cover until ready to use.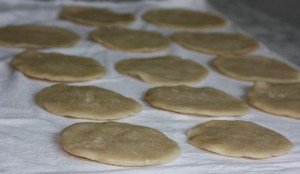 6. To make the filling, combine nuts, sugar and cinnamon.
7. To stuff the pancakes, fold a pancake in half (cooked side on the outside). Pinch at the corners to make a pocket. Spoon approximately 1 Tablespoon filling into the pancake. Bring edges together and pinch firmly all around to form a crescent. Arrange in one layer on a shallow baking pan. At this point, the stuffed pancakes can be covered and set aside for several hours until time to bake.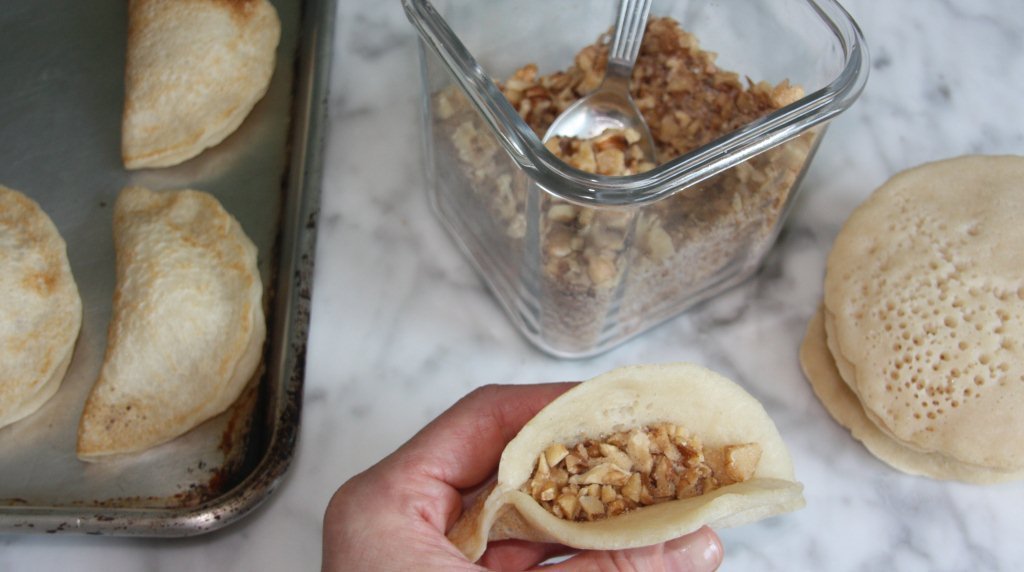 8. Bake stuffed pancakes in a moderate oven, 350°F (180°C). While the oven is preheating, brush the stuffed pancakes (both sides) with the melted clarified butter. For softer `ataif, bake for 15 minutes. For crispier `ataif, bake for ten minutes on each side.
9. While still hot, briefly dip the stuffed pancakes one by one into the `atar syrup. Arrange on a serving platter and serve warm with extra `atar syrup on the side.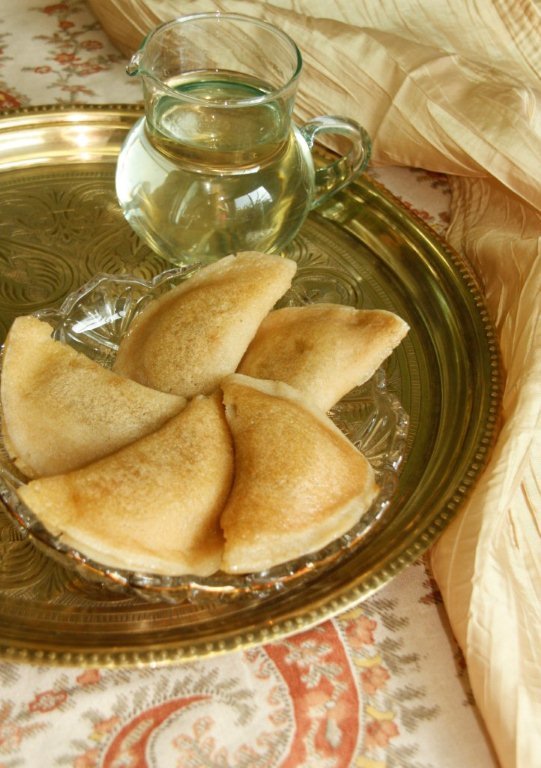 Tips for Entertaining: Double the pancake recipe. Have two frying pans going at once. Prepare the pancakes in advance (same day). Stuff the pancakes several hours before needed, cover and set aside. Just before baking, brush with butter. The `atar syrup can be made a week in advance.
Questions: How do you like to prepare `ataif? What is your favorite Ramadan sweet?