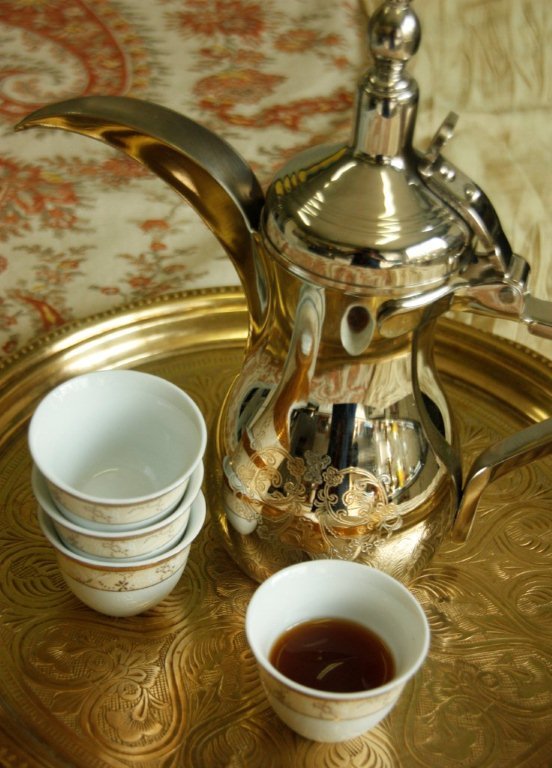 If you visit an Arab home in the UAE in celebration of Eid ul-Fitr, you'll probably be served some version of Arabic coffee. I'm not talking about thick, dark Turkish coffee or greenish Saudi coffee. I'm referring to the coffee of the Gulf, served in small thimble-shaped cups.
The first time I had Arabic coffee, I was not impressed. It didn't taste like coffee; it didn't even look like coffee. It was bitter and spicy. And what about the teeny tiny cups, barely half full?
But Arabic coffee grew on me. By my second Eid in the UAE I was making Arabic coffee myself. I made its most basic form: water, lightly roasted coffee, ground with cardamom and boiled for about 15 to 20 minutes—not percolated or filtered—but boiled.
Later, I learned more sophisticated variations and flavorings. I refined my method and added saffron, cloves and rose water. I discovered I not only like Arabic coffee, but I love Arabic coffee.
A Bit of Background
Originally the coffee beans were roasted on an open fire and prepared in a coffee pot (dallah), also over an open fire.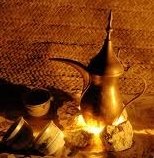 Nowadays it's prepared on a stovetop and transferred to a stylish thermos flask, where it's kept warm for guests. Below is an authentic dallah on the left and a themos flask on the right.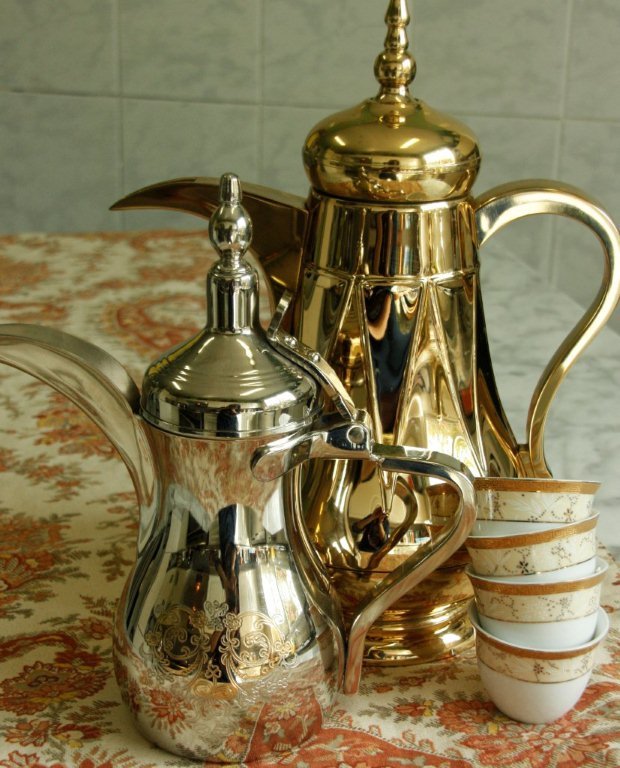 Here in the Gulf, Arabic coffee is bought at the roasters—either in the souk, at a large Arabic supermarket or even at the mall. It's often sold at the same place where nuts and spices are sold. Normally there are four types of roasts available: Dark and Medium Turkish coffee (on the left below) or very light Saudi coffee (on the right). Second from the right is Arabic coffee, which in the UAE is also called Khaleeji (Gulf) coffee or local coffee.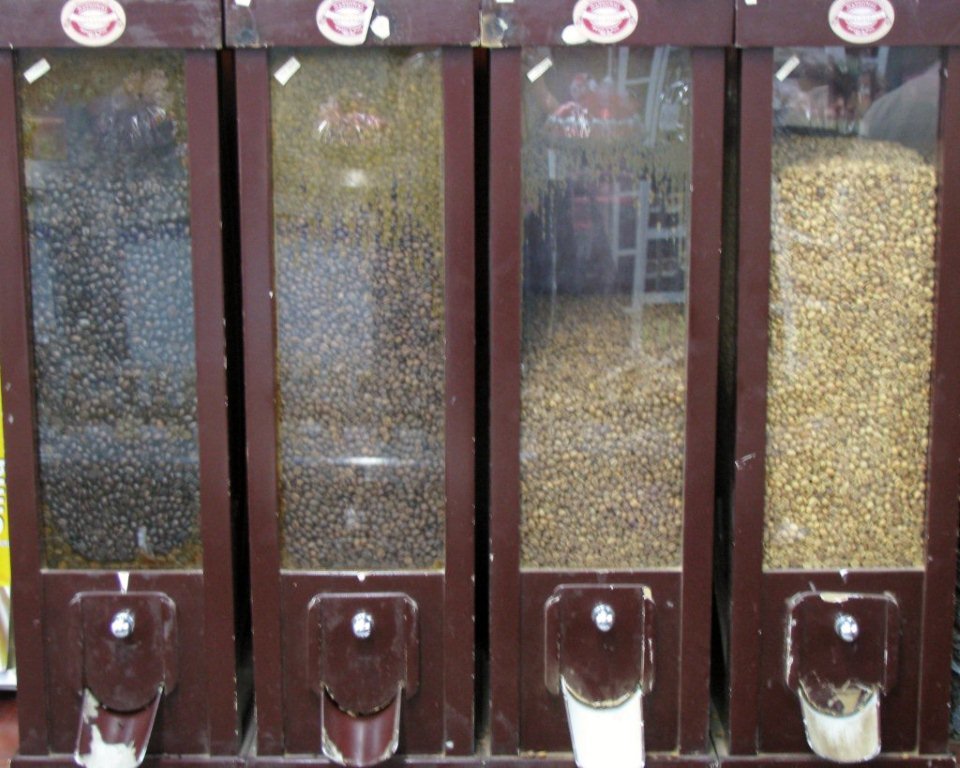 Coffee is revered so much in the UAE that you sometimes see an enormous coffee pot (dallah) in the street. These roudabout coffee pots are in Abu Dhabi and Al Ain.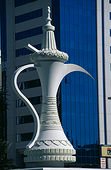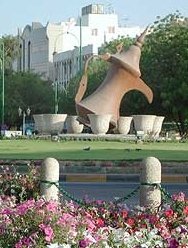 The dallah is such an important symbol in the UAE that a picture of one is on the dirham coin.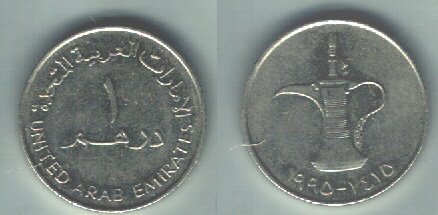 For Arabic coffee, the arabica beans are lightly roasted and lighter in color than what we see in North America. With the addition of cardamom, the coffee takes on a green hue (but it's not as green as Saudi coffee).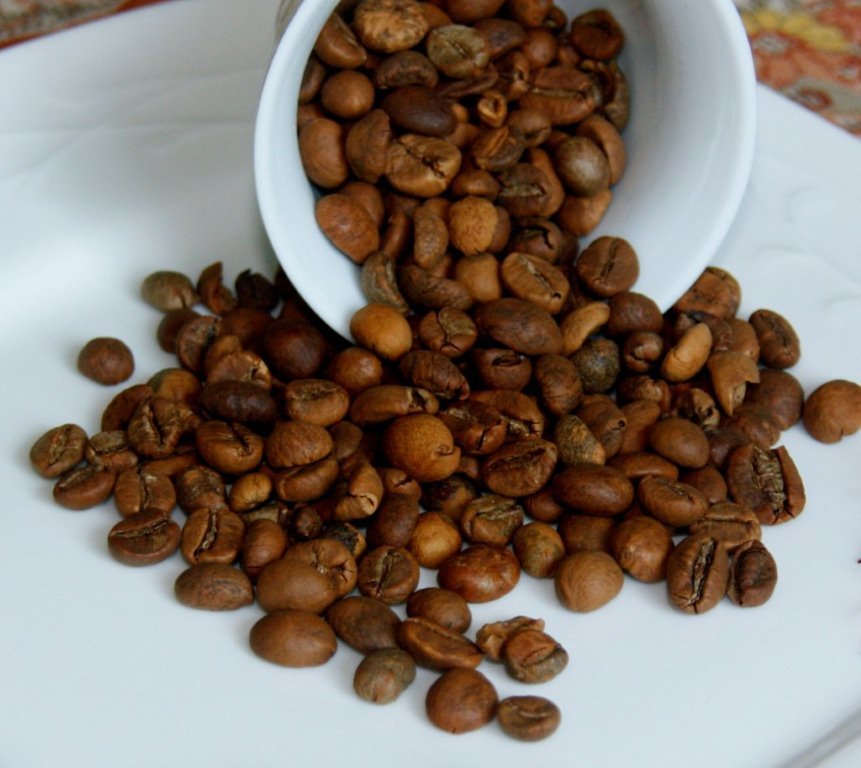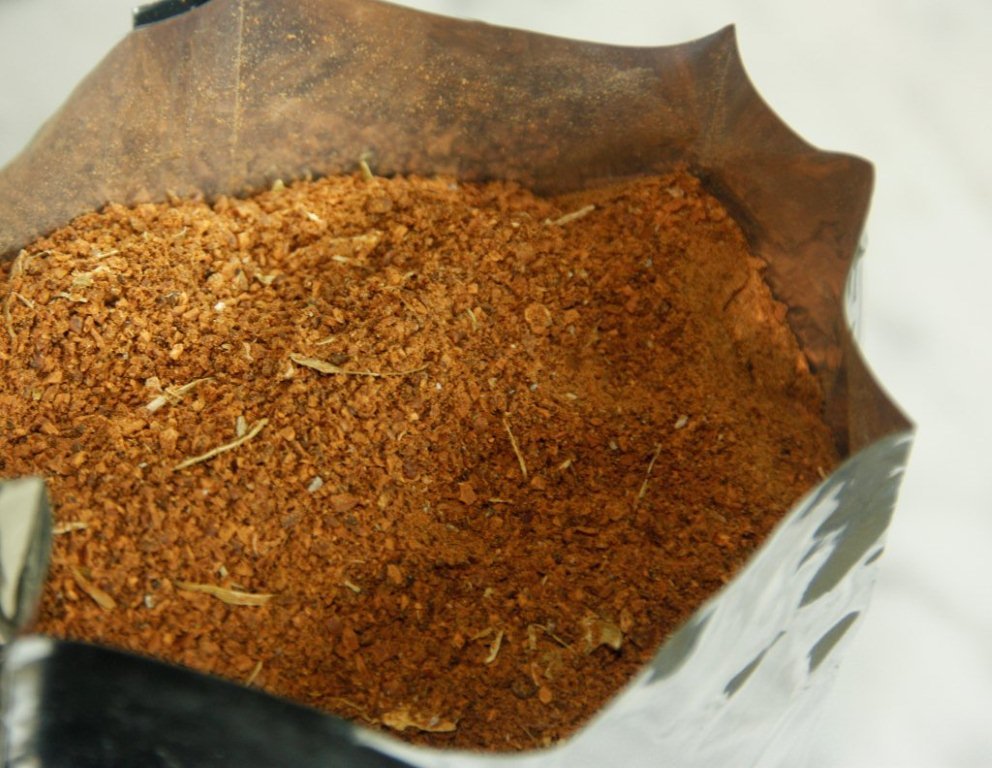 Note: sometimes "Turkish coffee" and "Arabic coffee" are used interchangeably, but they are different. Turkish coffee is dark and thick, with foam on top and grounds at the bottom. It's often sweet when Arabic coffee is never sweetened.
How to Prepare Arabic Coffee
A good ratio is 1 Tablespoon ground coffee per cup of water. If you like cardamom, 3 parts coffee to one part cardamom is good ratio to start, and you can adjust to taste. The cardamom can be ground with the coffee (the easiest method) or crushed cardamom can be added near the end of cooking. If you like extra cardamom, you can do both.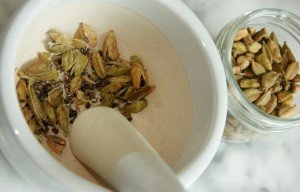 In addition to the cardamom, other flavorings are cloves (added toward the end of the cooking process) as well as saffron and rose water (added to the thermos flask). Some say you can use cardamom with cloves or with saffron and rose water. I like to use all four!
Sugar and milk are never added. However, Arabic coffee is typically served with something sweet on the side, usually dates.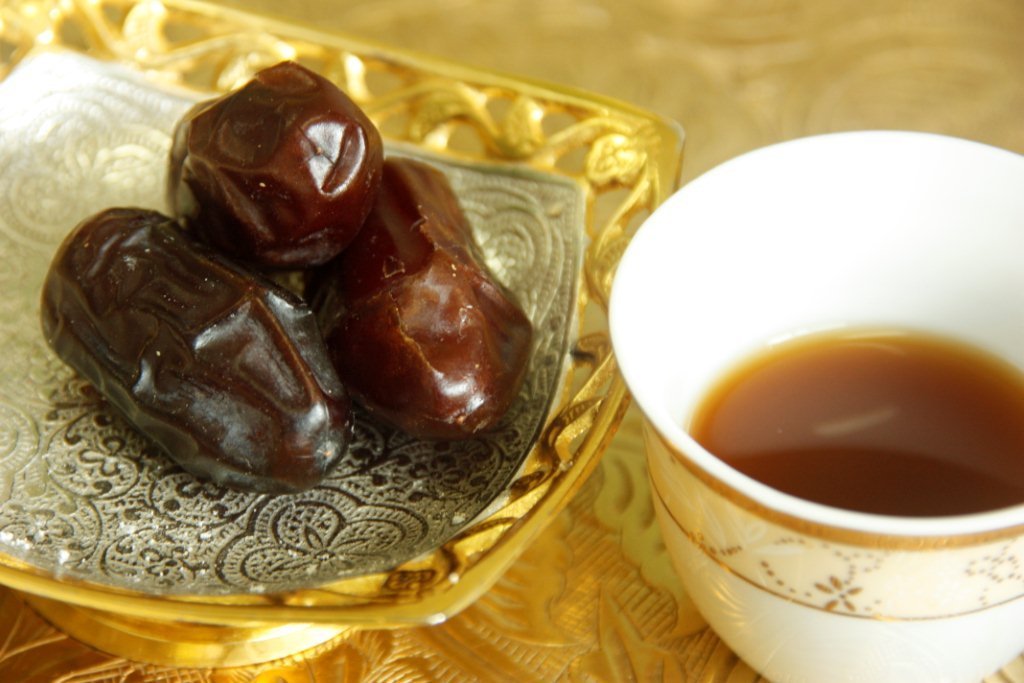 ARABIC COFFEE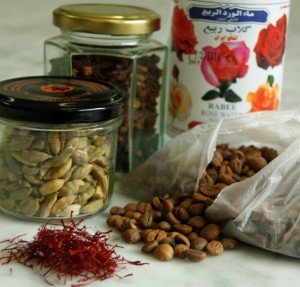 3 cups water
3 Tablespoons Arabic coffee, coarsely ground
1 Tablespoon cardamom (or to taste) either ground or crushed with a mortar
5-6 whole cloves (optional)
small pinch saffron (optional)
1 teaspoon rose water (optional)
Method
1.Bring water to boil in a dallah. If you don't have one, simply use a medium saucepan. I like to use a long-handled coffee pot (used for Turkish coffee) because it's easy to pour from.
2. When the water boils, add the ground coffee (and ground cardamom if it's mixed with the coffee). Boil for 10 to 12 minutes.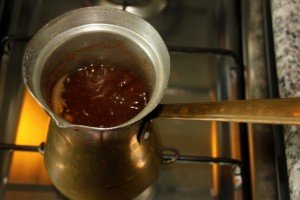 3. Add crushed cardamom and cloves—if you are using them. Stir once and boil for another 5 minutes.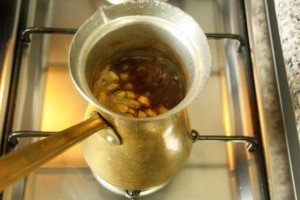 4. Meanwhile, pre-heat a thermos flask with boiling water. Don't forget to remove the hot water before adding the coffee.
5. Remove coffee pot from heat, cover and let coffee grounds settle to the bottom for a minute. Do not stir.
6. Add the rose water and small pinch of saffron to the empty themos flask. Strain and pour the steaming coffee into the flask.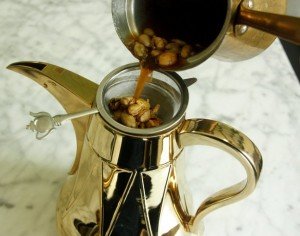 7. Allow to seep for 5 to 10 minutes before serving. Enjoy!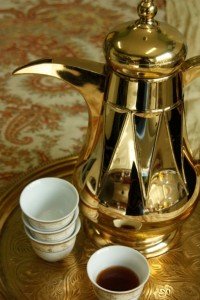 Arabic Coffee Etiquette
Arabic coffee is entrenched in hospitality, tradition and ceremony. In the Gulf, coffee is served in a small delicate cup (finjaan). The coffee is served and received with the right hand. The cup is only filled half full or less—so it cools quickly.
To be gracious, the guest should accept at least one cup. It's standard to accept three. A swish or jiggle of the cup shows that you are finished. Meanwhile, all this pouring insures that the host is kept busily focused on his or her guests.
Arabic coffee can be served any time. It's served in the home, at social gatherings or business meetings. In Dubai, you might even be served Arabic coffee at the mall.
Questions: How do you prepare your Arabic coffee? What is your impression of Arabic coffee?