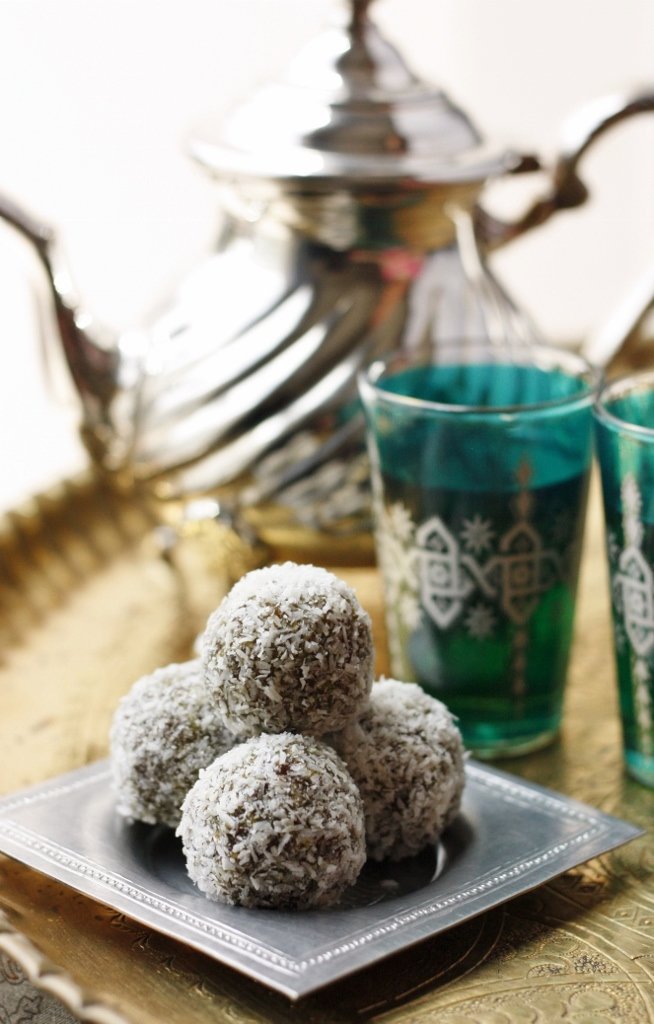 These are a lovely and easy little sweet to prepare. Made with dates, pistachios and shredded coconut, these truffles are a healthy alternative to date-filled pastries. Also, this is a delicious way to use up leftover dates from Ramadan.
The recipe is adapted from a similar one in Flavors of Morocco by Ghillie Basan.
Date Truffles
Makes about 20 small truffles
1½ cups (200 g) unsalted shelled pistachios
1½ cups high-quality dates, chopped
2-3 Tablespoons orange blossom water
1 Tablespoon honey
1cup dried, finely shredded coconut (unsweetened sticks the best)
Method:
Toast the pistachios in heavy skillet or on baking sheet in moderate oven (350°F/175°C) until they emit a nutty aroma (about 5 minutes).
Pour the shredded coconut into a shallow bowl and set aside.
In a food processor (or with a mortar and pestle), grind the pistachios. Add the dates and mix or grind to form a thick paste.
Transfer the pistachio-date paste to a bowl. Using your hands, mix in the orange blossom water and honey. (This can get very sticky.)
One by one, shape into small even-sized balls and immediately roll in coconut while the ball is still sticky. Gently roll until completely coated in coconut. Repeat with the rest of the paste.
Arrange truffles on a serving dish or place in miniature fluted paper cases. Store in airtight glass container in refrigerator for up to a week. Serve at room temperature.
Note: If you don't care for coconut or you want more variety, try rolling the truffles in cocoa, chocolate sprinkles or finely chopped pistachios or almonds.
Question: Do you like to cook with dates? If so, what do you like to prepare?