Grilled Halloumi Salad with Pomegranate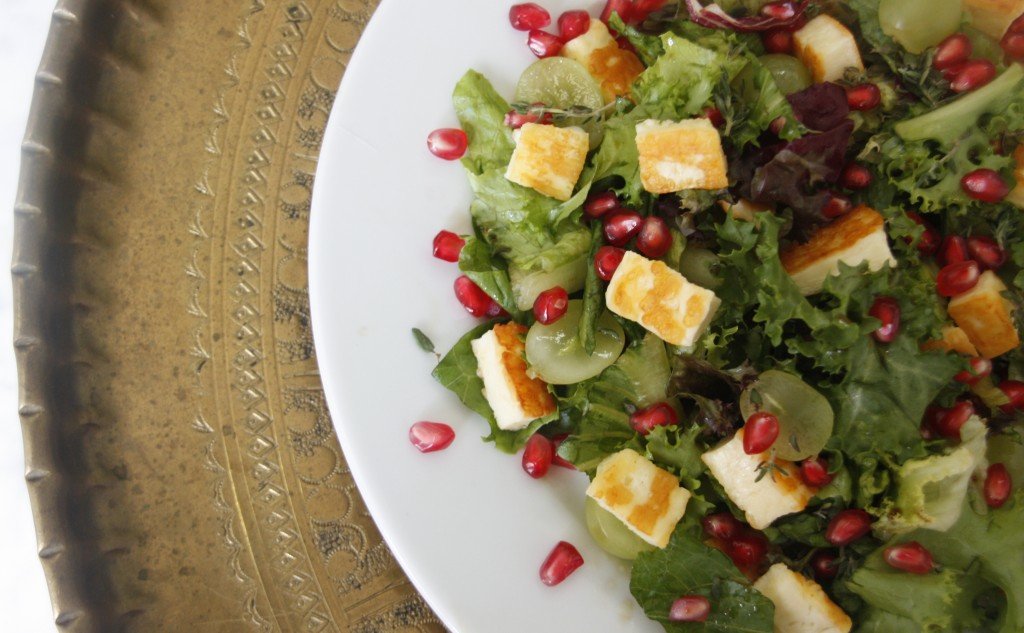 I've fallen in love with this salad. If you have yet to eat grilled halloumi cheese, you have something delicious to discover. I'm making this salad almost every … well, it's a little embarrassing how often I'm making this salad. I will say though that it's adapted from a green salad in Suzanne Husseini's cookbook When Suzanne Cooks. However, I have simplified the recipe greatly, reducing it to the most essential ingredients and cutting back slightly on the fat. If you wish to experience the original recipe, the real-deal, you'll have to get your hands on Husseini's cookbook.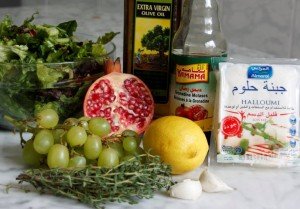 Some of the ingredients might be unfamiliar to you. Halloumi cheese, for example, is a salty, white, rubbery cheese that's originally from Cyprus and used widely in Middle Eastern cooking. Right out of the package, it tastes quite plain. However, pan-fried it in a little clarified butter, this cheese transforms into a heavenly treat.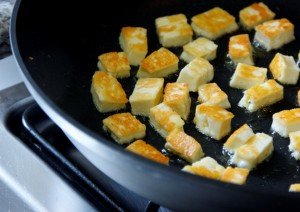 As for clarified butter, it's simply butterfat with the milk solids removed. To make: melt butter in a saucepan. Skim the white foam off the top and discard. Allow to cool and the remaining milk solids will settle to the bottom. Skim the golden butterfat from the top, strain and store in a glass container. It can be kept in the refrigerator for months. For more details, David Lebovitz illustrates these steps and explains the many uses of clarified butter.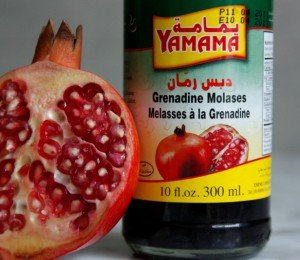 Meanwhile, pomegranate molasses is the key ingredient to this salad and gives it a tangy kick. Also called pomegranate syrup or grenadine molasses, it's used in Middle Eastern dressings, marinates and meat dishes. This reddish-brown molasses is made from pomegranate juice that is boiled and reduced to thick, dark syrup. In the US, it's available at Middle Eastern grocery stores and gourmet supermarkets. You can read more about this ingredient in the New York Times.
Grilled Halloumi Salad with Pomegranate
Serves: 2 as a main salad, 4-6 as a side salad
400 g mixed greens (approx. 8-10 cups)
Seeds from one pomegranate (½ cup or more)
1 cup seedless green grapes (cut in half)
Small bunch fresh thyme, washed, dried and stems removed
225 g halloumi cheese (low fat, if available)
1 Tablespoon clarified butter (or less)
Dressing:
3 Tablespoons olive oil
2 Tablespoons pomegranate molasses
2 teaspoons sugar
Juice from one lemon
2 cloves garlic, crushed
Method
Whisk together the ingredients for the dressing and set aside.
In a large salad bowl, toss the greens with the fresh thyme, grapes and half the pomegranate seeds.
Blot the halloumi cheese with paper towel to remove excess moisture. Heat the clarified butter in a large nonstick skillet. Slice the cheese into bite-size pieces. Fry the cheese until golden. Turn and continue cooking until golden on both sides. Remove from pan and drain on paper towel. Toss the warm cheese into the salad.
Drizzle dressing over salad. Toss gently to coat. Garnish with remaining pomegranate seeds and serve immediately.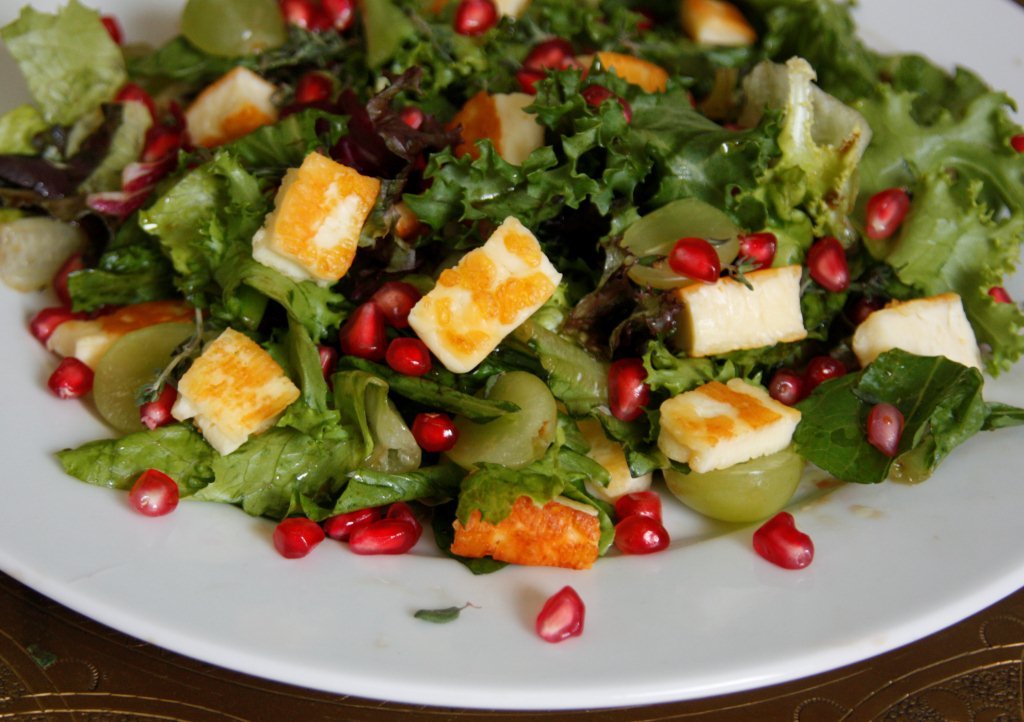 How do YOU cook with pomegranate molasses and halloumi cheese?