Weekend in Istanbul (Part I)
When my husband invited me to spend the weekend with him in Istanbul, I immediately said, "Sure!" I've visited nine Arab countries, and I assumed the city would be another variation of the same Arabic theme.
I was wrong.
Istanbul was something else entirely. Here is a summary of our weekend:
Where We Stayed
We stayed in the Ritz-Carlton, Istanbul, located off Taksim Square with views of the Bosporus. We had a lovely suite with a Turkish-inspired décor. Below was the view from the hotel. Coming from Dubai, I appreciated how green and lush Istanbul was.

What We Visited
Because Istanbul is so mind-boggling rich with cultural and historically sites, it seemed an injustice to be there for just two days. But I knew what I wanted to see: the Blue Mosque for starters, an Istanbul icon, and even more, I had to see Aya Sofya (Hagia Sofia), which was first a church, then a mosque, and now a museum—its unique story I had studied in university Art History.
These two structures are both found in Old Istanbul, conveniently and interestingly located right across from each other. Sultan Ahmet I (1603-17) deliberately built the Blue Mosque to rival and surpass the Aya Sofya, just across the street.
The morning we visited the Blue Mosque was wet, cold and rainy. Still, there were throngs of tourists swarming all around and waiting to enter. (Apparently most of these tourists came off of several cruise ships that were in the harbor.) Below is the exterior of the Blue Mosque.

The layout of the Blue Mosque is classic Ottoman design, with an ablution fountain in the center of the courtyard.

We waited under these intricate archways in a long line of visitors, all waiting to get of glimpse of the interior.

The "blue" of the Blue Mosque comes from the Iznik tiles that line the inside walls and dome.


Next we visited the Aya Sofya. Initially built as a church in the 4th century, it served for a thousand years as the greatest church in Christendom. That is, until Mehmet the Conqueror turned it into a mosque. It remained a mosque for 500 years until Ataturk proclaimed it a museum in 1935 (part of his many reforms to make Turkey more modern, secular and Westernized). Below is the exterior of the Aya Sofya.

Apparently the Aya Sofya represents one of the finest examples Byzantine architecture, but what I found fascinating and refreshing were the symbols of Christianity and Islam right alongside each other.

Here is a detail of the Madonna and Child mosaic:

What We Ate & Drank
I knew the food would be good. My husband has been to Turkey almost forty times, so he knew what to order. We enjoyed fresh figs and Turkish sesame bread and yummy Turkish cheeses and yogurt. We ate fish, lots of fish—sole, sea bass, red snapper, and bluefish. Of course, we had Turkish delight. It was served in the lobby so we had a sample every time we breezed past.

We had Turkish coffee. (Gotta love the presentation!)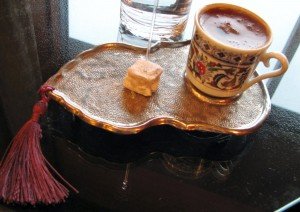 And Turkish tea.

Even lavender tea. This was at a lovely waterside restaurant called the Assk Cafe, located right on the Bosporus, recommended by my Turkish friend.

We tried Turkish kunafe, which is similar to the Arabic pastry, but crispier and served with ice cream on top.

We had coffee each morning, thanks to the cute automatic espresso maker in our room. I got really attached to this machine.

We were surprised to find a complementary birthday cake for my husband in our room. (I'm sad to say the hotel was better about remembering his birthday than I was…) Anyway, the cake was coffee-flavored and perfect.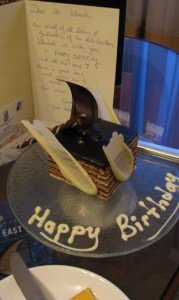 Naturally we had to have Afternoon Tea at the Ritz, one of my favorite meals anywhere, this time with a Turkish twist.

Coming up Next:
Part II: Where we shopped & Where we went
Part III: What we saw, What Surprised Me, What I Bought & What I Thought