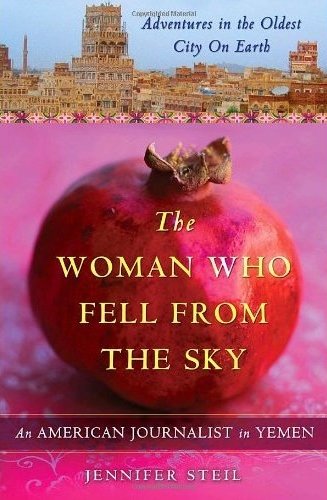 When I first heard about Jennifer Steil's memoir, The Woman Who Fell from the Sky: An American Journalist in Yemen, I immediately ordered the book. I love reading culture-clash stories about Americans bumbling their way through the Arab World.
Only here's the thing—it turns out Jennifer Steil wasn't bumbling. She was successfully running an English-language newspaper in Sana'a–the Yemen Observer.
After a three week stint to train Yemeni journalists, Jennifer returns to her job as an editor in New York City. Yet she finds herself yearning to for Yemen, as her Manhattan life now seems oddly dull compared to Sana'a. She longs to return to accept an offer to run the Yemen Observer for a year.
And so she does.
Jennifer's memoir recounts her adventures in Yemen, how she throws herself into running the newspaper and whips her staff into shape. In turn, they educate her on Yemeni society, customs, and politics. She integrates herself into her new community, a varied and flawed cast of Yemeni "characters." She eats meals with them, goes to their homes and weddings and befriends them.
Meanwhile, the newsroom of the Yemen Observer is full of drama and power struggles. At one point, an editor is thrown in jail. Later, the newspaper is sued. With marvelous prose, Jennifer recounts the often hilarious day-to-day life in the newsroom.
Particularly interesting are the struggles of her female Yemeni staff, who nearly all wear niqab and come from traditional families. For these women, it poses serious problems simply to interview a man, take a taxi or stay at work past mid-afternoon. Despite all this, the female journalists find ways to work together and excel, often out-performing the men. The star is Jennifer's Yemeni sidekick, a fellow female journalist named Zuhra.
Without relying on the worn-out stereotypes of Arabs and Muslims, Jennifer illuminates Yemeni society and problems. The reader learns that half of all Yemenis are illiterate, that Yemen is the poorest Middle Eastern country, and that qat-chewing is a major hindrance to productivity.
This lively memoir is not all about journalism and Yemen. Jennifer writes of her personal life as a single working woman, living in her "gingerbread" house in Old Sana'a. In fact, there is an unexpected romantic twist at the end of the story (which I won't give away) which turns the book into a page-turning novel.
My only criticism of the book (and it's minor) is that I wish the book had a map of Yemen and photographs of Old Sana'a. Fortunately, Jennifer has some photos on her website to satisfy my new curiosity about Yemen.
So … when I heard that Jennifer Steil was coming to the UAE (via her Facebook page), I thought her story would be compelling and relevant to Westerners living in Dubai. I suggested she speak to members of the American Women's Association of Dubai, and Jennifer graciously accepted.
We planned an event at Shakespeare & Company on Jumeirah Beach Road, and 25 women attended. Not surprisingly, Jennifer was a captivating speaker. She talked about her experiences in Yemen, read from her memoir and updated us on the current political situation in Yemen. She also informed us of the looming humanitarian disaster in the country.
You can read more about what is happening in Yemen in this article written by Jennifer Steil for the World Policy Institute: Yemen: Descending into Despair.
Question: Please share your impressions of Yemen or your thoughts on Jennifer Steil's memoir, The Woman Who Fell from the Sky.