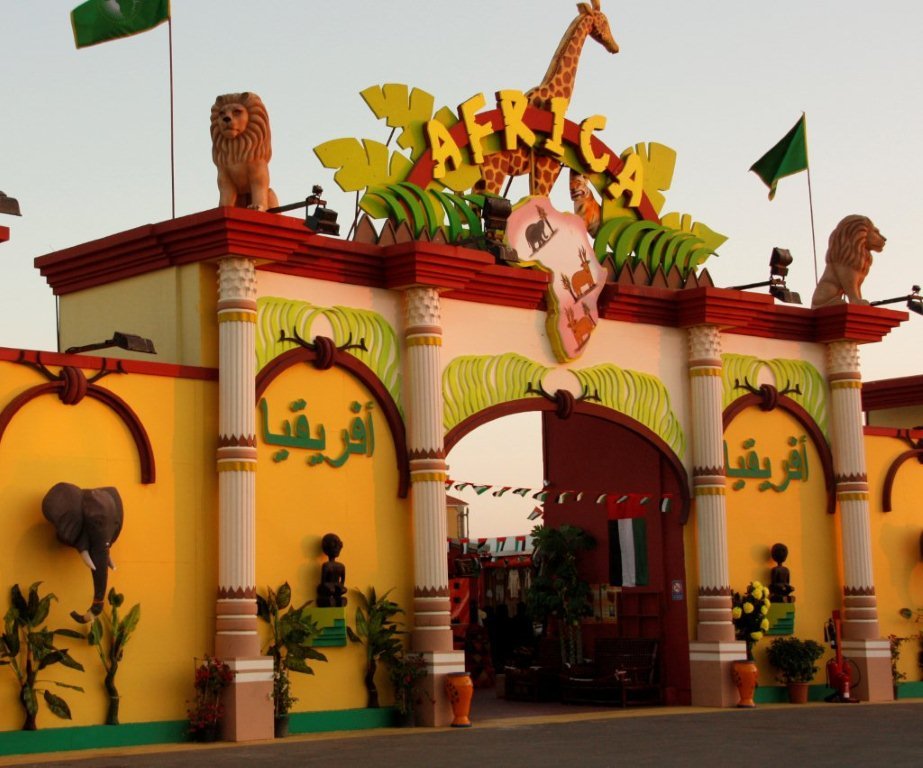 For the past eleven years, the Africa pavilion has been one of my favorite must-see pavilions at the Global Village. Originally there were separate pavilions for Kenya, Uganda, Tanzania, etc., but now all the African countries are grouped together in one large pavilion, save for the North African countries of Morocco, Egypt, and Tunisia (more about those later).
If you are unfamiliar with the Global Village, it's a fair-like shopping event located just outside Dubai in the winter months. To know more, see my post: Dubai's Global Village ~ Where the World Comes Together.
The first sight outside the Africa Pavilion is this group of Masai men (below). Their job is to pose for photographs (10 dirhams for 3 photos). They told me this clothing is their everyday clothes in Kenya. They also explained the earlobes of the man on the left: a prize for a lion he killed while on safari. I suspect they were pulling my leg on both accounts, but they all kept perfectly straight faces, so who knows?

On to shopping! What I love about the African Pavilion is the vast amount of unique, hand-crafted items, and the bargains galore. Most of the vendors are Kenyan, but there are other countries represented as well. I find nearly all the vendors speak excellent English and are more than willing to chat about their products: who made them, how they were crafted, and the story behind them. Some of the vendors make their own goods. It's not surprising to see them knitting or weaving baskets between sales.
Many of the items here are 5 and 10 dirhams (less than $3), especially the small carvings of animals. In my experience, it's a great place for children to shop—and to get lost as well, as this pavilion is big and often crowded. Here is a sample of some of the shops:



This woman below is from Madagascar, where she runs a basket-weaving business with natural hand dyes. I came here with three friends, and all four of us bought baskets. We love this shop.

According to my husband who has travelled to Kenya, he says the items are basically what one finds in Kenya, but cheaper. These are typical items.


It's also possible to find practical items, such as carved book ends, napkin rings, wooden salad tongs, carved soap stone bowls, and carved wooden bowls. I have bought many of these hand-carved salad utensils over the years. They are typically 10 dirhams ($3) a set. No need to bargain.

I usually pick up a carved wooden salad bowl each year. Each one is different.

I also spent a lot of time in the Ethiopian coffee booth, run by two sisters from Ethiopia. They roasted a half a kilo of coffee beans for me, according to my specifications.


While I was waiting, I rested my feet and drank some of their coffee, dark and unsweetened, served in the Ethiopian style. Nice.

To find out more, see my posts on The Yemen Pavilion, The Iraq Pavilion, and The Turkey Pavilion.
Question: What are your impressions of the Africa Pavilion?