Trip to Muscat, Oman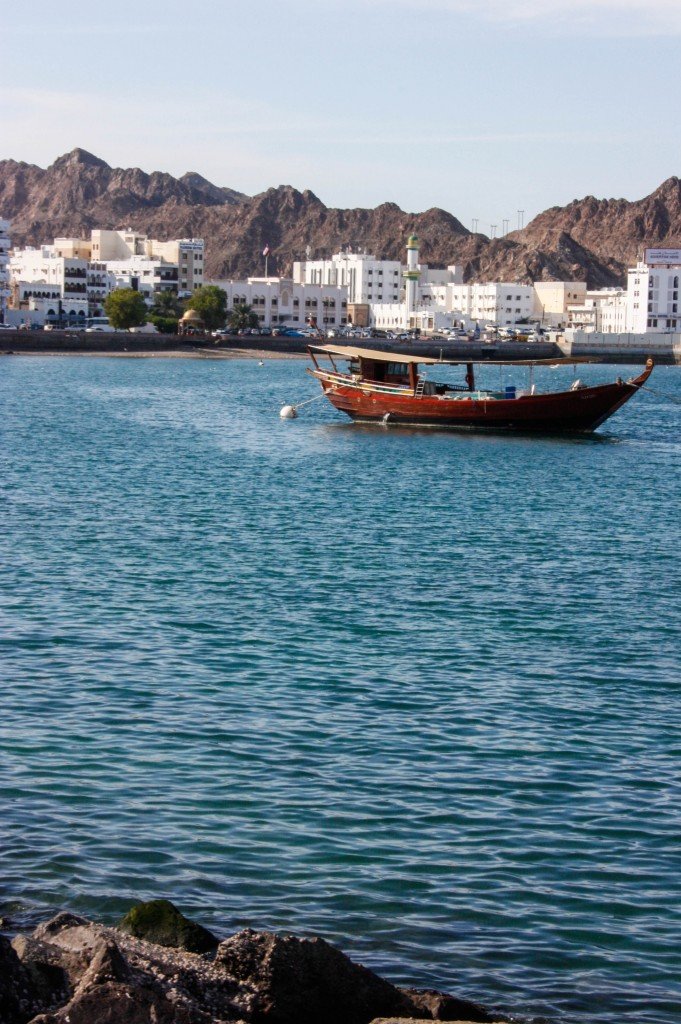 I traveled to Oman nine years ago—a family trip that has become a blur to me. It was now time to go again. So, last week my husband and I traveled there, childfree and with fresh eyes. Four days and three nights. Just the two of us.
Welcome to Muscat
The city of Muscat, capital of Oman, is so different from Dubai that it's almost a shock to the system. First of all, it's all stretched out along the coast of the Gulf of Oman—miles and miles of undeveloped beaches.
And not a skyscraper in sight. Instead, you find a city of mostly white low buildings nestled between the sea and rugged mountains. Relaxing and pleasing to the eye, it feels like a kind of urban retreat.
Also, the city is not overrun with expatriate workers (like another city I know). Most of the people you meet in Oman—hotel clerks, shopkeepers, baristas, waiters—are actual Omani people.
Mutrah ~ The Port of Muscat
This is my favorite part of Muscat. Mutrah is the capital's main port area, yet it feels more like a fishing village with its fish market, souk, sidewalk cafés and a corniche. In short, this picturesque area is an ideal place to stroll.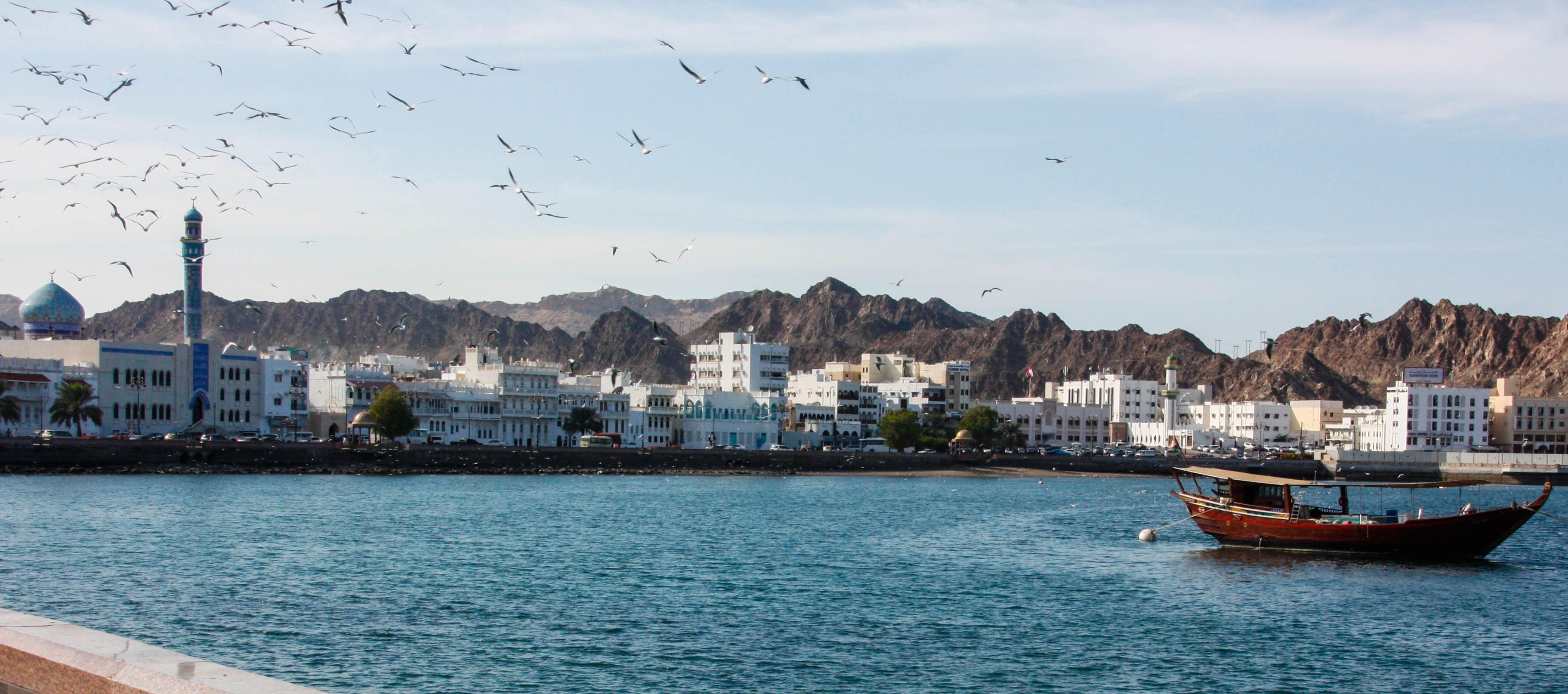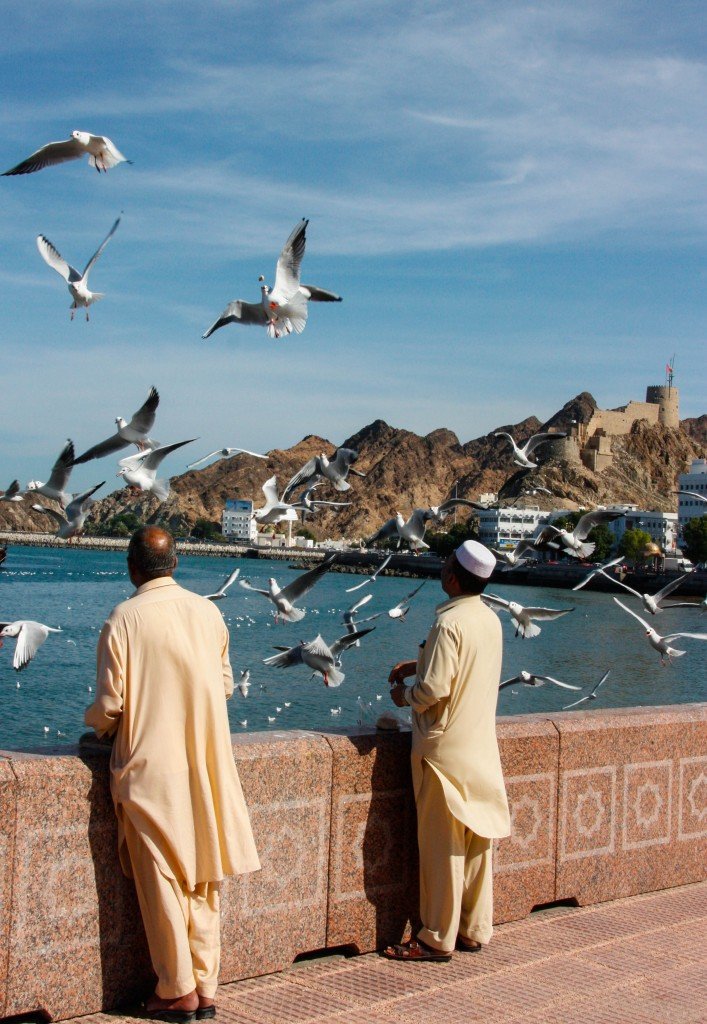 Old merchant homes line the waterfront.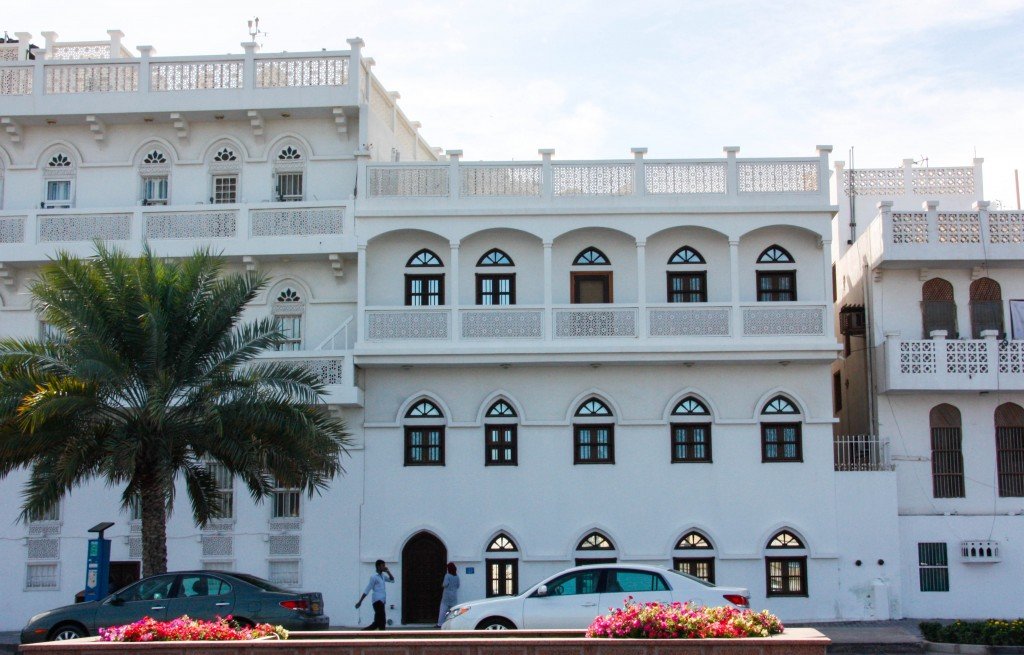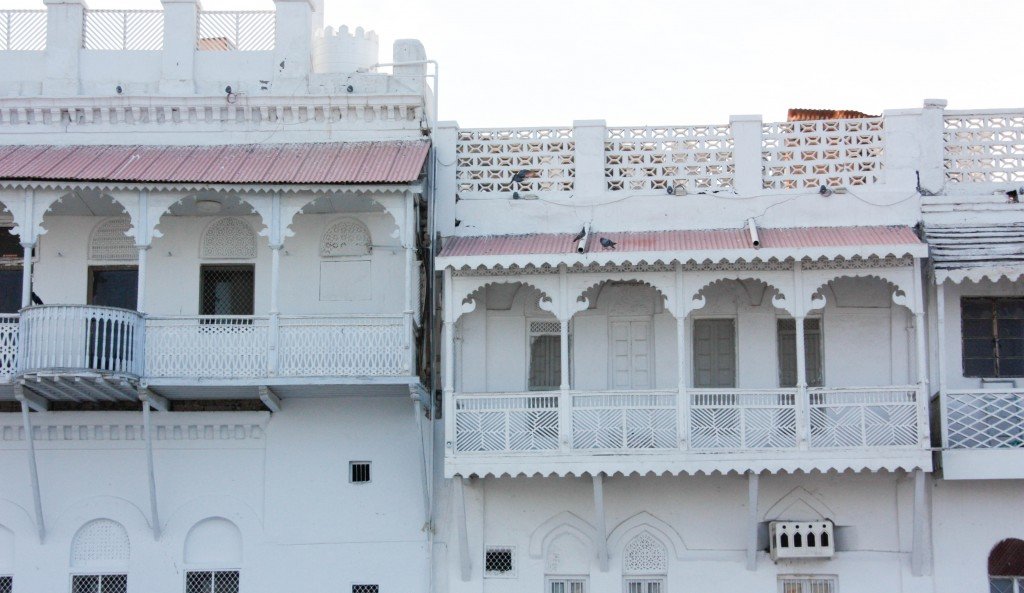 The Souk
Tucked behind the sidewalk cafés along the corniche is the Mutrah Souk. Authentic and lively, the souk is a traditional Middle Eastern market.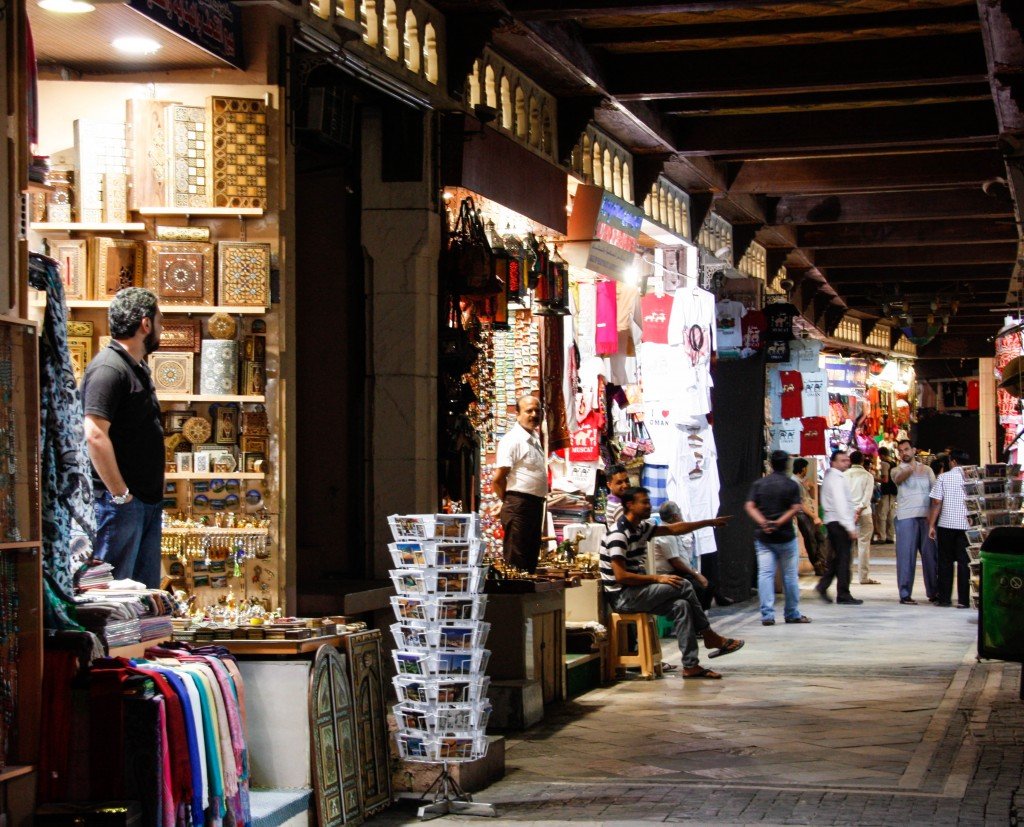 This shop sells bags of frankincense, alongside other "beauty items."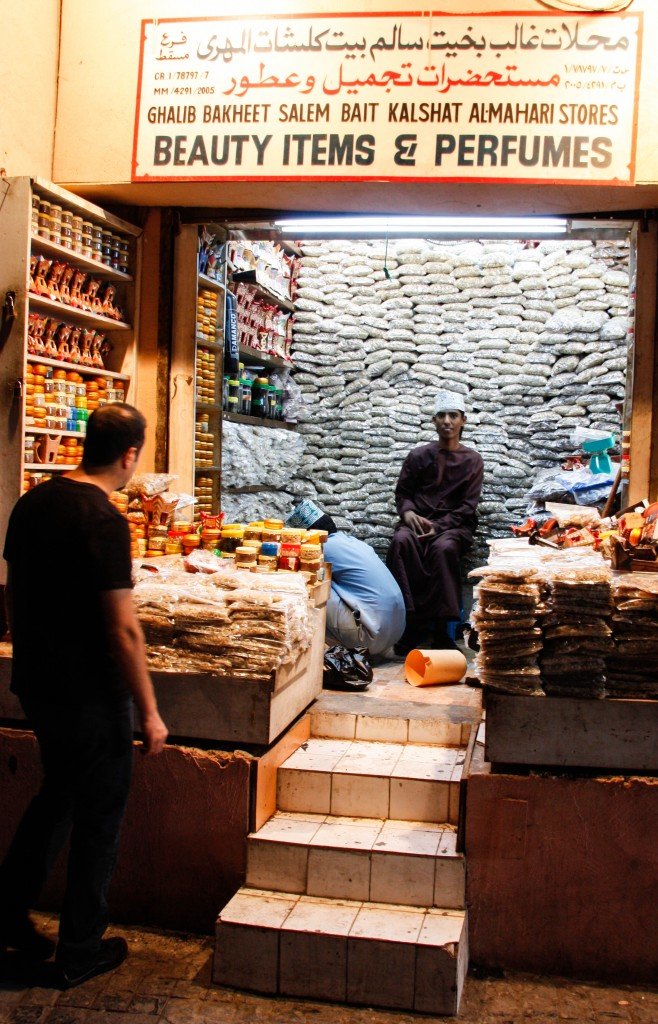 It addition to the usual Arabian and Indian bric-a-brac, you can also find some interesting artifacts, as well as Omani hats, chests and jewelry.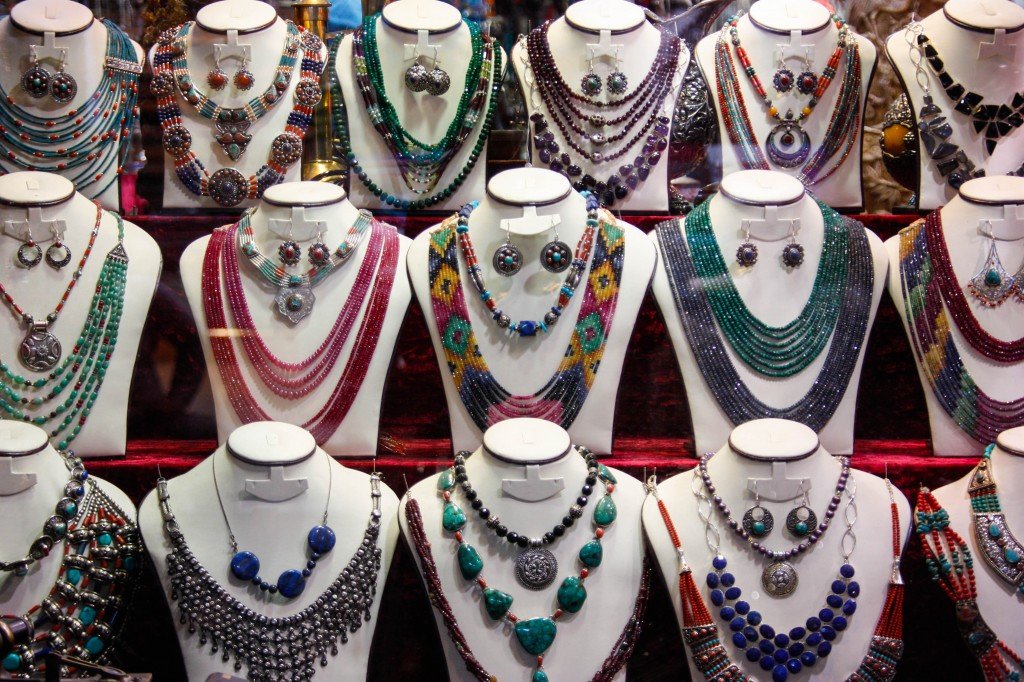 Beaches, Beaches Everywhere
I was amazed by the wide-open beaches, such as this one in Qurm.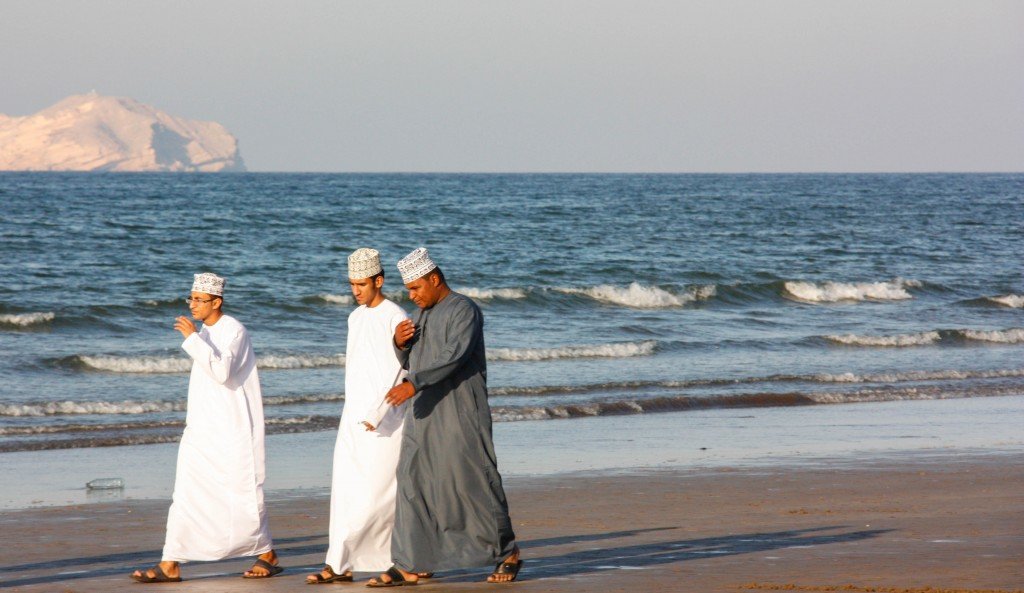 This beach is a long strip with only a small shopping area and a few stand-alone cafés, like this Starbucks. If this were in another city I know, the area would be overdeveloped with steel skyscrapers, luxury hotels and a mall.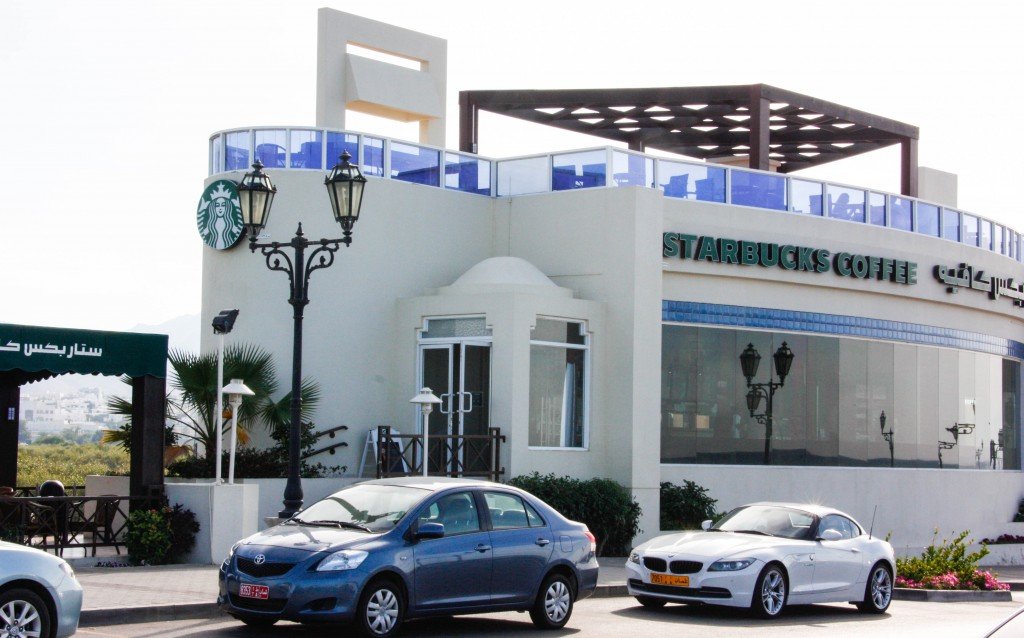 I try to seek out a Starbucks in every country I visit. I realize this may be weird or even offensive to some, but for me, it's a little piece of Seattle. I like to see if they carry the Pike Place Blend. (They did.) This particular Starbucks was especially nice. The outside seating provided a perfectly unobstructed view of the beach across the street.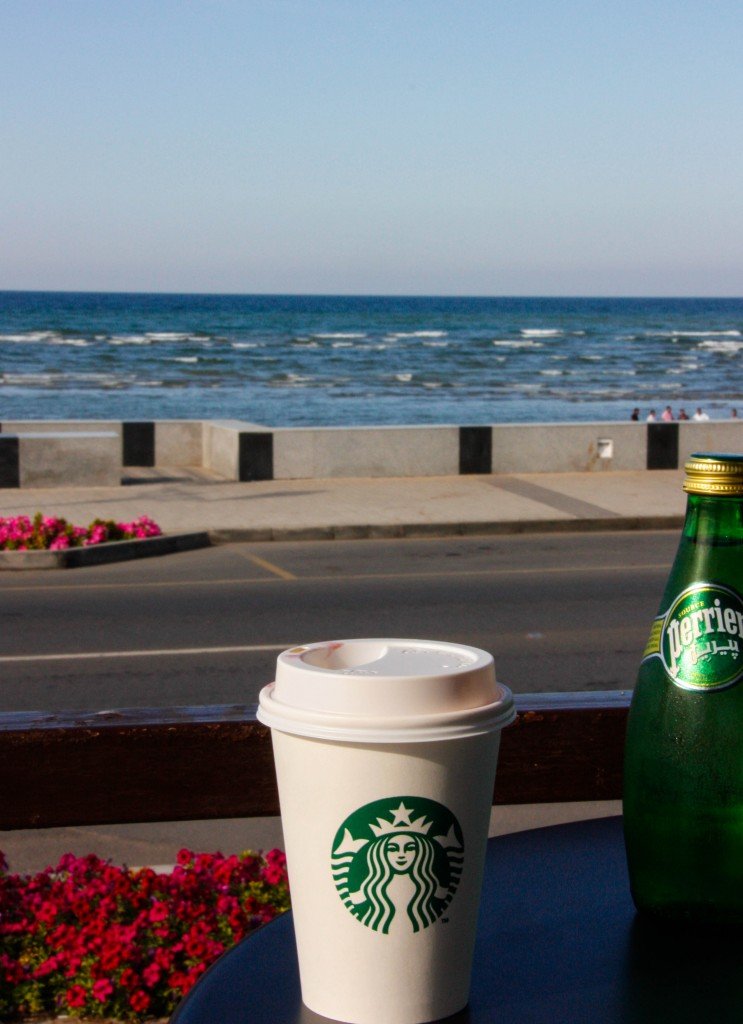 Architecture
Due to the aesthetic requirements of the city, structures are whitewashed or sand-colored and a limited number of floors high. Also, it seems every structure has some arabesque element—arches or domes or lattice. This gives the city a unique character, as well as a whimsical and unified look. Even though Muscat has a population of one million, it feels more like a small town in places.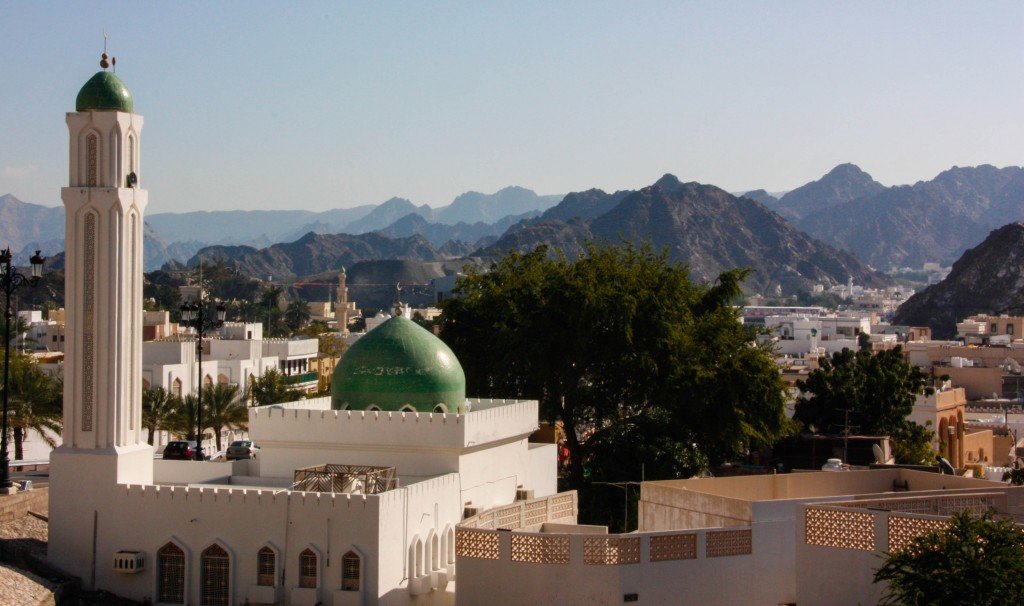 These contemporary-styled white villas have beach views and seem to be typical high-end homes.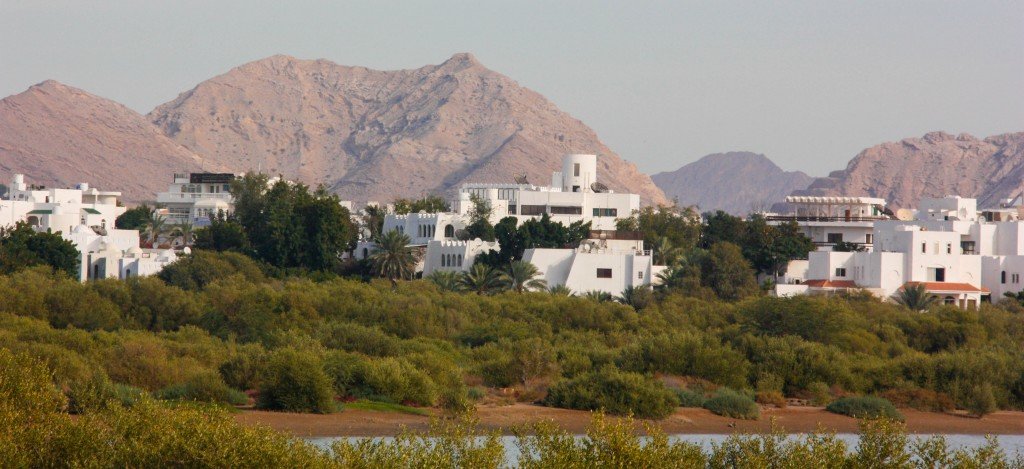 Oman is known for its forts. Much of the architecture is fort-like with thick walls and huge arches. All over Muscat are moutains like these.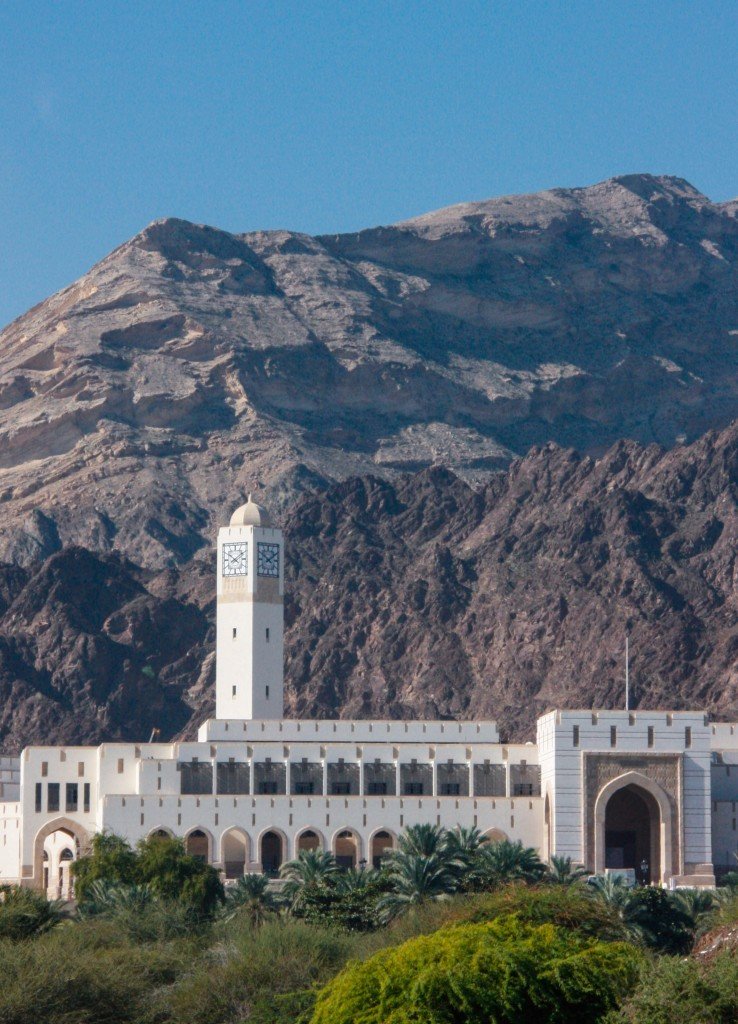 Muscat, Tidy and Charming
The city is surprisingly tidy and clean (almost spotless) with colorful flowers all over. This roundabout features a replica of a dhow that traveled from Oman to China in the 8th century—and not a single nail used to build it.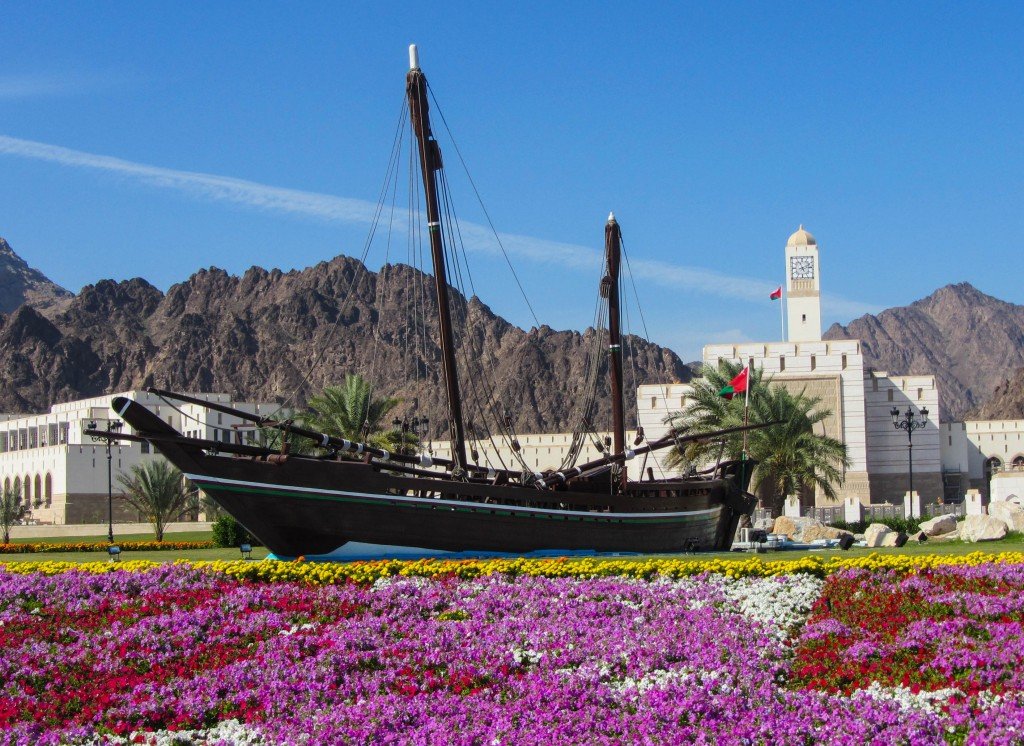 All around the city are sculptures of fish, a tribute to the Omani fishing heritage.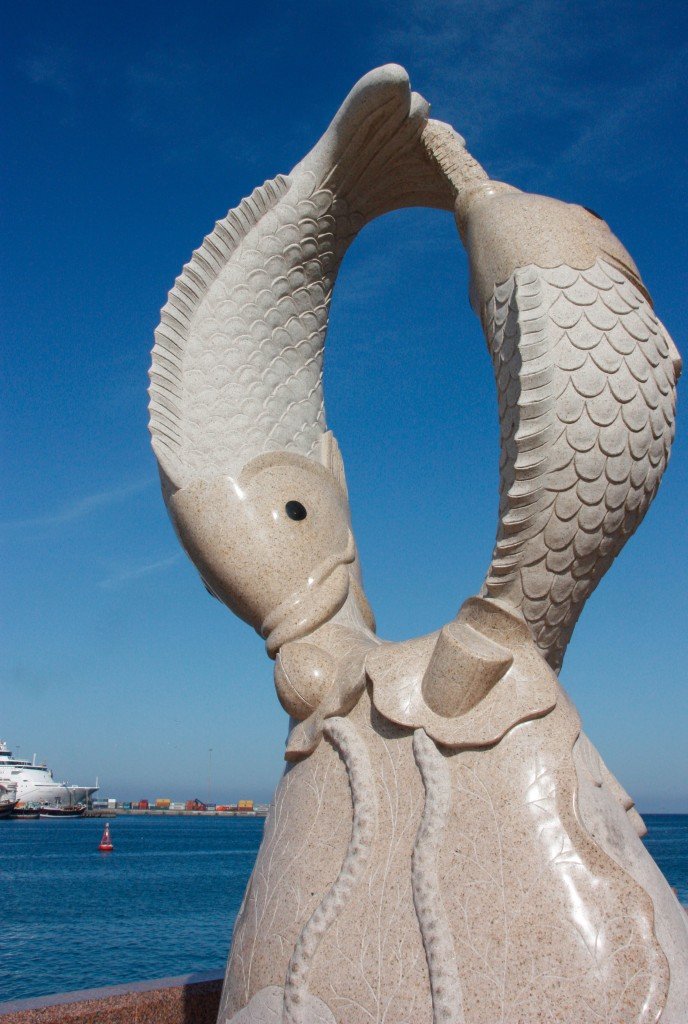 Oman 101
If you are thinking of traveling to Oman, take note that Oman is a peaceful and stable country with low crime. An Arab and Muslim country, Oman is predominately Arabic-speaking with English as a second language. In my short visit, I found the Omani people to be gracious and friendly.
The ruler of Oman is Sultan Qaboos. The leader since 1970, Sultan Qaboos is known for easing the country into modernity by investing heavily in education and by developing a well-trained local work force.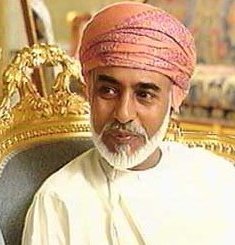 Getting There
Our flight was through Emirates Airline, Dubai to Muscat, exactly one hour at 2:00 in the afternoon—what a civilized time to fly!
Turns out we misread. Our flight was actually at 2:00 in the morning, and we missed it.
So we drove.
Everyone says it takes five hours to get to Muscat. However, it took us seven hours each way. We had to stop for lunch and coffee (Starbucks, naturally). Also, there was a lot of construction on the road; it appears Oman is converting their roundabouts into flyover bridges, which will eventually improve things.
But for now, it was slow going. Coming back from Muscat seemed especially long. When we neared the city and I saw the Dubai skyline—the row of steel and glass skyscrapers, punctuated with the Burj Khalifa, I breathed a sigh of relief. Back to civilization.
Next post: Where we stayed: Al Bustan Palace
Question: What are your impressions of Oman?