Raising Arabic-speaking Children in Dubai (Part 2)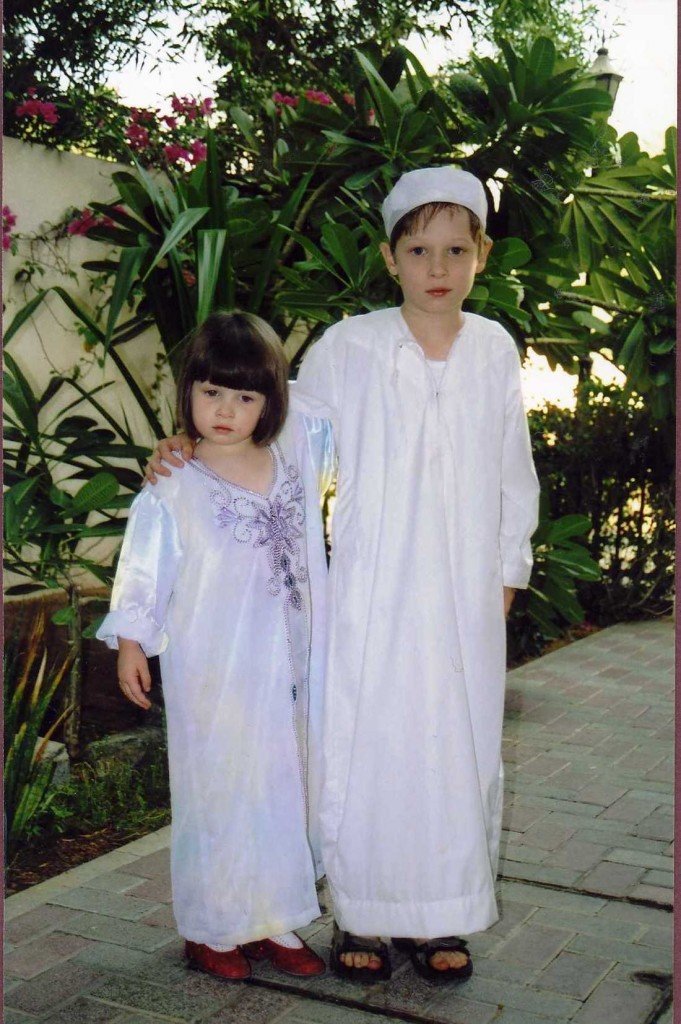 In my last post, I narrated our attempts to raise bilingual children in Seattle. Our plans were not working. So, in 2001 we moved to Dubai with the goal of exposing our children to Arabic language and culture. We were moving to an Arab country. How hard could it be?
Once in Dubai, we had to choose a school right away. At the time the American schools offered little or no Arabic instruction. International schools typically offered the minimum—one hour per week!
We selected a private bilingual Arabic/English school where students studied Arabic using the national curriculum. They had two hours of instruction in Arabic per day while other subjects were taught in English with American textbooks. It sounded like an ideal bilingual situation—right?
Meanwhile, we soon figured out that Arabic wasn't widely used in Dubai. With 80% of the population as expats, English is the language on the street—a fact we couldn't quite grasp until we experienced it for ourselves. Thankfully, our children were exposed to some Arabic via their Palestinian relatives who lived in the UAE.
Besides, our children would learn Arabic in school, right? Well, we gradually discovered a problem there, too. The general method of Arabic instruction was "Copy/Memorize"—an approach shockingly behind the times (a problem all over the Arab World, not just in Dubai). My first grade son complained bitterly that he "hated" Arabic class (a complaint repeated for years).
My husband and I tried to stay upbeat despite the tortures of Arabic homework, which consisted of copying passages, memorizing texts, practicing dictation, and often shedding tears. I wondered if it was worth it. My husband said, "Of course!" Meanwhile, he, who had been so diligent about speaking Arabic to our children in Seattle, now began to let English creep in.
The next year, our daughter started kindergarten and continued her policy of never speaking Arabic. Year after year, she remained mute in Arabic class. Our parent/teacher conferences went something like this: "She seems to understand Arabic. She just won't speak. Not one word."
Of course, unlike in Seattle, none of our Dubai neighbors were impressed with our bilingual attempts. Their children were bilingual or trilingual—and seemed to achieve this effortlessly.
"What's the big deal?" one Moroccan friend asked. "Kids naturally pick up language."
Yes and no, I tried to explain (a bit too defensively). Children pick up spoken language —provided they get adequate exposure. However, learning to read in two languages (especially two different scripts) takes effort. To complicate matters, the Standard Arabic taught in schools is hugely different from the dialect spoken at home.
Around this time, we began a long string of Arabic tutors. They were mostly women who had been teaching Arabic for decades and were set in their Arabic-teaching-ways. When the tutor came to the door, our children ran and hid. Granted, because of the tutoring, they were able to pass Arabic class (barely), but our children had developed a negative attitude toward Arabic.
By then, my husband was speaking more English at home. Despite weekly visits with Arab relatives, Arabic had become more like a "foreign language" for us. My son would speak it only when prompted. As for my daughter, she still refused to utter a word of it. I came to accept that she would be a "passive bilingual"—understanding Arabic, but never speaking it.
As for English, I realized our children were slipping behind their American peers in writing. Also, with so many hours spent on Arabic, it left no time for the arts. I continued to wonder if it was worth it. My husband assured me it was, but he, too, began to have doubts.
After four years, we eventually found space for our children in an international school which offered daily Arabic instruction. We waited for an improvement….