Adventures in Bali ~ Ubud Writers & Readers Festival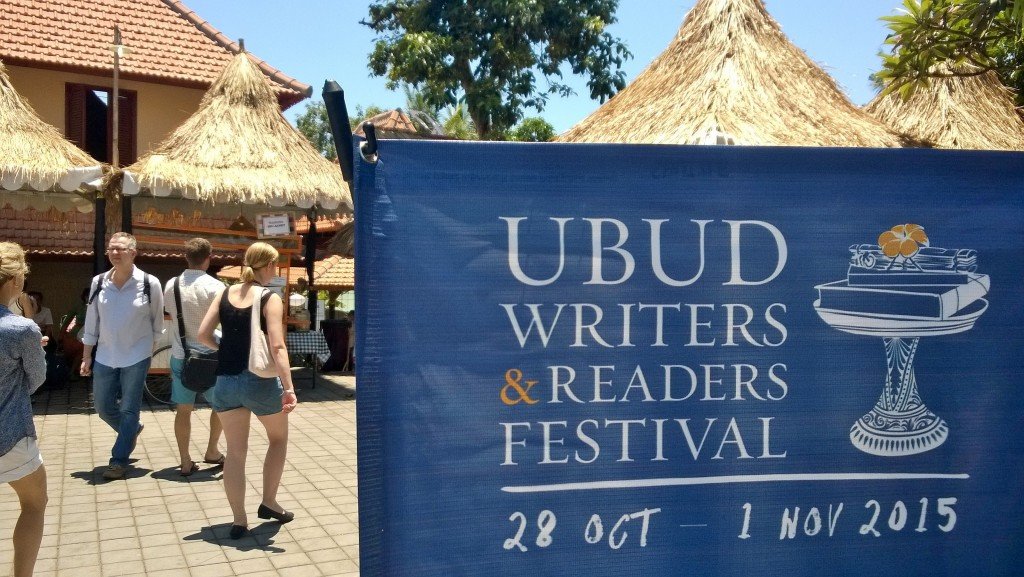 The 12th annual Ubud Writers & Readers Festival—what a marvelous excuse to travel to Bali. We were five women, all members of the same Dubai-based book club, ready for our next international literary adventure.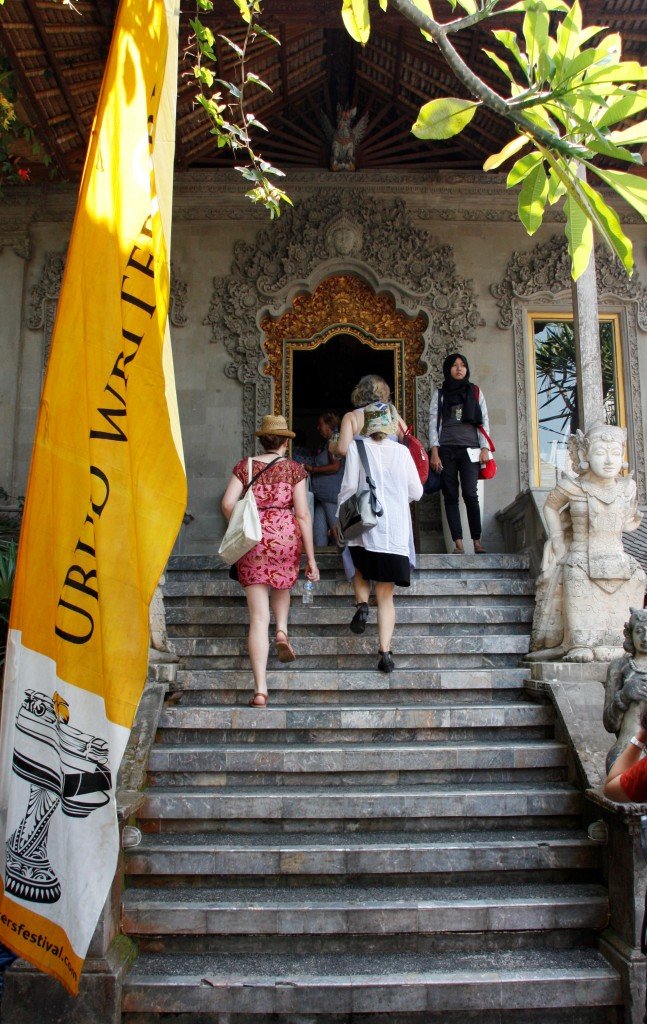 Southeast Asia's largest and most renowned literary and cultural event, the Ubud Writers & Readers Festival (UWRF) celebrates both Indonesian and international writers, including well known writers, such as Pulitzer Prize-winning Michael Chabon. This year's theme was "17,000 Islands of Imagination."

An important event indeed, and yet the festival had a cozy, intimate vibe to it. I wonder how many other literary festivals begin with a free yoga session each morning? Attended by expats, visitors, students, retirees, and locals, the festival was held in a cluster of outdoor venues, all within walking distance of each other.
Compared to the Emirates Festival of Literature in Dubai, I found UWRF more flexible and flowing; participants buy day passes and drift from session to session—often in flip-flops and tank tops. While UWRF was more costly than the Jaipur Lit Fest (which is free), the Ubud event was more contained, without the sheer numbers at Jaipur. This made it easier to move around and find a seat.
I found the topics of the panel sessions smart and focused, delving into all aspects of writing, including how writers juggle their creative work, how they get their ideas and inspiration, and even how they stay happily married to a fellow writer.
In short, every day of the event was worthwhile, and I felt lucky to be there.
About Bali & Ubud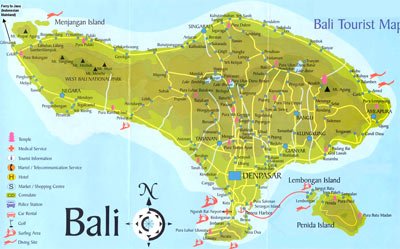 Bali, known as "Island of the Gods," is one of thousands of islands that make up Indonesia. With a population of more than four million, Bali is home to Indonesia's Hindu community and is renowned for its art, music, dance, and natural beauty. Located in the center of the island, the city of Ubud, nestled in the forests and rice paddies, (population 30,000) has positioned itself as the cultural and artistic heart of Bali.
Open rooms & Open Minds
In Bali's warm tropical climate, this festival takes place in open rooms and large gazebos, with breezes wafting though. Located just below the equator, Ubud hovers around 85°F/30°C year round, with varying humidity.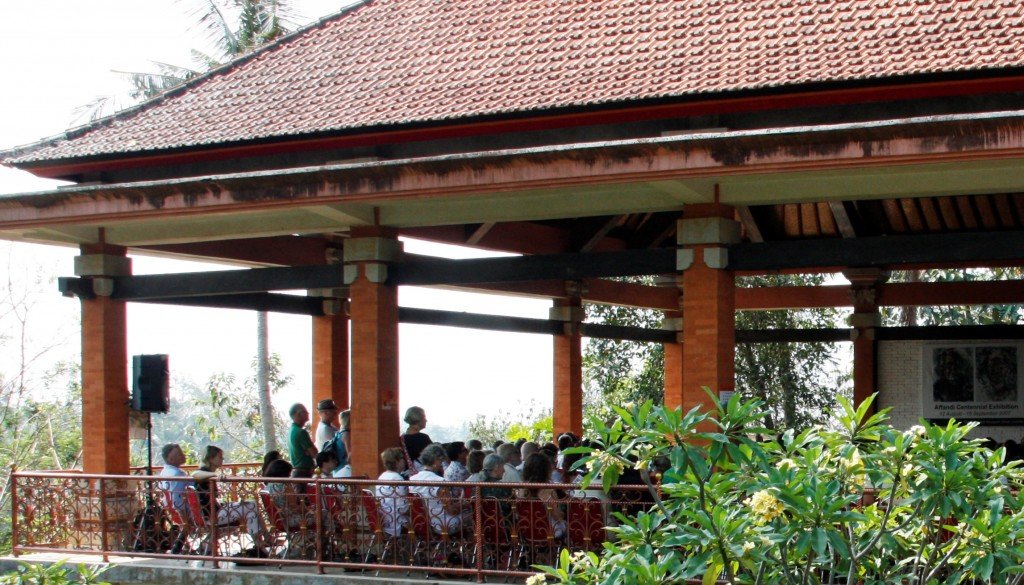 Coming from Dubai, it was a bit of a shock to be outside without any air conditioning and in the heat and humidity all day. (We only had A/C only in our hotel room.) I had to wipe sweat from my brow and dig my fan out of the bottom of my bag.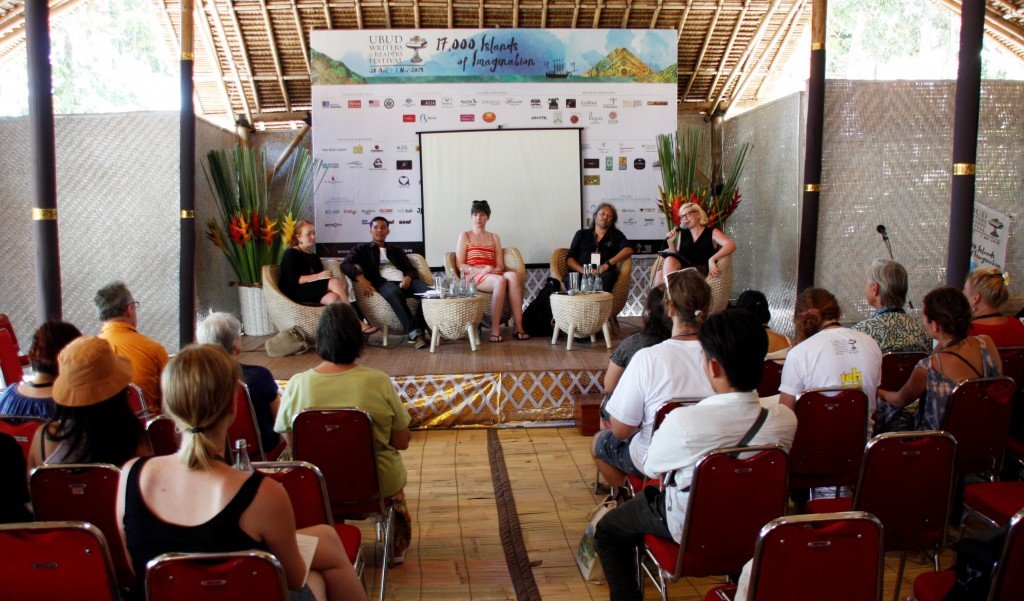 By the third day, I gradually adjusted to the climate and the environment. I learned to pace myself, dress lightly, drink cold beverages, and fan myself. In the end, it was a revelation to spend my days free of air conditioning, feeling a warm breeze on my skin. In fact, even hotel lobbies and restaurants are all open spaces or covered terraces. This also goes for yoga studios and even restrooms. So, after Ubud, I've vowed to spend more time outdoors and to fling my windows open.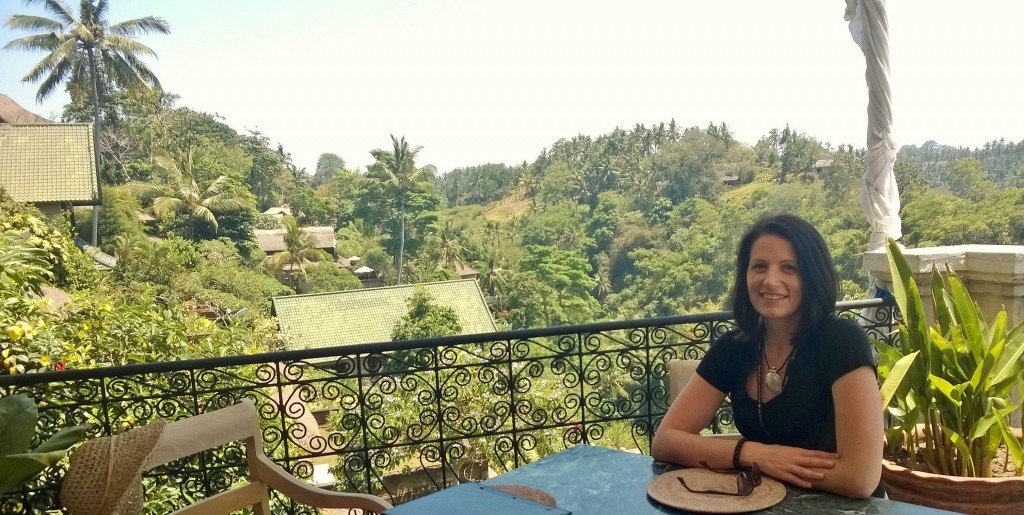 Controversy at the Festival
Before the festival, I read on the UWRF newsfeed that some of their sessions had been cancelled. "Nothing we can do" was the gist. Later, I discovered the cancellations were due to censorship of a sensitive issue in Indonesian history—the violent events of 50 years ago, the anti-communist purges of 1965 (as dramatized in the film The Year of Living Dangerously).
Of course, the thing about censorship is that it makes people discuss the topic even more. I would have never thought about this tragic event in Indonesian history if not for the censorship. During various panel sessions, references to the censorship and to this piece of Indonesian history popped up again and again. To know more, read this article in the Guardian.
The Festival
For me, a literary festival is all about the writers— seeing writers whose work I have read and discovering new books and authors. Here are highlights from my week spent this year's event, which wrapped up earlier this month:
Chigozie Obioma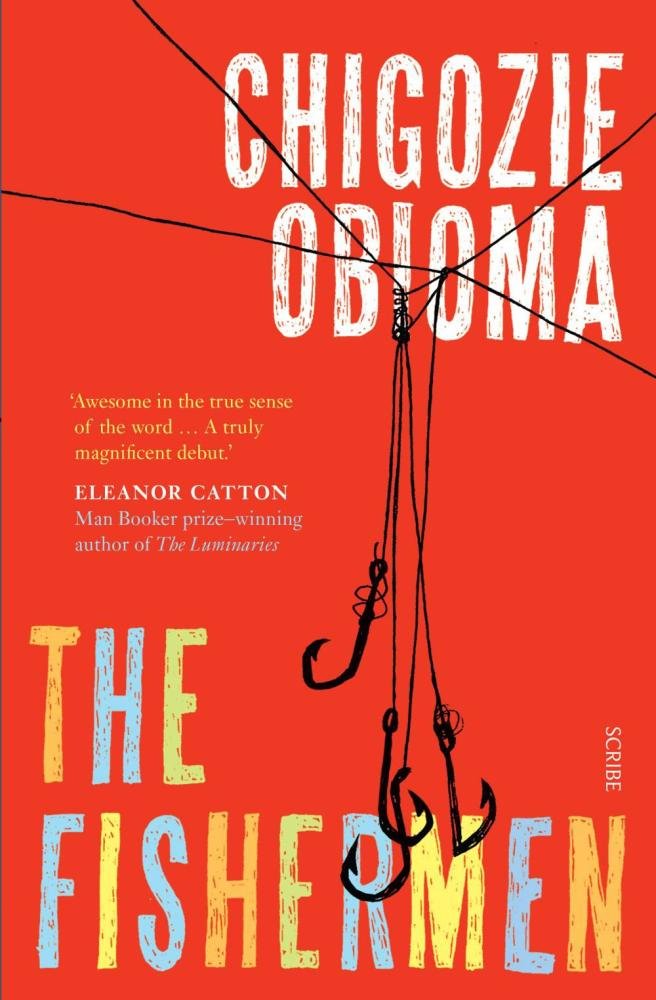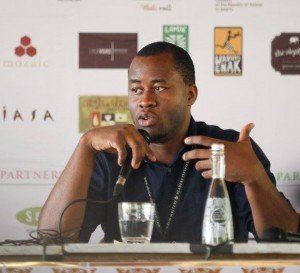 A Nigerian writer, Chigozie Obioma teaches literature and writing at the University of Nebraska. His debut novel The Fisherman was shortlisted for the 2015 Man Booker Prize.
As part of the writers' festival, I had the pleasure of taking a writing workshop from this young professor entitled "Create Audacious Prose," inspired by his piece "The Audacity of Prose," (its title a takeoff on Barak Obama's The Audacity of Hope.)
In his workshop, Chigozie Obioma challenged the minimalist approach to writing fiction, a trend in the US right now, and he encouraged us to write audacious prose, lyrical and dynamic, but not overwritten or filled with an excess of adverbs and adjectives.
Michael Chabon
American writer Michael Chabon promoted his latest book Telegraph Avenue and described how he immerses himself into the world in which he is writing, and in this case, the worlds of midwifery and vinyl records. He explained how in Telegraph Avenue he wrote from the point of view of an African-American midwife. He argued that a writer can write fiction from any point, regardless of age, gender, race, or culture. At another session, he and his wife, fellow novelist Ayelet Waldman, discussed sharing the writing life within a marriage.
At the book signing, I asked him where our book club should begin if we're reading his work for the first time. He recommended The Amazing Adventures of Kavalier & Clay, his Pulitzer-Prize-winning novel.
Mohsin Hamid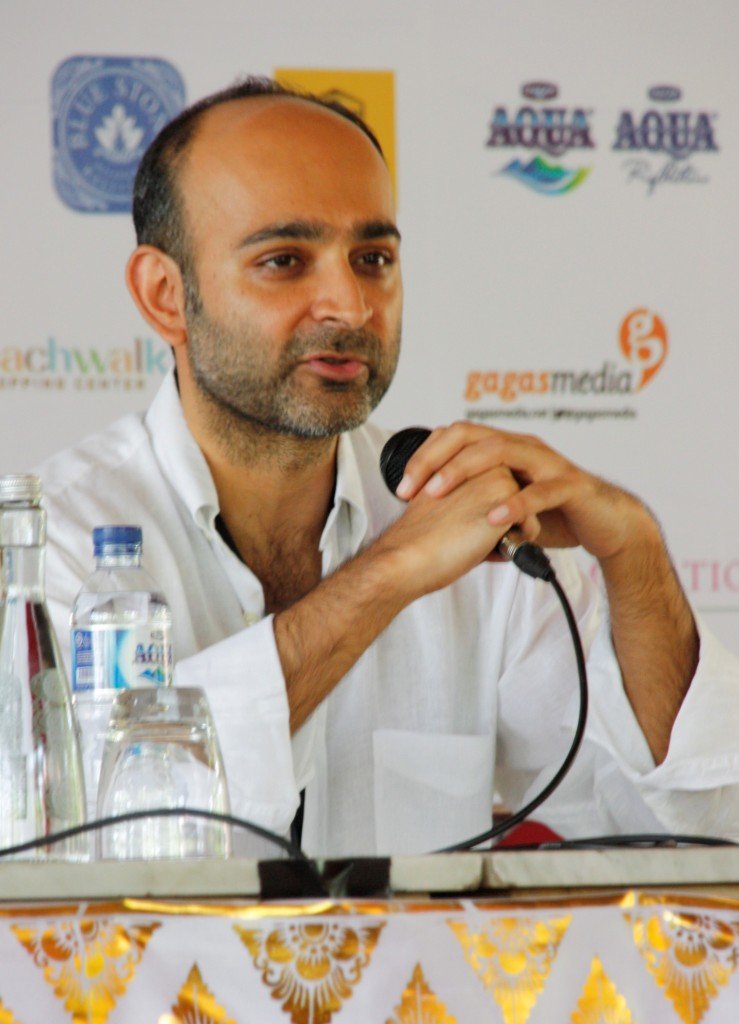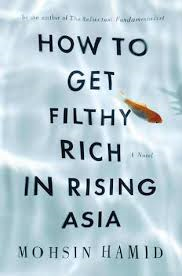 Mohsin Hamid is a Pakistani writer most known for his novel The Reluctant Fundamentalist (also made into a film). I saw him on a panel entitled "On Who We Are" exploring the topics of migration and deportation. A funny and thought-provoking speaker, Hamid argued that all individuals should have the right to travel and live wherever they want, regardless of borders or nationalities.
Later, at a session devoted to him, "Mohsin on Mohsin," he told the story behind The Reluctant Fundamentalist, a novel which took seven years to take shape after he tried different plots and points of view. The book eventually got the attention of publishers after 9/11. He also spoke about his imagination, his children and his life in Lahore, where he currently resides. Finally, he explained how his latest book How to Get Filthy Rich in Rising Asia is a novel in the guise of self-help book.
Teju Cole
The first author I saw speak at the festival, Teju Cole is an experimental writer and photographer from Nigeria, now living in New York. His was one of the opening sessions of the festival and he began by saying it didn't get much better than this—being in a tropical paradise and talking about literature. He discussed his experiences as a walker, writer, and photographer, someone who likes to roam around exploring and discovering.
When asked where our book club should begin, he told me the best place to start was with Every Day is For the Thief, his novella about a Nigerian writer who returns to his homeland.
Xinran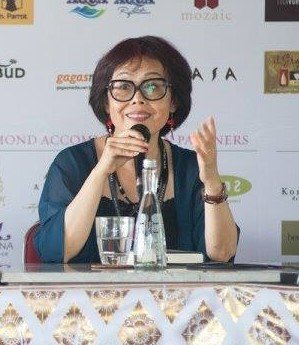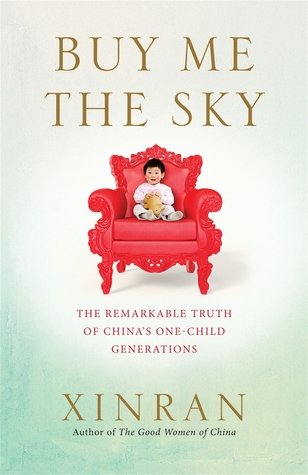 A London-based Chinese writer, Xinran is best known for her book The Good Women of China, which I read when it first came out. I enjoyed seeing her on a panel about women and self-sabotage where she expressed that Chinese women have a particularly difficult task overcoming ingrained cultural values. In China, she explained, boys are considered "roof beams" while girls are referred to as "chopsticks." Hence, the title of her latest novel, Miss Chopsticks, a book I'll to try to convince my book club to read. (Apparently it's more upbeat and less harrowing than The Good Women of China.)
In another session, Xinran discussed her recent book Buy Me the Sky, which tells the stories of Chinese men and women born and raised under China's One Child Policy, a policy which, she argues, turned the entire Chinese family structure upside down. She explained how parents with only one child are downright phobic over their child's safely. Furthermore, these only children often live as "little emperors," narcissistic but also facing isolation and confusion. Interestingly, the abolishment of China's One Child Policy was announced on the same day that the festival began.
Eka Kurniawan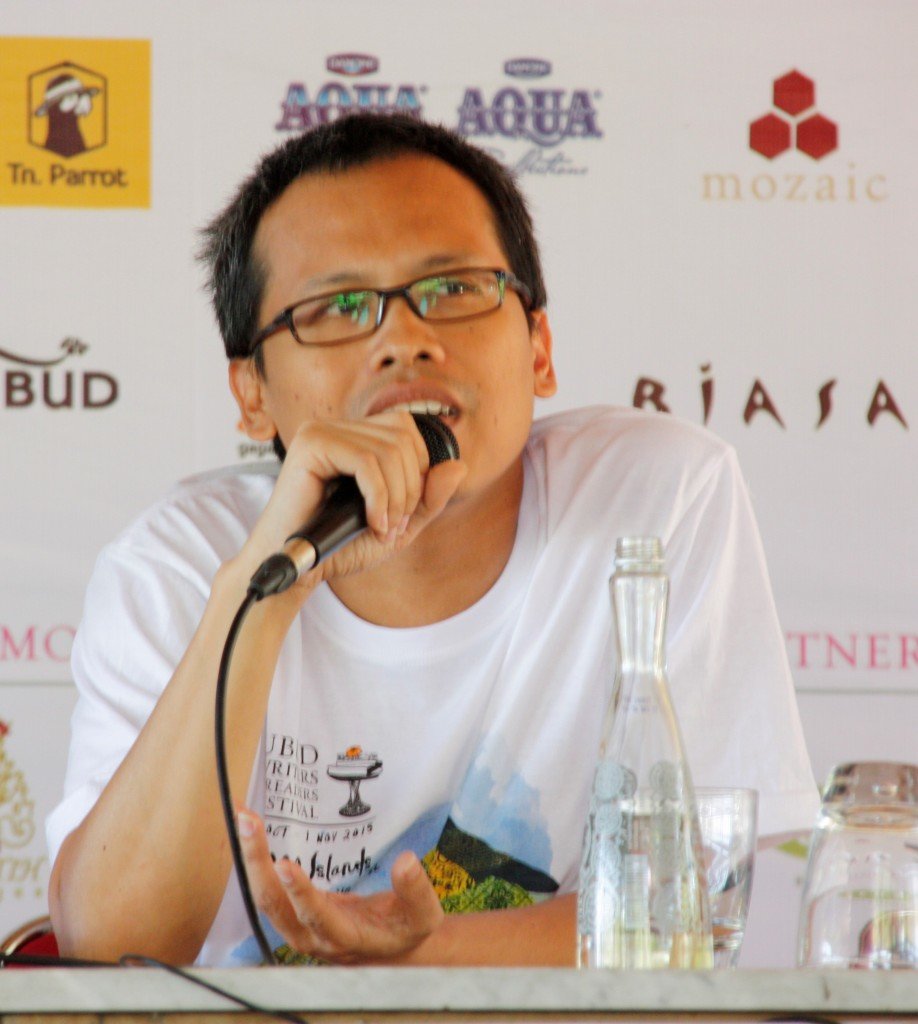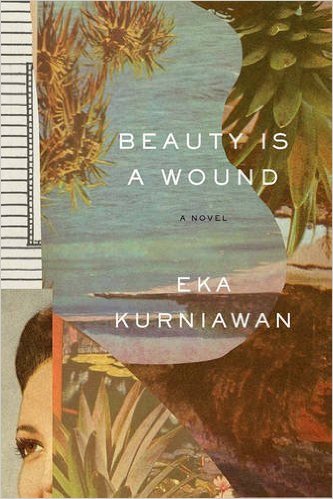 Declared a "writer to watch" by Publisher's Weekly, Eka Kurniawan is a rising Indonesian writer. During my flight to Bali, I read his piece "A Slacker of Jakarta," which was published that week in the New York Times Magazine. I enjoyed his personal yet universal story about familial religious expectations, and I was excited to know the name of at least one Indonesian writer as I headed to UWRF.
Eka Kurniawan discussed his novel Beauty is a Wound, translated into English, which critics describe as uniquely Indonesian, an epic and stunning story told through magical realism.
Ashok Ferrey
Ashok Ferrey is Sri Lanka's biggest selling author in English. I saw him on a panel of short story writers, and I was struck by the beauty and horror of the story he read aloud about the tsunami of 2004. Because he is the host of a television show in Sri Lanka, he has a terrific reading voice. I have never read any books from Sri Lanka and I think Love in the Tsunami is a good place to start.
Antoine Cassar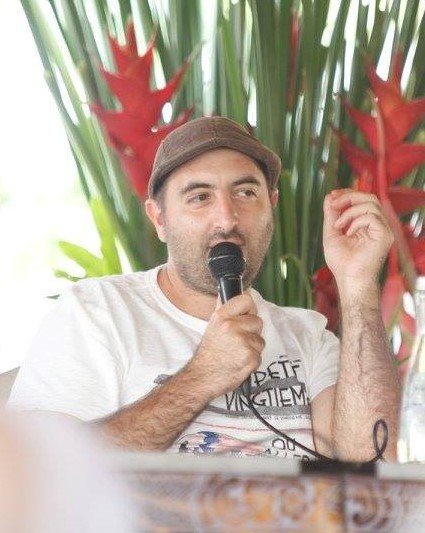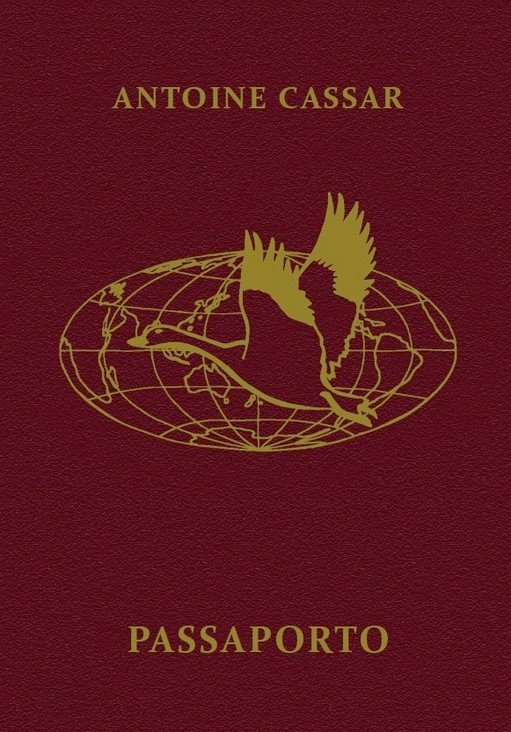 During the panel session "On Who We Are," a poet from Malta, Antoine Cassar read aloud an excerpt from a long poem entitled "Passaport." Published in 11 languages, the poem is printed in a little book resembling an actual passport. His poem, full of angst and political fervor, was riveting and relevant, as it addresses the rights of migrants and refugees.
So, the next day looking for a place to eat my lunch, I ended up sitting next to him. Fortunately, I remembered his poem vividly and was able to ask him more. He told me his plans to leave Luxembourg and return to Malta. When I said that I'm from Washington State, he explained because he's from an island, he's obsessed with islands in general and a few in particular—including Orcas Island off the coast of Washington State. He told me he hopes to visit it one day.
Imagine my delight—I have been on Orcas multiple times, including spending a week on that very island this past August. I told him more about the island, showed him some photos on my phone, and he educated me on a few things, too. So, there I was, sitting in Bali, talking to a poet from Malta, who was teaching me things about an island in my own home state.
In my next post, I'll share more about other interesting characters I encountered in Ubud.